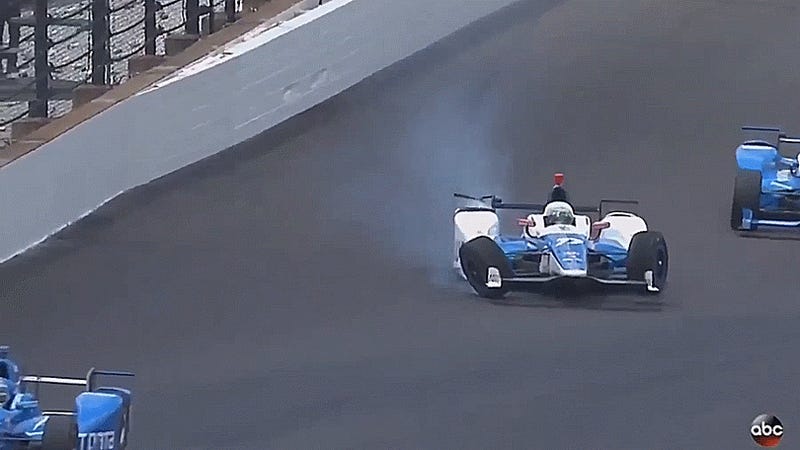 Indianapolis 500 pole sitter Scott Dixon sadly got caught in the path of Jay Howard's out of control car during today's race, sending Dixon airborne and temporarily halting the race for clean-up.

Howard was off-line in Turn 1, sending his car into the wall on corner exit. Ryan Hunter-Reay had passed him on the inside of Turn 1, leaving Howard further up the banking and off-line from where he should have been.
Howard's car barely missed Tony Kanaan's on the way down the banking but unfortunately went right in the path of Scott Dixon. Dixon couldn't avoid Howard's car, running right into it and launching his car into the air.

Helio Castroneves had to come down fast off the oval in order to avoid getting caught up in the crash himself, losing a rear winglet in the process.

The race was immediately red flagged to repair the hole made in the safety fence by Dixon's flying car and clean up the yard sale of debris left in its wake. One photographer was struck by the debris and is being attended to by track medical staff.

Fortunately, both Howard and Dixon climbed out of their cars and walked away, but this means Dixon won't be winning today's race from pole position. It's a sad end to the biggest race of the year for one of IndyCar's fastest racers.

UPDATE [1:28 p.m. ET]: Both Howard and Dixon have been checked and released from the infield care center with no major injuries.