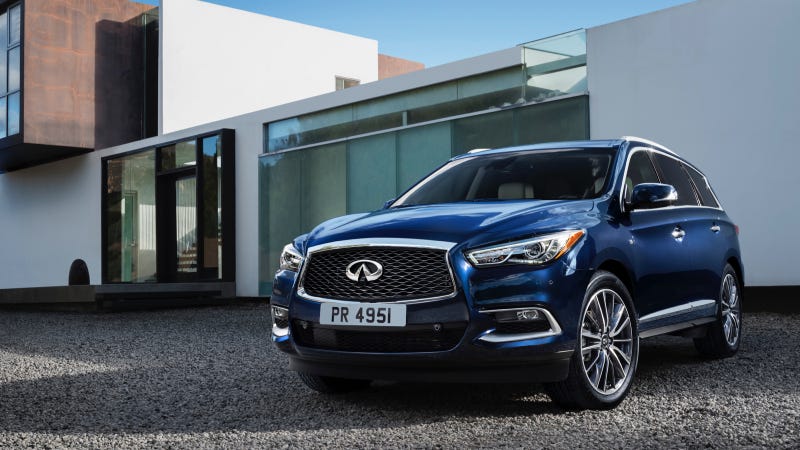 The Infiniti QX60 is a fancy Pathfinder, and like its stablemate over at Nissan, it offers decent value and fuel economy for a seven-passenger CUV. What do you need to know before you buy an Infiniti QX60? Don't worry, we'll tell you everything right here in our Buyer's Guide.
When we first saw a sketch of the then-new Infiniti JX, we called it "Another Blurry Bloated Crossover." Then, when we first saw official press photos, we said it was a "ho-hum luxury crossover." Which is funny, because in their press release for their all-new 2013 JX, Infiniti calls their seven-passenger crossover "a fresh, bold alternative to the many flavors of vanilla currently dominating the luxury crossover segment."

Sure, Infiniti. Sure. To us enthusiasts, the JX is just as boring now that it's been renamed the QX60 as it was when it launched in 2013. It's a crossover with very little off-road credibility, a front-wheel drive based drivetrain and a continuously variable transmission: A true recipe for "vanilla."
That said, we realize that many people are shopping in the seven-passenger luxury CUV segment. And for them, the QX60 takes the big interior volume, comfortable and decent handling ride, good fuel economy and plentiful standard content of its platform-mate the Pathfinder and injects a bit more luxury.
What's New About The 2016 Infiniti QX60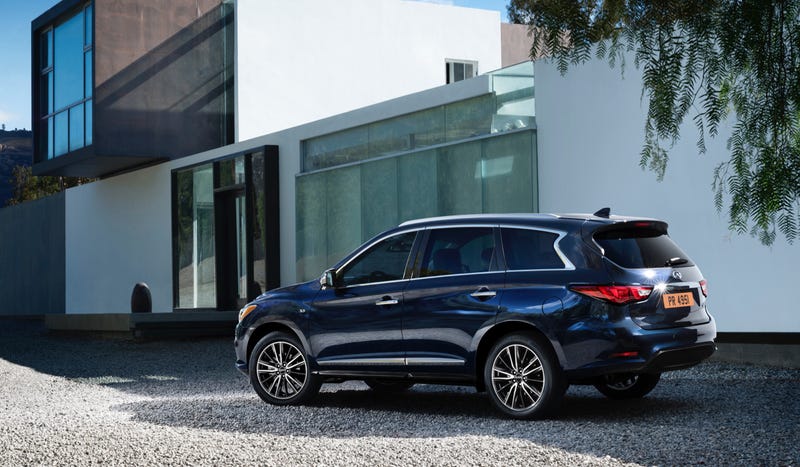 The Infiniti QX60 launched alongside its Nissan Pathfinder cousin for the 2013 model year as a JX35. The JX sat on the same car-like Nissan D platform as the Pathfinder and Murano and offered seven passenger seating, a 3.5-liter V6, a continuously variable transmission and plenty of driver-assist features.
In 2014, the JX35 became the QX60 and a 2.5-liter hybrid model in either front or all-wheel drive became available. The following year, Infiniti made a few changes to the d-step shift logic and offered new interior colors.
But 2016 was the first time the QX60 saw significant changes since its debut as a JX. The new CUV got revised front and rear fascias, new engine mounts, fresh sound insulation, new shocks and springs, new tires and updated equipment packages.
Which One We'd Buy
The Infiniti QX60 comes in four trim levels: 3.5, 3.5 AWD, Hybrid and Hybrid AWD. The QX60, like its Pathfinder brother, comes with electrohydraulic power steering, MacPherson Strut front suspension, five-link rear suspension design, 12.6-inch vented disc brakes in the front and 12.13-inch vented rotors out back.
Standard features include leather seats, multiple drive modes, three-zone automatic climate control, a moonroof, a rearview monitor, Bluetooth, heated power front seats, HID headlights and 18-inch alloy wheels.
But buying the Infiniti QX60 over the Nissan Pathfinder really only makes sense if you're decking out the QX60, because similarly equipped, the Nissan costs significantly less. However, premium features like adaptive cruise control and lane keeping are only available in the Infiniti, so if we had to buy a QX60, we'd tick quite a few boxes.
We'd grab the 3.5-liter all-wheel drive model and add the $1,900 Driver Assistance Package, which adds adaptive cruise control, Blind Spot Warning, Distance Control Assist, Front and Rear Sonar System, Intelligent Brake Assist with Forward Collision Warning, Backup Collision Intervention and Active Lane Control.
Adding that package requires the addition of the $1,550 Premium Package, which includes a 13-speaker Bose audio system and dual occupant memory system for seat and mirrors.
After destination fee, that car would come in at $48,245 which, compared to competition like the Acura MDX is a bit on the high end, but it's still not a bad deal. Where the Infiniti really becomes a good value is after incentives come to the table and especially as a lease or used model.
[Build Your Own Infiniti QX60]
Important Facts At A Glance:
MSRP: $42,400-$46,800 [3.5L FWD-AWD hybrid (2015)]
Top Speed: 120 MPH (estimated)
Acceleration: 7.5s to 60 (3.5L, estimated)
MPG: 19-26/26-28/22-26 [3.5L AWD-FWD hybrid]
Engines: 2.5-liter hybrid, 3.5-liter V6
Horsepower: 230-265 hp [2.5L hybrid-3.5L V6]
Torque: 243-248 lb-ft [2.5L hybrid-3.5L V6]
Curb Weight: 4,384-4,677 pounds [3.5L FWD-AWD hybrid]
IIHS Rating: Top Safety Pick
Transmissions: Continuously Variable Automatic
Drivetrain Layout: Front engine, FWD/AWD
Photo credit: Infiniti