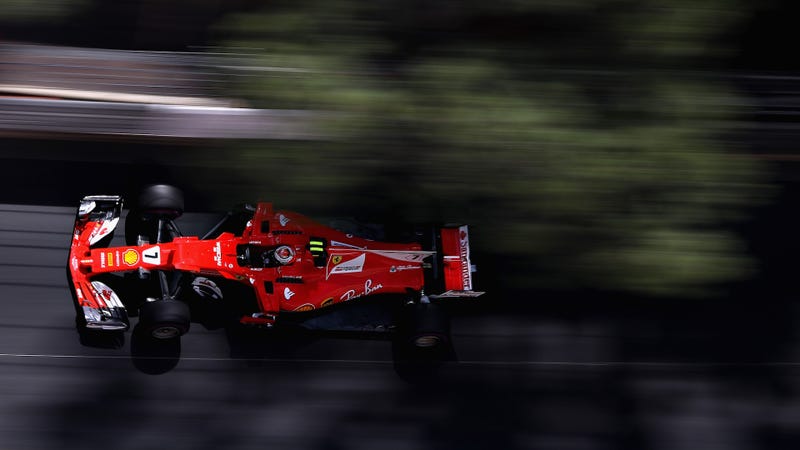 For the first time since the Great Recession, Ferrari driver and everyone's favorite mumbler, Kimi Raikkonen, will be on pole position for a Formula One race. Mercedes' Lewis Hamilton will start 14th after a disastrous—well, by his standards—qualifying session in which he didn't make it to the final round.
This is Raikkonen's first pole since the French Grand Prix in 2008, a full 129 F1 races ago. And it's not just any pole position: This weekend is the Monaco Grand Prix, which is kind of a big deal. Monaco is also where Raikkonen is known for retiring to his yacht in the middle of the race, which he probably hopes won't happen on this particular Sunday. But then again, who knows.
Raikkonen's Ferrari teammate Sebastian Vettel will start second in the race, and the NBC Sports broadcast said it's only the second time since 1979 that there's been an all-Ferrari front row for the Monaco weekend. Newbie Mercedes driver Valtteri Bottas will start third.
Bottas, who has been accidentally called "Nico"—the name of the driver he replaced, Nico Rosberg, who retired after winning the 2016 championship—by his own race team, got passed up in the NBC Sports broadcast as "Valtteri, we'll get to you in a minute." This poor guy.
Hamilton, on the opposite side of the luck spectrum at Mercedes, spent a lot of his time in the garage trying to figure out why his car was so bad. It was so bad, even, that the hilariously terrible McLaren F1 cars out-qualified him in ninth and 10th.
Hamilton didn't even make the final qualifying session reserved for the fastest 10 drivers, since he didn't really have time to set a fast lap during the second qualifying session and wound up knocked out. Hamilton will start 14th Sunday.
It doesn't sound like it was a very fun session for Hamilton, and the full lineup can be found here. But Raikkonen, in about as monotone of a statement as he could after his first pole in nine years, said qualifying "was very good fun."
Totally. We can hear it in your voice, Kimi.