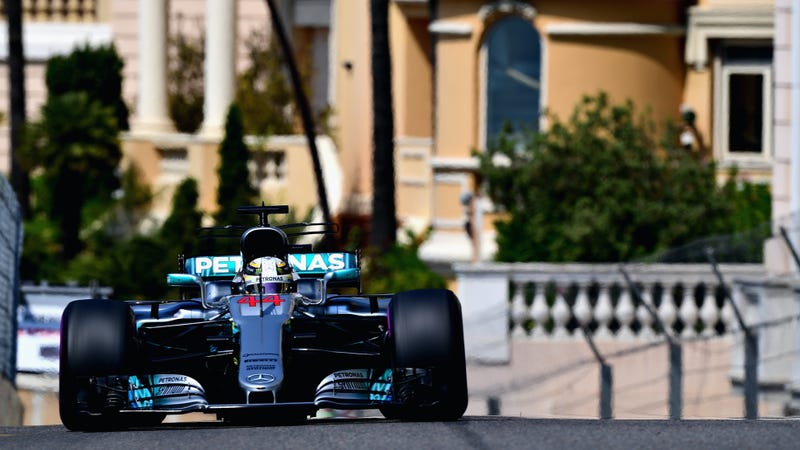 I can't remember the last time both McLarens out-qualified Lewis Hamilton's Mercedes on pace in Formula One, but that's exactly what happened at Monaco. Hamilton struggled to find speed during Saturday's qualifying session, and got knocked out in the second qualifying session for running too slow.

I feel like I'm writing in bizarro-world because the last time Hamilton failed to make it into the final third qualifying session on pace alone was the Italian Grand Prix in 2013, according to the Sky Sports announcers.

Hamilton just couldn't find speed. He finished 10th in the first qualifying session, but that's understandable—only the bottom five get eliminated then, so why push the car?

But drivers behind him in qualifying were being held up by Hamilton of all people on the narrow Monaco Grand Prix circuit. Yes, the same Hamilton who's been a dominant force in the past several years. Mercedes' crew went to work at trying to improve Hamilton's car for the second qualifying session, but didn't let Hamilton out in time to get more than one lap in before Stoffel Vandoorne's McLaren ate the wall.

Vandoorne's crash brought the second qualifying session to a halt so crews could clean up the mess and take the broken McLaren off the circuit. Until then, things had been going well for Vandoorne, as it's the first time he's made it into Q2.

Shockingly, Vandoorne's time so far in the was enough to get him into the final qualifying session for the top 10, but Hamilton's single lap wasn't fast enough. Hamilton ultimately got knocked out in 14th place for the second qualifying session.
Meanwhile, the McLaren team that sucked so bad this year that they threw the same sponsors on driver Fernando Alonso's IndyCar for free for not getting enough exposure on track in F1 did shockingly well at Monaco. Fernando Alonso's stand-in Jenson Button also made it into the last qualifying session.

Button and Vandoorne qualified ninth and 10th, respectively, although a 15-place grid penalty for a new turbocharger and MGU-H component on Button's car will ensure he starts from the back, and Vandoorne's three-place grid penalty for contact in the last race move his starting position down to 13th—just in front of Hamilton, hilariously enough.
On top of all that, Ferrari's mumbling wonder-Finn Kimi Räikkönen scored his first pole position in 129 races—his first since 2008.
I don't know what we did to land in some strange alternate universe this weekend, but it's completely unexpected and I love it. The Annual Monaco Grand Prix Fancy F1 Conga Line Race kicks off tomorrow at 8 a.m. ET on NBCSN.