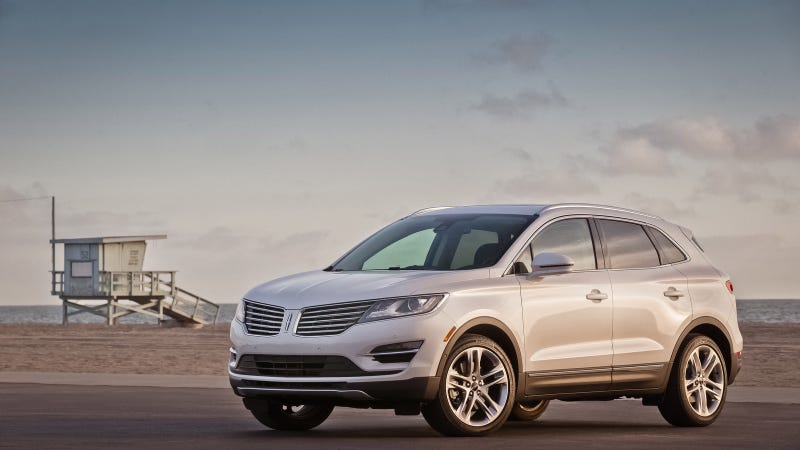 The Lincoln MKC is a car that's okay at most things but great at almost literally zero things. What do you need to know before you buy a Lincoln MKC? Don't worry, we'll tell you everything right here in our Buyer's Guide.
Lincoln is a confused brand that's been trying to redefine itself for some time now. One of Lincoln's latests efforts, the Escape-based MKC, is trying to grab a piece of the compact luxury CUV pie. The problem is, it's not particularly good at anything, and it doesn't offer very good value. As Jason Torchinsky put it in his review:
It's not like Lincoln's made a bad crossover here — but I just can't figure out exactly who really would want this car. It's not quite practical or usable enough to be a good premium family car — I mean, it could work, but there's certainly better choices.

It looks good, but good enough that a single, style-conscious person would pick it over any number of other good-looking cars available now? Maybe it hits some people's tastes and criteria exactly, but I can't claim to be one of those people.

It's a well-designed car in many ways, but there's nothing it does exceptionally well — it's comfortable, attractive, but not particularly engaging to drive, not especially useful, not really suited to off-roading, and not, well, not a car I'm going to dream about owning.

It should be noted that Andrew Collins mentioned a few nice things about the MKC in his writeup, namely that it has a comfortable interior, good looks and decent handling. But his title "It's Surprisingly Not Bad," further fortifies the MKC's Nothing Special Here Move Along-ness.
So Lincoln has built one of the most "meh" cars in the universe. Alrighty then.
What's New About The 2016 Lincoln MKC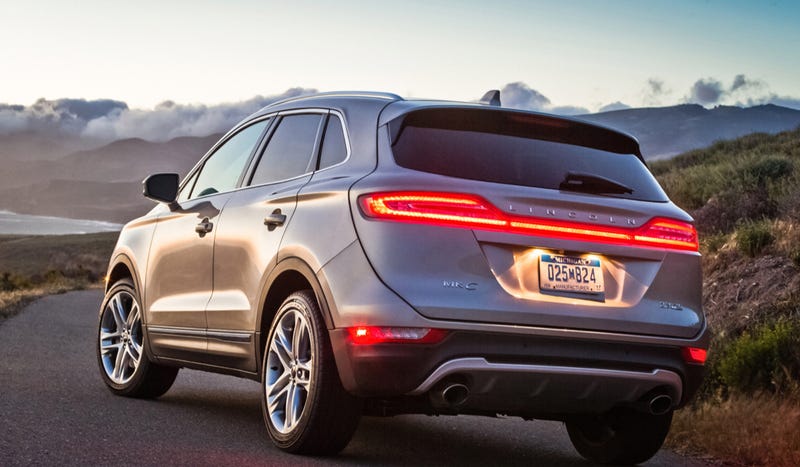 Lincoln showed the MKC concept at the 2013 North American International Auto Show and later launched the production car in the summer of 2014 as a 2015 model. The MKC represents Lincoln's latest effort to crawl from their deep abyss and grab some of that cash-money by competing in a segment that Lincoln says has grown by more than 200% since 2009.
The buyers in this critical segment, Lincoln says, include not only newly-wealthy folks, but "current luxury owners who are moving from larger vehicles to smaller ones as their life desires change." So basically, they're selling to old folks. It's no surprise, then, that the 2015 MKC debuted as a conservatively-styled, luxurious cruise-mobile with very few sporting intentions.
The second year of production, 2016, brought the new SYNC 3 infotainment system to the MKC as well as some reorganization of standard and optional content. Otherwise, the '16 MKC is similar to the model that launched for '15.
Which One We'd Buy
The Lincoln MKC can be had in three models: 2.0L EcoBoost FWD, 2.0L EcoBoost AWD or 2.3L EcoBoost AWD. The 2.0-liter models come with the Premier Equipment Group as standard but can be optioned with the Select and Reserve Groups. The top trim level, the 2.3L model, gets the Select Equipment Group as standard.
All models come with 13.2-inch front vented rotors and 12.4 solid rear discs. Suspension is MacPherson Strut up top and a multi-link design in the back. Power steering is electric.
We wouldn't buy an MKC. We don't think it offers enough value, and it doesn't distinguish itself in any way.
If someone held a nunchuck to our head and forced us to buy an MKC, though, depending on the day we'd either let them nunchuck us to death, or we'd grab an all-wheel drive 2.0L EcoBoost model. Sure, it's 45 horsepower down on the top-dog 2.3L EcoBoost model and it doesn't get leather seats, but it's a full $5,000 cheaper. And also, this car isn't a barn burner regardless of which engine you choose.
At the end of it, we'd be writing a check for $36,680. That cash would put us behind the wheel of a vehicle with a 240 horsepower 2.0-liter turbo, six-speed automatic, all-wheel drive, power heated leatherette front seats, 18-inch alloy wheels, SYNC 3 in-car communication system with eight-inch touchscreen, nine-speaker audio system with subwoofer, satellite radio, active noise control, dual-zone automatic temperature control, remote start, HID automatic headlamps with LED signature lighting, LED taillamps and front and side airbags.
But the MKC is already in Lexus NX territory, and as you add options, it creeps right up into Audi Q5 land. It's hard to recommend the MKC over those rivals.
Important Facts At A Glance:

MSRP: $33,260-40,725 Top Speed: ~130 MPH (estimated)
Acceleration: ~6.5s to 60 [2.3L]
MPG: 20 city/ 29 hwy / 23 combined
Engines: 2.0-liter turbo I4, 2.3-liter turbo I4
Max Horsepower/Torque: 285 hp/305 lb-ft
Max Advertised Towing Capacity: 3,000 pounds
Curb Weight: 3,771-3,957 pounds IIHS Rating: Not Fully Tested
Transmissions: 6-speed automatic
Drivetrain Layout: Front engine, FWD/AWD
Photo credit: Lincoln