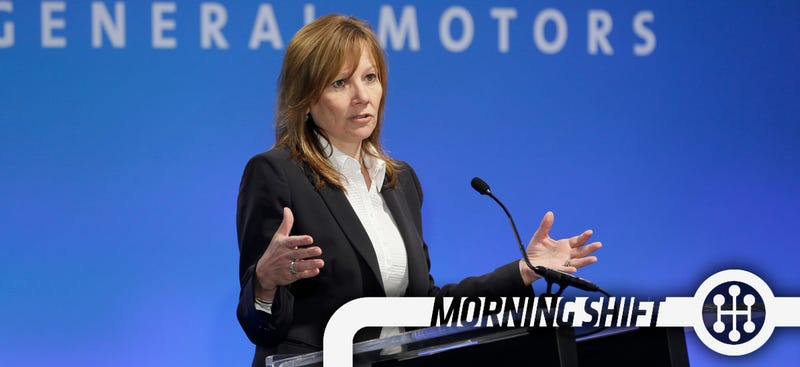 Good Morning! Welcome to The Morning Shift, your roundup of the auto news you crave, all in one place every weekday morning. Here are the important stories you need to know.
1st Gear: Barra Takes The Chair
Two years ago Mary Barra broke down barriers in being named the first woman CEO of General Motors. Yesterday, she did it again, taking the board chair spot as well, holding both titles like her predecessor Dan Akerson. The previous board chairman, Tim Solso, stays on the board as lead independent director.
From Automotive News:
Solso's appointment as chairman two years ago was viewed as a steadying force for a relatively young executive team of Barra, GM President Dan Ammann, CFO Chuck Stevens and product chief Mark Reuss, all of whom were promoted in the shakeup and adapting to new roles.

The board's move to elevate Barra reflects growing confidence in GM's strategic direction following its safety recall crisis in 2014, which included a faulty ignition switch linked to 124 deaths.

Barra generally was praised for her handling of the recall. She has since pivoted to GM's plans for autonomous driving and mobility solutions, including GM's $500 million pact with Lyft.
2nd Gear: Huge Sales Gains For Fiat Chrysler, Nissan
Yes, Nissan doesn't make anything even remotely palatable to enthusiasts besides the GT-R and 370Z (and that's so old that buying a new one is pointless.) But Nissan's super cool with the normals, thanks to insane incentives and discounts. It posted huge sales gains in December.
So did Fiat Chrysler, thanks to Jeep, but we're used to that by now. Via Reuters:
Fiat Chrysler said sales rose 13 percent while Nissan showed a 19 percent gain over a year earlier.

[…] The Jeep brand posted a 42 percent sales jump in December, again leading Fiat Chrysler, which sold a total of 217,527 vehicles in the month and 2.24 million for the year, a gain of 7 percent.

Sales for the Nissan Rogue, a crossover SUV, rose 78 percent to about 26,500. SUVs, particularly smaller ones like the Rogue, gained substantially in 2015 as consumers preferred them over traditional sedans.
A 78 percent increase in Rogue sales! Goodness grapejuice.
3rd Gear: VW's Doing Well In Mexico At Least
As it faces global recalls, plummeting sales, ongoing investigations and now lawsuits in the U.S., it's a dark time for Volkswagen. Except in Mexico! Here's Bloomberg:
While the German carmaker's annual sales were set to decline worldwide for the first time in 11 years after it admitted to cheating on emissions tests, they gained more than 10 percent in Mexico through November. It would be difficult for the brand to do poorly, said Mexico's dealers association, when the local auto sector expanded almost 20 percent in 2015, beating estimates and records.

Customers are flooding Mexican showrooms so quickly that they've helped automakers take up slack from a recent lull in exports. Mexico's maturation from being a mere producer into a country with robust internal demand also suggests that the economy is gaining strength after a third straight year in which gross domestic product growth is forecast to expand by no more than 2.5 percent.
4th Gear: America's Best-Selling Pickup
Speaking of sales figures, which you'll hear more about today, Ford also announced 2015 was its best-selling year since Bush 43 was president. Via The Detroit News:
Ford said it sold 2.6 million vehicles in 2015, a 5.3 percent increase from 2014, and the company's best annual sales since 2006. It also reported its best December performance since 2005, selling 239,242 cars and trucks — up 8.4 percent from December 2014.

"December capped off six straight months of year-over-year sales gains for F-Series, with strong increases coming from both retail sales and the strength of commercial fleet orders, as we closed out 2015," said Mark LaNeve, Ford vice president, U.S. Marketing, Sales and Service, in a statement.

Ford said its popular F-Series pickups totaled 780,354 trucks in 2015 — making it America's best-selling pickup for 39 consecutive years and best-selling vehicle for 34 straight years.
5th Gear: CES!
The CES show in Las Vegas is an auto show now, and our man Andrew Collins is on the ground sorting through the tech industry hype to tell you what's worth paying attention to and what's all hype. We're teaming with our pals at Gizmodo to cover the hell out of the show, and you can see all our CES coverage here.
Reverse: Golden Gate!
http://www.history.com/this-day-in-hi…
Neutral: Has Mary Barra Been A Good CEO Of GM?
The company got off relatively light from the ignition switch scandal, all things considered, but overall Barra gets good marks in my book. She seems to be a progressive, no-bullshit executive leading the company in a good direction. What do you think of her tenure two years in?
Photo credit AP
---
Contact the author at patrick@jalopnik.com.