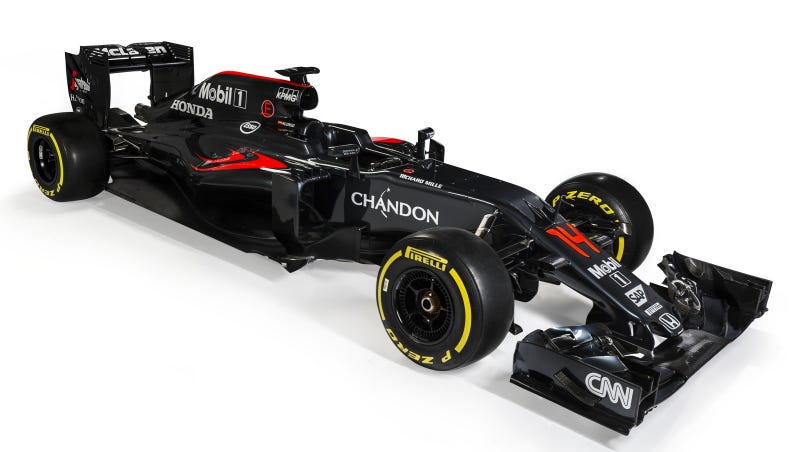 You know that kid who really doesn't want to do Halloween, but slapped a couple red stripes on his face and claims he's Darth Maul? That's the livery on McLaren's new MP4-31 Formula One car this year: the world's laziest attempt to look like Darth Maul. Hopefully that means all the effort went into the car rather than its look.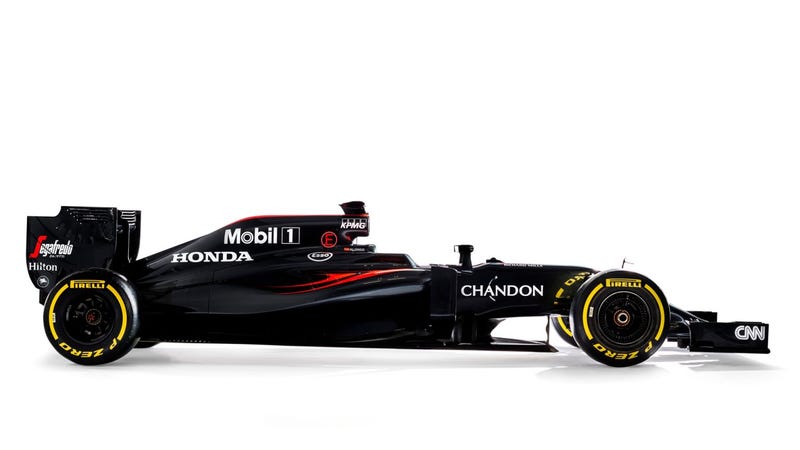 "Nah, man. See? I added some red stripes. I'm not just going as a goth kid. Swear. I found a stick to wave around, too. Whatever."
While this may sound like a lot of snark over a backmarker's car (okay, it is), I'm genuinely hoping that all of McLaren's effort was spent on making the car competitive.

Even Bernie Ecclestone is tired of seeing two world champions driving for one of the longest-running names in Formula One putter around at the back of the field. We were half convinced he'd been replaced by an Offend-o-Bot from Planet Zargon before he let some remorse for Fernando Alonso's predicament slip, but I suppose he's still human after all.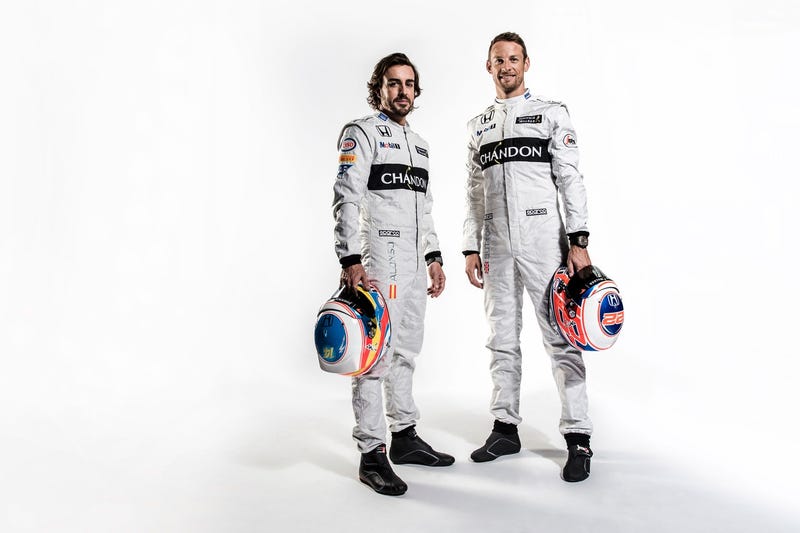 For 2016, McLaren will be keeping their stellar duo of two-time F1 world champion Fernando Alonso and one-time world champion Jenson Button.

Of course, that means that the car itself needs to be up to their talent level, otherwise, there will be more weeping and gnashing of teeth among the F1 faithful.

Once again, McLaren will be the only team using a Honda power unit. According to the team's press release, the Honda RA616H power unit has been developed exclusively for the team—probably because everyone except (the very desperate) Red Bull was scared off from the idea of Honda power based on last year's performance.
Honda Chief Officer of Motorsport Yasuhisa Arai told Formula One:

Learning from last year, we've made changes to the compressor and other hardware of the power unit during the break, maturing our overall concept from last year. Our focus will be to test the car's balance with the new chassis and power unit, and specifically the ERS direction during the eight days of winter testing.

We won't know exactly where we stand until we reach the end of the two tests, but we're looking forward to getting back on track, gathering data, and feeding back the information to our engineers so as to prepare for Melbourne and onwards. It's good to be back.

McLaren also claims that this year's car is an evolution of last year's MP4-30, featuring a very compact packaging of said Honda power unit and the further development of several aerodynamic and design concepts they rolled out last year.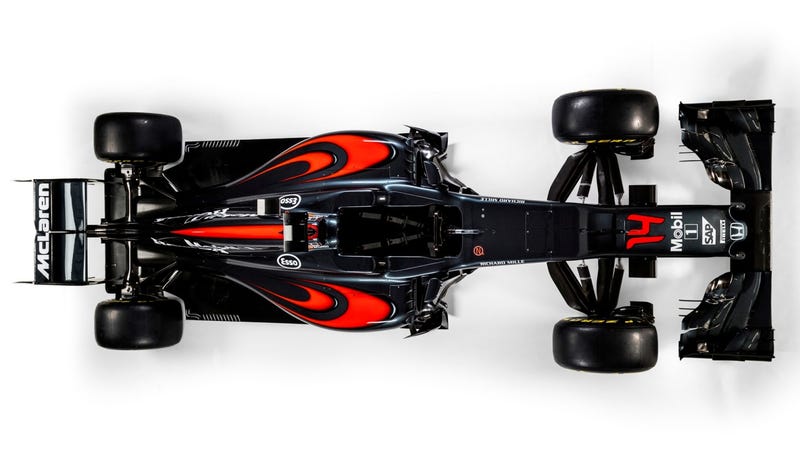 What exactly has changed? Motorsport.com has an excellent break-down of tweaks for 2016 if you're curious about the nitty-gritty details. Certain items have been borrowed from other teams, such as the additional duct next to the Vulcan-finger shaped brake ducts (from Mercedes) and the central mounting pylon for the rear wing that bisects the main exhaust pipe (from Toro Rosso).

The front wing on this car appears to have been carried over from last season, so who knows if that will change more before the first race, but many other key details are already integrated into this reveal model.
Additionally, the team has published a list of specifications for the car here. At only 1,548 lbs, this carbon fiber-composite monocoque car is a true lightweight.

The car goes off to test at Barcelona's Circuit de Catalunya tomorrow, where we'll finally see if the McLaren team is back on pace.


Photo credits: McLaren Honda


---
Contact the author at stef.schrader@jalopnik.com.