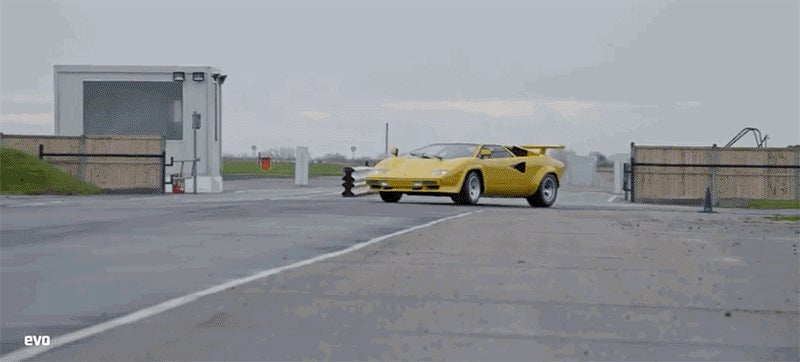 Lamborghini upgraded the original Countach to LP400 S specification officially after two prototypes were built for customers who demanded Pirelli's new P7 tires on their supercars. Front lift, what front lift?
If you like the general shape, thank Bertone. If you like the wide wheel arches, thank Pirelli. If you like the giant rear wing, thank Walter Wolf, and if you want to know pretty much everything about the LP400 S, head over to Lambocars.
The short story is that the fat tires demanded a completely new suspension geometry, and while these 365 horsepower cars actually turned out to be slower than the original LP400s, at least they corner better. If you're looking for a Countach to cross continents with, the later 5000 Quattrovalves would be the right choice, but as far as eighties icons go, the LP400S is not far behind.
http://jalopnik.com/why-owning-a-l…
The car you see here is a 1981 Series III LP400 S, one of 82, originally delivered to Switzerland painted red, only to take a detour to the U.S. before ending up in the UK with a yellow exterior. RM Sothebys expects to sell it for $490,000 at its Paris auction.
Evo took it for a spin before the hammer falls on the 3rd of February.
In case the Countach feels too wide for your garage, RM has a bunch of other gems for sale, including this über elegant 1957 Mercedes-Benz 300 Sc Coupé, a 1965 Maserati Mistral 3.7 Coupé by Frua for the adventurous, an absolutely bonkers 1963 Ghia L6.4 Coupé, a very tasty 1992 Porsche 911 Carrera RS, a classy 1963 Facel Vega Facel II, a rare and funky 1954 Kaiser-Darrin Roadster, a Goodwood-ready 1965 Alfa Romeo Giulia Tubolare Zagato and the ultimate project car, a 1958 Fiat-Abarth 750 GT 'Double Bubble' by Zagato.
€34.000 – €40.000 sounds reasonable to me.
http://www.rmsothebys.com/pa16/paris/lot…
Photo credit: Evo
---
Contact the author at mate@jalopnik.com.