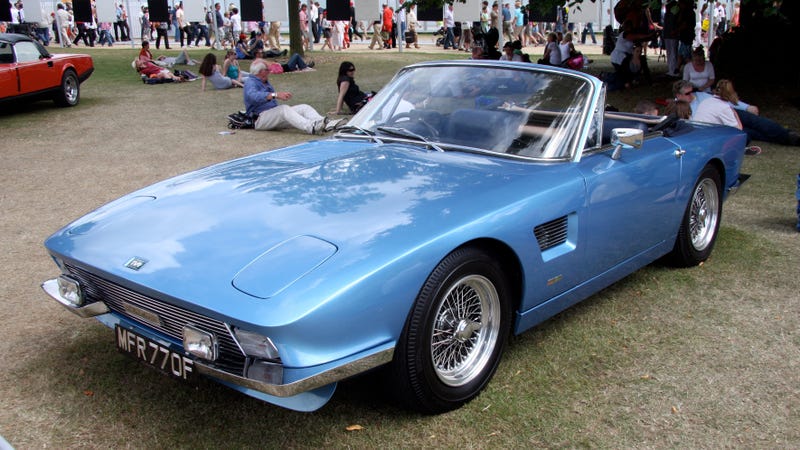 The TVR Trident concept was a huge hit at the 1965 Geneva Motor Show with its coachbuilt Italian body and American V8, but since TVR went bankrupt soon after, its rights landed in the hands of another failed British carmaker.
TVR wanted to appeal to a more upscale customer base, and since you can't do that using canoe-building materials, commissioned a British-Italian designer named Trevor Frost to come up with a new car and make a deal with Turin's Carrozzeria Fissore so they can build a prototype in time for Geneva.
According to the TVR Car Club of Holland's summary, the steel-bodied coupe had a one piece aluminum bonnet, hiding a 270 horsepower Ford Cobra V8 linked to a four-speed manual. The Trident coupe also came with 72-spoke Dunlop wire wheels, Fiat headlamps, Alfa Romeo taillights and a bunch of Italian switches here and there.
Despite the positive feedback, orders coming in excess of £150,000 and TVR ordering three more prototypes based on what Peter Filby wrote in TVR: A Passion to Succeed (one of which was the spider you see above), the company was declared bankrupt long before the production version could hit the street. And this is where things got fishy. According to Honest John Classic's article on the Trident, the prototype's rights weren't part of the liquidation deal:
Existing TVR distributor, Martin Lilley, bought the remnants and acquired the manufacturing rights for the production models… although that did not include the Trident.

Due to both Frost and Fissore still being TVR creditors, another distributor, William Last, secured the Trident's design rights, even though – allegedly – Martin Lilley later purchased the third and fourth prototypes from the Italians. (However, Last and Lilley never agreed the true story).
Either way, Last went on to set up a new Trident Car Company, putting TVR's coupe concept into production slightly redesigned, made out of fiberglass, put on an Austin-Healey 3000 chassis and badged as the Clipper coupe. It was also available as a kit car.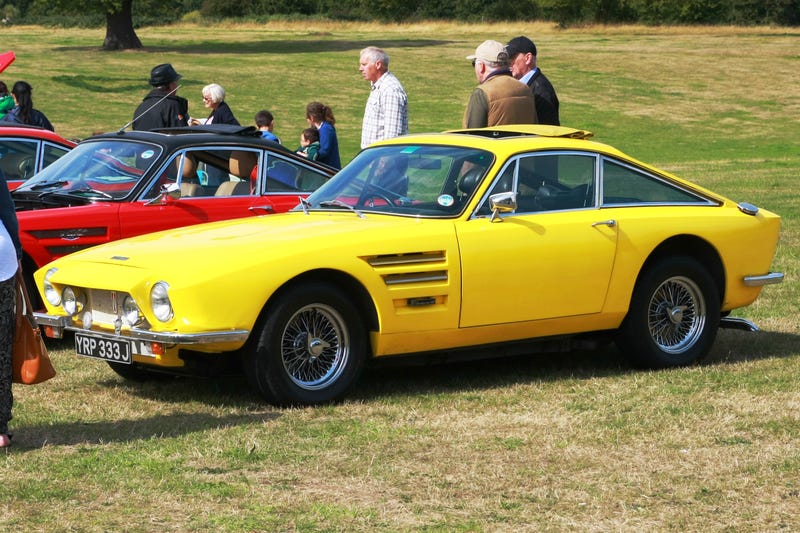 As you would expect, it was the performance bargain of the decade:
According to Trident Cars, the Clipper could crack the 0-60mph benchmark in 5 seconds, and reach the magic 150mph.

The brakes were by Girling – 11-inch discs with coil sprung wishbone front suspension, and 11-inch drums mounted on the end of a 3.5:1 live rear axle. Steering was by cam and peg, and it seemed that the only real sophistication lay in the 12-volt alternator-driven electrical system, which boasted (optional) air conditioning. Inside, you could also specify it with sumptuous leather and deep pile upholstery.
Trident sold 39 Clippers while also launching a second and a third car based on a Triumph TR6 chassis with a smaller V6 or a straight-six up front to keep those few buyers happy during the Fuel Crisis. Later Clippers had Chrysler V8s instead of the Cobra's, but Trident folded by 1974.
It seems like no matter what they call them, England's V8-powered fiberglass monsters just can't make it in the long run.
Hat tip to Cars That Never Made It! Photo credit: Brian Snelson via Flickr and Wiki Commons.
---
Contact the author at mate@jalopnik.com.