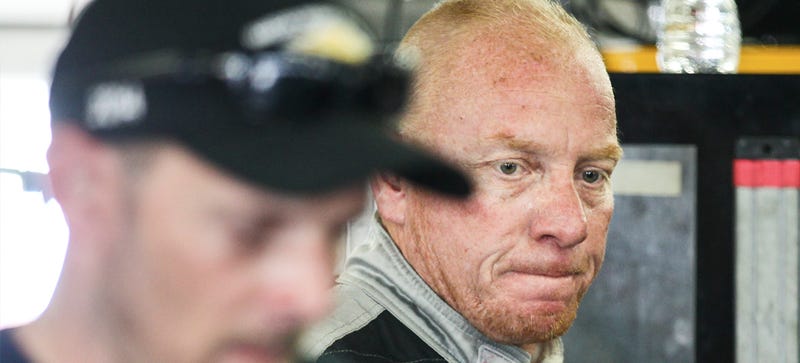 Forty-five-year-old NASCAR racer Derek White is said to be among some 60 people arrested in what's being called "the biggest tobacco-smuggling bust in North American history." Bloombergand othersare reporting that the operation is linked to biker gangs and international organized crime.
NBC Sportssays White turned himself in on Wednesday, and will face seven charges for his part in a scheme that basically amounted to buying tobacco in the United States and hocking it in Canada for a profit without going through the proper regulatory channels. Said profits were allegedly used to propagate more illicit activities.
Apparently some 700 law enforcers including officers from the U.S. Drug Enforcement Administration (DEA), U.S. Homeland Security and Quebec Provincial Police have been working on this case since 2014.
Sargent Daniel Thibaudeau of the Quebec Provincial Police told NBC that "the investigation has proof of at least 158 transports of illegal tobacco from North Carolina to Canada from 2014-16." That totaled "about 2,294 tons of tobacco" moving across the border.
"Since when is tobacco illegal," you ask? It's not so much the substance, it's the "$530 million Canadian in taxes not paid" that authorities are upset about. Though surely Canadian food-and-drug regulators weren't happy about unchecked consumables coming across their borders either.
But the operation got a lot stickier, anyway. "Profits from tobacco were used to purchase cocaine, and some of the money was laundered abroad, in Europe," Bloomberg reports. They also detailed that "more than 52,800 kilograms of tobacco, 836 kilos of cocaine, 21 kilos of methamphetamine, 100 grams of fentanyl and 35 pounds of marijuana," were seized by cops in "70 raids" that went down in and around Montreal and Ontario.
White is cited as the first Native American driver in NASCAR's Sprint Cup Series, but as his alleged side-hustle in organized crime suggests, his driving career hasn't been spectacularly successful. NBC explains that "he finished last in the 40-car field March 5 at Las Vegas Motor Speedway and failed to qualify for the season-opening race at Daytona International Speedway."
As for his future in cars, I would imagine it's bleak but so far the word is simply; "NASCAR officials said Wednesday they were aware of the report and were investigating the matter. No official action has yet been taken," according to Motorsport.com.