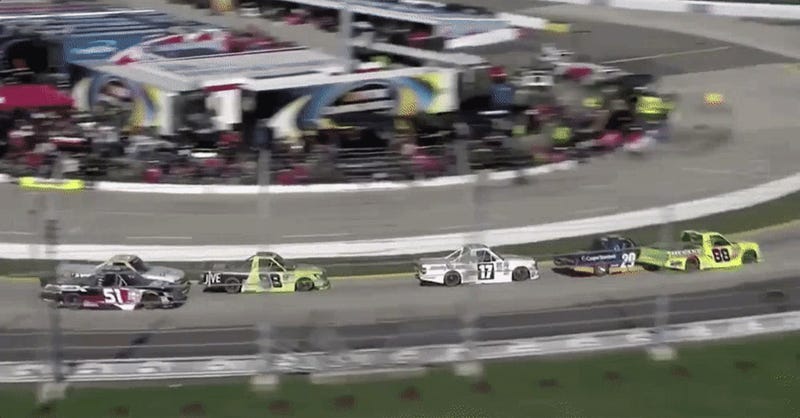 When a NASCAR driver goes into a spin, especially at a race track as short as Martinsville Speedway, there usually isn't much that can be done about it—the vehicle is either going to hit a wall or another vehicle. But when Chase Briscoe went around on Saturday, another driver actually wrecked him back in line.

Briscoe went into a spin during the NASCAR Camping World Truck Series' Alpha Energy Solutions 250 at Martinsville, and it was a common sight—spinning is apparently hip and cool thing to do during this race. It looked like the No. 88 truck of Matt Crafton—the highlighter-colored one—took some air off of the No. 29 of Briscoe and sent him into a spin near the front of the field.
But what was so odd this time around was that Briscoe didn't actually complete the spin. The No. 17 truck of Timothy Peters, which was on the inside lane at the time, actually whacked Briscoe back into line in the middle of the spin:
The truck had a lot of damage to a front fender with about 15 laps to go in the second stage, and looked as if it wouldn't make it without a tire going down. But the truck did make it, and Briscoe went into a set of pit stops around the third position. He said later in the broadcast that the contact "almost made the truck better." If you're going to wreck, that's the way to do it.
Briscoe wound up further back in the field during the third stage of the race, battling for 19th position with 92 laps to go and spinning out. This spin didn't end as well as the first one.