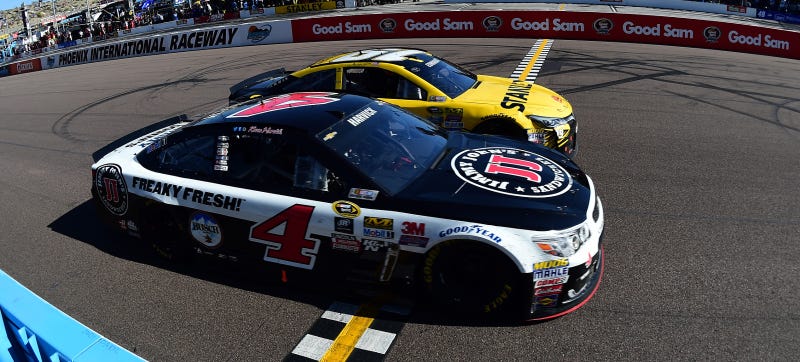 Phoenix International Raceway featured one of the most breathtaking and fun endings ever to a NASCAR Sprint Cup race today. Not only did it end in a photo finish, but Kevin Harvick and Carl Edwards were trading paint all the way up to the finish line. It's everything awesome about NASCAR in a nutshell.

Kasey Kahne wrecked after blowing a tire on lap 305, forcing today's Good Sam 500 into overtime. Goodyear officials told NASCAR that all five cautions of today's Good Sam 500—including Kahne's—were a result of excessive brake heat melting the tire bead. Drivers who pounded too much on the whoa-pedal at Phoenix faced severe consequences accordingly.

Harvick had worked his way up from an 18th place start and built up a considerable lead before the final caution. However, the late-race caution meant that the rest of the field would be on his tail for the final restart, and many of those other drivers opted to come in for fresh tires during the caution. Harvick, however, stayed out on old rubber so he could attempt to defend his lead. Edwards, however, exited the pits in second place with fresh rubber, right behind Harvick.

On the final lap of overtime, Edwards and Harvick went at each other's throatsfenders for the win. Edwards started off by bumping Harvick up the track's banking, and Harvick promptly returned the favor, nudging Edwards back. After a total of three bumps on the one-mile track, the two cars crossed the finish line so close to each other that the announcers couldn't call who had won right away.
Harvick expected the attack from Edwards' car, especially since Edwards had been faster in turns 3 and 4, where Edwards made his initial bump-move. Harvick told NASCAR:
I knew I was going to be on defense down there. I got up too high and wasn't able to stay on the bottom like I wanted to, and then he got into me, like he should have, and I needed to get a good run off the corner, and I was going to have to get into his door and it worked out — just barely.
Even though Edwards couldn't pull off the win, he appears to have had a blast duking it out for second. He explained to NASCAR:
We made him work for it. That's more than we've been able to do here the last few times. Just a lot of fun. I really wish it would have worked out a little bit differently, but it's a good race.

I ran into him about as hard as I thought I could without wrecking him, and it ended up being a drag race. It was kind of fun coming to the line because I thought, man, I got him, and then he doored me real hard and then he got a little run, and then I tried to door him and slow him down, but it just didn't work.
According to NASCAR, Harvick won by only .010 seconds, or roughly four inches in distance. This makes it the closest race finish ever at Phoenix, and an even closer finish (by .oo1 second!) than Daytona.

Could 2016 be the year of crazy finishes? Man, I hope so.

---
Contact the author at stef.schrader@jalopnik.com.