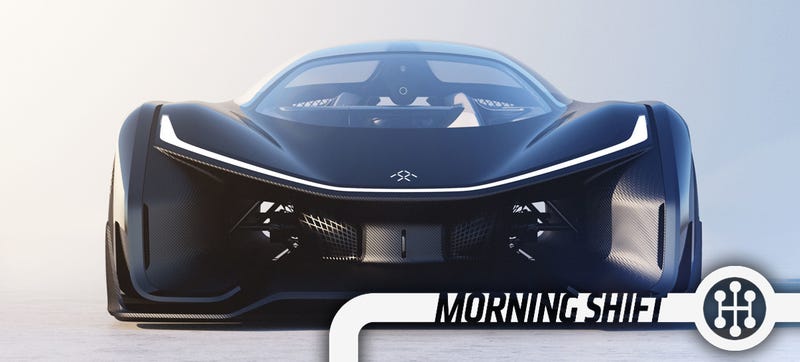 Good Morning! Welcome to The Morning Shift, your roundup of the auto news you crave, all in one place every weekday morning. Here are the important stories you need to know.
1st Gear: Show Me The Money
Faraday Future's somewhat disastrous debut at CES would be a footnote if not for the state of Nevada's $335 million commitment to the mysterious Chinese-backed would-be automaker. What were they thinking?, we wondered about the state's tax incentives for what's been touted as a Tesla-killer but has largely been smoke and mirrors so far.
Now officials in Nevada are asking questions too about Faraday Future's ability to pony up $1 billion over the next 10 years for a North Las Vegas production site. Automotive News reports the state's treasurer has doubts after a recent visit to China:
But now Nevada is tapping the brakes on some of the subsidies until Faraday can prove that it has some cash of its own. The state is requiring Faraday to put up as much as $75 million as collateral before Nevada begins to issue bonds for infrastructure projects it has pledged around the 3-million-square-foot site.

"My responsibility is to the Nevada taxpayer," said state Treasurer Dan Schwartz, who supported invoking the collateral requirement. "I'm personally and the office is very much in favor of economic development, but what we don't want to happen is to issue bonds that won't be paid."

The move highlights the tension between fiscal and economic concerns in places such as Nevada that are struggling to rebuild their battered tax bases through manufacturing. These communities are willing to make big bets for the sake of business activity — in 2014, Nevada approved $1.25 billion in incentives for Tesla's battery plant near Reno — but they are also wary of a double whammy to taxpayers if the big plans don't pan out.
Check out the full story, it's worth a read.
2nd Gear: Be Like Apple
Millennials love technology! Carmakers want to sell cars to them! So the cars must have technology! It is known, reports Bloomberg:
By 2022, 345 million autos worldwide will be connected to the Internet, nearly four times more than last year, according to IHS Automotive. In six years, 98 percent of the cars sold globally will be connected, up from 30 percent last year, the consulting firm said. The trend is driven by customer demand: Three in four consumers said they consider connected car services an important feature in their next vehicle purchase, AT&T Inc. and Ericsson said in a report in October.

The risk for carmakers is that Apple, Google and Microsoft Corp. will conquer the connected-car business with operating systems and apps that people are familiar with. Google and Apple already offer in-car infotainment systems with Apple CarPlay and Android Auto, and Google is at the forefront of developing self-driving cars.

"Google and Apple have a good chance as anyone at grabbing the car ecosystem," said Kevin Curran, a computer science professor at Ulster University in Londonderry, Northern Ireland. "Cars today are computers with wheels, and tech companies know that field all too well."
3rd Gear: Another Setback For Honda
The all-new 2016 Honda Civic happens to be a very good car (I'm driving one at the moment, expect a full review soon) but its base 2.0-liter four-cylinder engine has some problems out of the gate. With Honda still dealing with the Takata airbag debacle, Bloomberg (with a nice shout-out to us, thanks guys) reports it's another setback with one of the automaker's most critically important models:
The impending recall is another setback to Honda one year after quality issues led Japan's third-largest automaker to change its president, naming Takahiro Hachigo to replace Takanobu Ito. Hachigo has vowed to improve internal communication and downplayed sales targets after recalls related to Takata Corp. air bags and redesigned Fit small cars and Vezel compact SUVs plagued his predecessor.

[…] Honda's stop-sale is in effect on a vehicle-by-vehicle basis until each affected car is inspected and repaired, if a fix is needed, Martin said. The company will issue a recall statement once the National Highway Traffic Safety Administration acknowledges its recall plan, he said.
4th Gear: Some 90 Million (!!!) More Takata Airbags May Need A Recall
Speaking of the Takata catastro-fuck, Reuters reports it could soon get exponentially worse, which is hard to fathom.
U.S. auto safety regulators are examining whether an additional 70 million to 90 million Takata Corp (7312.T) airbag inflators should be recalled because they may endanger drivers, according to a person with knowledge of the matter.

That would nearly quadruple the 29 million inflators recalled so far and linked to nine deaths in the United States.

In all, as many as 120 million Takata inflators in U.S. vehicles contain the same volatile chemical – ammonium nitrate – used in inflators that automakers have recalled, according to company documents reviewed by Reuters and verified by two former Takata managers. The total number has not been previously reported.
We'll be keeping an eye on this one.
5th Gear: Trouble Ahead In Sterling Heights
Fiat Chrysler's Sterling Heights Assembly Plant was the recipient of a $1 billion investment to build the Chrysler 200 sedan a few years ago. But that car ended up being a non-starter in the market, and FCA has announced it will allow the car to die a natural death.
For the 3,000 workers at the plant, that means a six-week layoff for now, issues with unemployment payments, and a very uncertain future down the line. It's a huge reversal from other plants in the industry, which can't produce cars and trucks fast enough amid the record sales boom. The full scoop comes from The Detroit Free Press:
It looked like Chrysler 200 was doing OK. In 2015, FCA sold more than 177,000 — a 51% increase over the prior year. But in November, when FCA cut dealer incentives on the car, sales tanked. Sales of the 200 fell 47% in December and 63% in January compared to the same months the prior year.

The 200 was launched at a time when American consumers were increasingly choosing mid-size SUVs and crossovers. Only three other mid-size sedans — the Chevrolet Malibu, Mazda 6 and Subaru Legacy — saw retail sales increase in 2015.

FCA had a hard time selling the Chrysler 200 without significant incentives, said Stephanie Brinley, senior analyst for IHS Automotive.

"The story of the 200 is a sad one, because it is a decent product. But it is a little bit small for the segment," Brinley said. "And now (Marchionne) has come out and said the car is going to be canceled. That makes it even more difficult to sell."
The 200 was never a bad car, but it was just an okay car in a very tough segment increasingly challenged by crossovers and SUVs.
Reverse: Lee Petty!
http://www.history.com/this-day-in-hi…
Neutral: What's Going To Happen To Faraday Future?
I'm not optimistic, but Jalopnik called Tesla vaporware for a long time too. How do you call this one?
---
Contact the author at patrick@jalopnik.com.