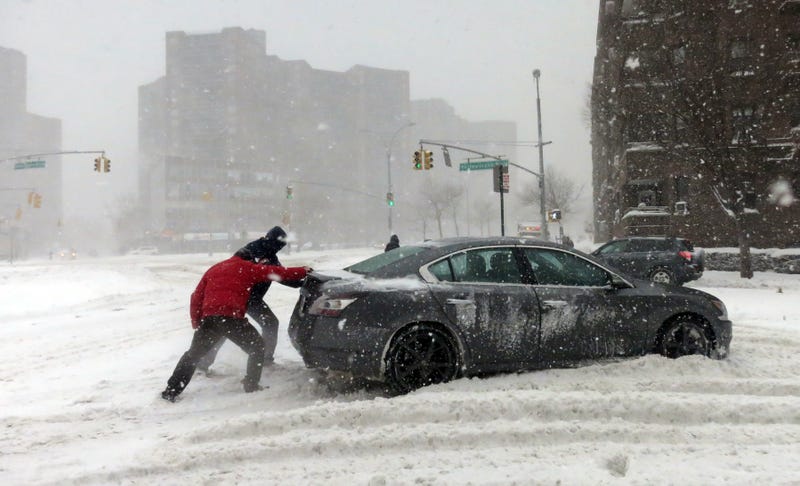 New York City recently went from concrete jungle to the North Pole with skyscrapers, accumulating over 20 inches of snow in the midst of a major snowstorm. As a result, the state governor called for a cease-all on travel beginning later today.
The snow forecast went up, too, according to Slate—estimates were between 20 and 25 inches, but now reach all the way up to a potential for 30 inches. New York Gov. Andrew Cuomo called for the travel ban on all public roads in NYC due to the blizzard, and it will go into effect at 2:30 p.m. ET:
Travel already stopped in some areas, as the bus routes closed around noon. An MTA service advisory also recommended all customers"to remain at home during the duration of this storm" if at all possible:
Those who missed the bus have one last chance to get out of town before travel goes on lockdown, since trains will stay running for a few more hours:
And if you're on the road past 4 p.m., it looks as if you'll have a cozy jail cell to snuggle up in and wait out the storm.
There's no flying either, obviously. Here's the scene at the John F. Kennedy International Airport, reportedly from the General Manager Airport Operations at JFK:
There aren't currently any estimates for when public transportation or roads will reopen in NYC, so stay inside and hang out with your cat if you're already there. If you don't have a cat, go get yourself one. When the roads reopen.
---
Photo credit: AP Photo/Daniel P. Derella
Contact the author at alanis.king@jalopnik.com.