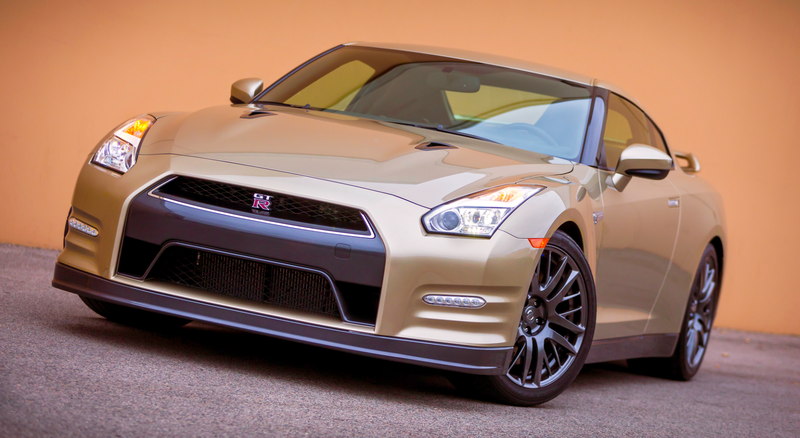 The Nissan GT-R is an engineering marvel that almost anyone can get in and drive fast. What do you need to know before you buy a Nissan GT-R? Don't worry, we'll tell you everything right here in the Ultimate Buyer's Guide.
The Nissan GT-R may not look conventionally beautiful, it may not come with a third pedal and it may weigh a whopping 3,800 pounds. But none of that matters, because the GT-R is one of the quickest, best engineered sports cars on earth.
"Oh, but it does all the driving for you," the naysayers lament. And there's some truth to that: The GT-R is a car whose trick all-wheel drive and traction control systems optimize handling and acceleration by the millisecond, but this car gets to 60 mph in TWO POINT SEVEN SECONDS.
And what's even crazier is the car's handling, which seems to defy physics. Force pulling a car outward away from a turn's apex is directly proportional to the car's mass, and yet somehow the GT-R shrugs that chapter of physics right off and manages to out-pace cars costing twice as much and weighing 1,000 pounds less. And it does all this with a 3.8-liter V6.
So even if the car isn't the most engaging and "visceral" driver's car of all time, everyone has to respect the GT-R for its exceptional engineering wizardry.
What It's Like To Drive
Video games give kids this illusion that they'll be able to hop into any car and immediately clip every apex and be a hero. That's a dangerous thing to believe and the GT-R is a scary car because even if you're a little bit good it'll make you that much better.
Think of it as Tony Stark's Iron Man suit, with a lot of computers and mechanical components making all sorts of decisions faster than your can blink or think or crap yourself a little when you look down and realize how fast you're going.
And to really appreciate it you need to take it to the track, which we did:
The GT-R may be equal parts inert and fidgety in cold highway traffic, but it gets up on its toes and smooths itself out when you can really commit to a corner. When you have room to let the car transfer its weight left and right through wide esses. When you finally get your line right braking for a blind crest into a falling, narrowing turn. There's a transition as the car gets light, and the all-wheel drive feels like it's shuffling cards. Then that almighty shove returns, pulling you back as it rattles up to a hundred, a hundred ten, a hundred I can't even look any more.
Also, if all you care is about going fast in a straight line then you can't do much better this side of a Tesla, and when Tesla does it you don't get the noise. The GT-R doesn't accelerate forward so much as it grips the earth with its claw-like traction and spins the earth backwards in the other direction.
What's New About The 2016 Nissan GT-R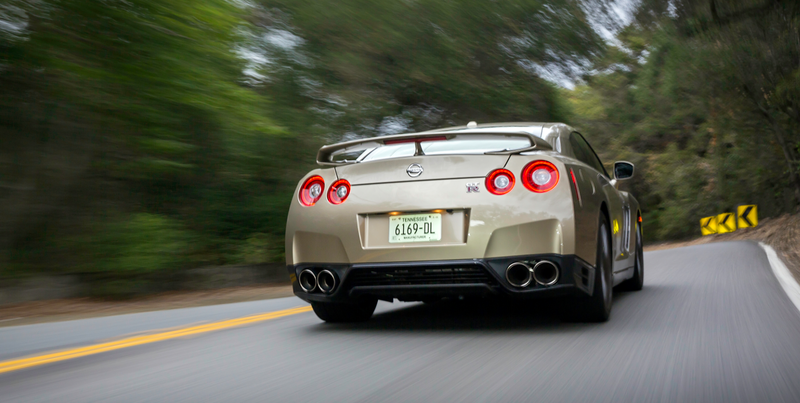 The Nissan GT-R launched at the 2007 Tokyo Motor Show, but it didn't make its way to the states until mid 2008 when it launched as a 2009 model. It's built on the Premium Midship platform whose bones are based on the Front Midship architecture found under a range of Nissan and Infiniti products.
GT-R prices have been climbing since that 2008 model came out. In '08, you could buy a GT-R for 70 large. Today's price of entry is about $100,000. But Nissan has been making updates to their halo car since the car's introduction.
After the first model year, Nissan renamed the launch control feature after owners kept grenading their transmissions and Nissan didn't want to pay for new ones. That year also brought five extra ponies (now up to 485 hp), tweaked suspension and standard side curtain airbags.
In 2011, the GT-R base trim went bye-bye, leaving Premium as the only option. Aside from another slight tweak to suspension, the 2011 gets some new standard features like Bluetooth, automatic headlights and speed-sensitive wipers.
A subtle styling refresh came in 2012, along with a bump to 530 hp. A Black edition is also available for 2012. Then for '13, Nissan added another 15 ponies, bring the GT-R to 545. The transmission got a software tweak to snap off quicker shifts, and a backup camera became standard.
The 2014 could be had as a "Track Edition," which had no rear seats, specially tuned suspension, updated aerodynamics and special wheels and tires. 2015 saw the addition of Active Noise Cancellation to quiet down the cabin, new LED headlights, a recalibrated suspension and a 600 hp higher-performance NISMO version.
The 2016 car is a lot like the 2015 with the exception of a new wheel design and a new special edition. The new wheel is a 20-spoke design and replaces the previous 10-spoke found on the Premium trim. The new special edition is the 45th Anniversary Gold Edition – basically a Premium trim with gold paint.
Powertrain Breakdown
Nissan has been revising their twin-turbo V6 since the GT-R's 2009 launch. Power numbers have jumped from that '09's 480 horsepower to 545 ponies. The NISMO version makes even more power: 600 horses.
Most of that power makes its way to the ground thanks to a sophisticated all-wheel drive system and a quick and efficient 6-speed dual clutch automatic transmission.

2016 Nissan GT-R Engine Options

Engine
Max Horsepower (hp)
Max Torque (lb-ft)
3.8L twin-turbo V6
545 @ 6400 rpm

600 @ 6800 rpm (NISMO)
463 @ 3200

481 @ 3200 (NISMO)



Fuel Economy Breakdown
There's not much to talk about here. If you pour a gallon of the required premium gas into your GT-R, you'll probably run out after about 20 miles.
Exciting stuff.
2016 Nissan GT-R Fuel Economy Ratings (City/Highway/Combined)




3.8-liter twin-turbo V6
Fuel Economy- Manual


16/22/19
Trim Level Breakdown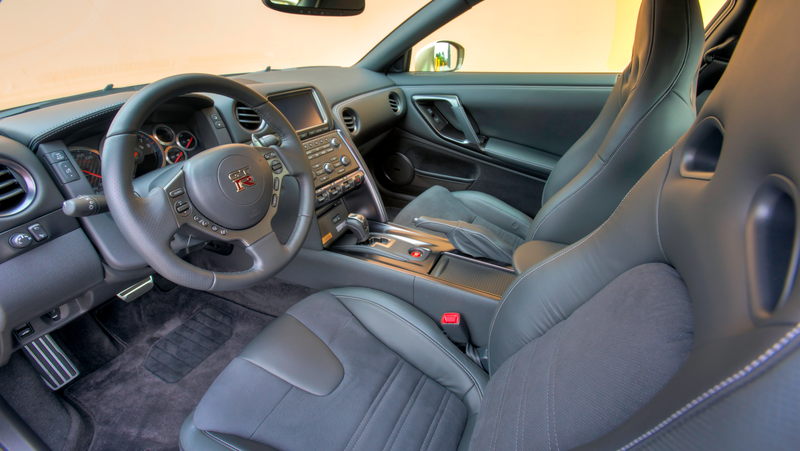 Brakes are six piston Brembo calipers clamping 15.4-inch vented and drilled rotors up front while four piston clampers squeeze 15-inch vented and drilled rotors in the rear.
Steering is a hydraulic power rack and pinion setup, front suspension is a double wishbone design and rear suspension is a multi-link layout. Dampers are Bilstein DampTronic mono-tubes with 3-mode driver adjustment.
The 2016 GT-R can be had in four trim levels: Premium, 45th Anniversary Gold Edition, Black Edition and NISMO edition.
Premium: Starts at $101,770. Notable standard features: 3.8-liter turbo V6, 6-speed dual clutch manual transmission, all-wheel drive, 20" alloy wheels, mechanical limited slip differential, adjustable suspension settings and front/rear torque distribution, 20" alloy wheels, 255/40ZRF20 and 285/35ZRF20 rear Dunlop SP Sport MAXX GT 600 DSST CTT run-flat tires, power heated leather seats with suede inserts, LED automatic headlights and daytime running lights, power heated mirrors, LED taillights, quad polished exhaust, 7" touchscreen with navigation, rearview camera, screen for instrument cluster, Bluetooth, dual-zone automatic temperature control, 11-speaker Bose audio system with dual subwoofers and active noise control, front and side airbags. Notable options: Red/Amber or Ivory premium interior ($4,000).
45th Anniversary Gold Edition: Starts at $102,770. Notable standard features over Premium: Gold paint, 45th anniversary interior plaque, 45th anniversary VIN plate in engine compartment. No notable options.
Black Edition: Starts at $111,510. Notable standard features over Premium: Blackarbon fiber rear spoiler, unique 20" black wheels, black/red Recaro leather seats with Alcantara inserts. Same options as Premium. No notable options.
NISMO Edition: Starts at $149,990. Notable standard features over Premium: NISMO-tuned 600 horsepower 3.8-liter twin-turbo V6, specially tuned suspension with unique dampers and sway bars, unique NISMO wheels, additional front and rear brake cooling ducts, carbon fiber trunk lid, additional spot welding for more body rigidity, updated aero kit, unique NISMO tachometer, NISMO black and red leather seats with Alcantara inserts, Bose audio system without active noise control. Notable options: titanium exhaust system ($12,900).
Which One We'd Buy
The GT-R is still a value, albeit one with a ballooning price. Unless you're a fanboy the NISMO edition is probably not worth another $50k. The "base" Premium Nissan GT-R is premium enough, with all of the power and all of the tech you'd find on other trims with the same engine and the same power and the same transmission. It's plenty and for just above $100K we're still beating cars twice as expensive.
Important Facts At A Glance:
MSRP: $101,770-$148,990 Top Speed: 196 MPH
Acceleration: ~2.7s to 60
MPG: 16 city / 22 hwy / 19 combined
Engines: 3.8-liter twin-turbo V6
Max Horsepower/Torque: 600 hp/481 lb-ft

Curb Weight: ~3,900 IIHS Safety Rating: NA
Transmissions: 6-speed dual clutch automatic
Drivetrain Layout: Mid-Mounted Front Engine, AWD
Photo credit: Nissan