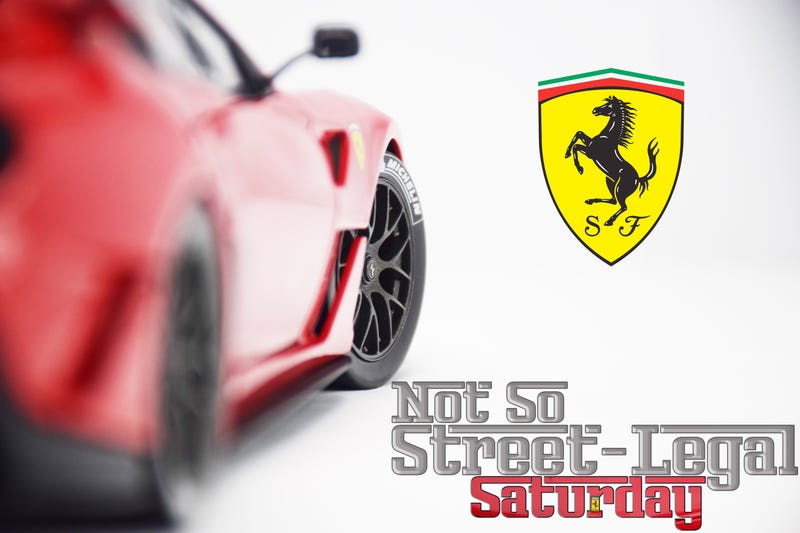 Of all the cars that have been made which do not conform to road-car regulations, and are therefore illegal to drive on the street, isn't this really the greatest one? To even begin to think about basing a race car of this extremity on a Grand Touring car is just insane, the weight alone is detrimental to any type of racing success, and the grand touring layout is far from optimal for racing, not that this thing has ever turned a wheel in anger mind you… Presenting the 1/18 Hot Wheels Elite Ferrari 599xx; a model of complete and utter fantasy.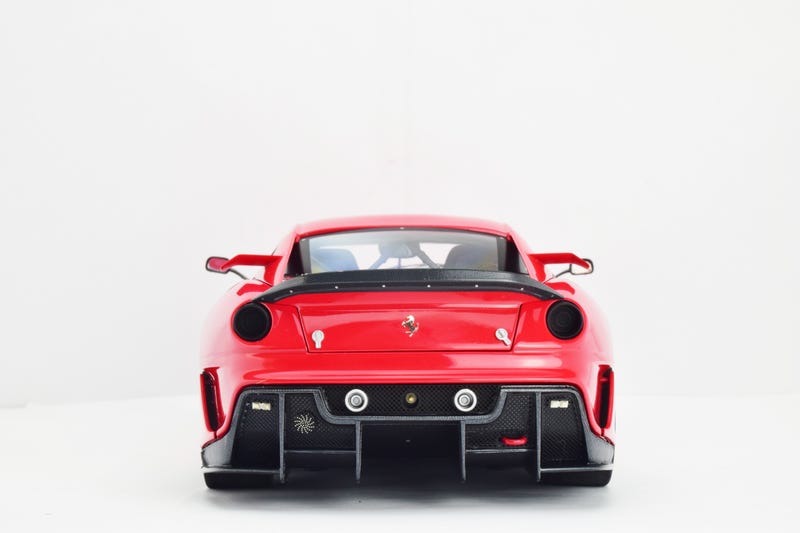 Only 29 of these cars exist in the real world, some of which have been upgraded to the even-more-unreasonable 599xx 'EVO' specification, a larger-winged version, and all of these track beast are only allowed to race in Ferrari-sanctioned events against the clock instead of against one another. Cosa, perché?!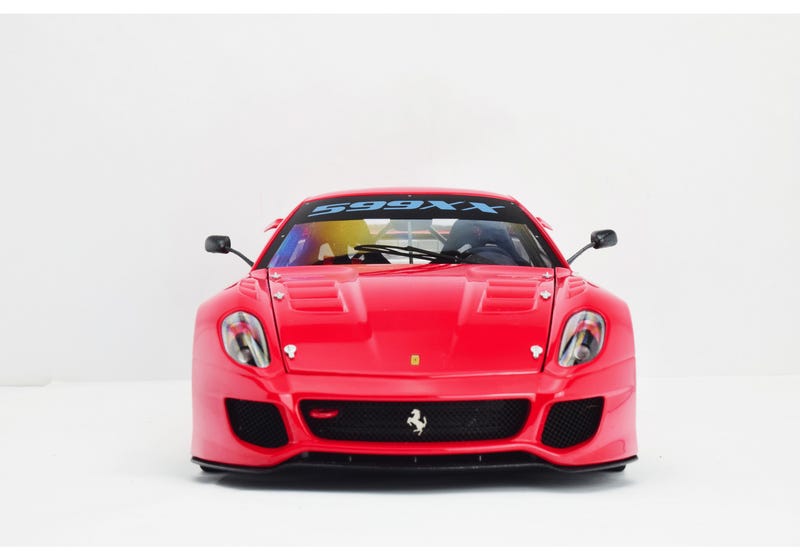 There are 18 events in which Ferrari will field as many of these as they can assemble -even those whose owners chose to keep them in their own private garage instead of at the factory in Maranello- of which only two are in the USA. Ferrari will let you race the thing in one-off events, but finding a track where this doesn't break noise and areo regulations is definitely more of a challenge than finding the $1.5 million which the 599XX originally cost.
The v12 has been massaged to make 720hp, the gearbox shifts faster, the rear is ALL aerodynamic trickery, and the interior is so gutted of the frivolities that made the regular 599GTB one of the finer cross-country machines that the trunk is now only used to house even more areo tricks!

It is low, long, wide, mean, loud, uncomfortable, unreasonable, not-really-affordable and very illogical. But it is based on a banfide road car, and that, of course means that one day I absolutely must have and drive one with number plates on the street.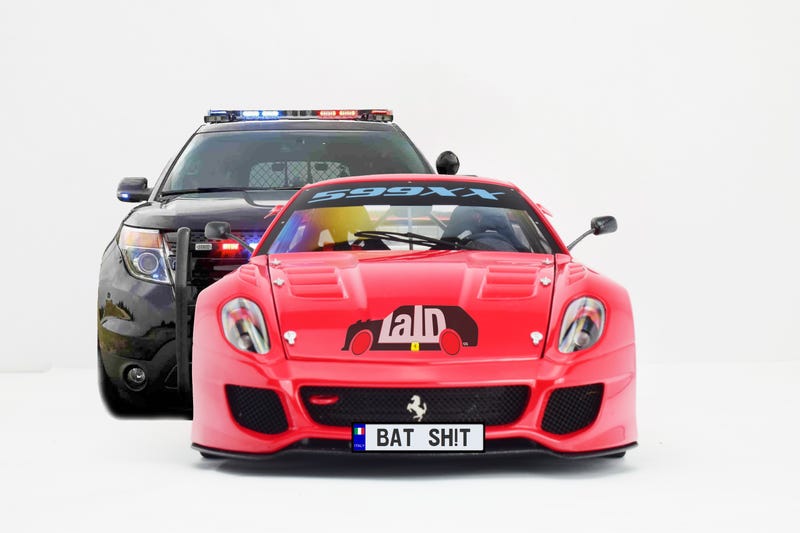 Why is that a fascination of mine? I have no idea. Anyway… 720HP!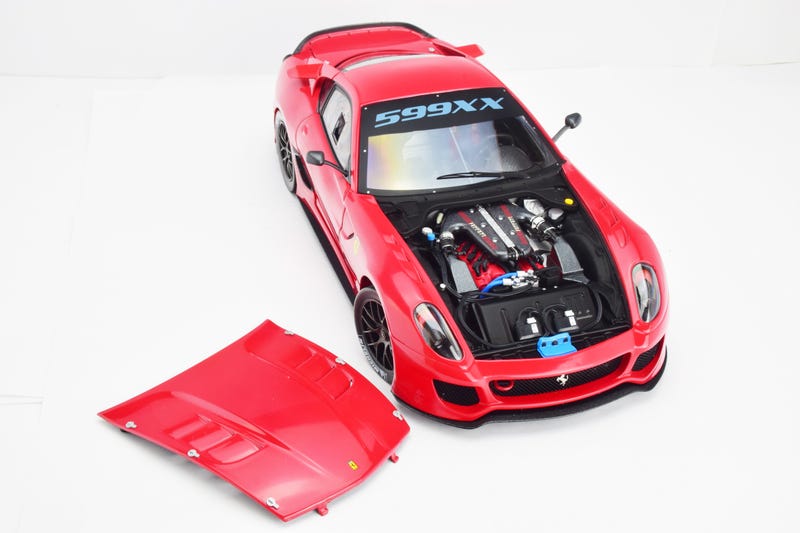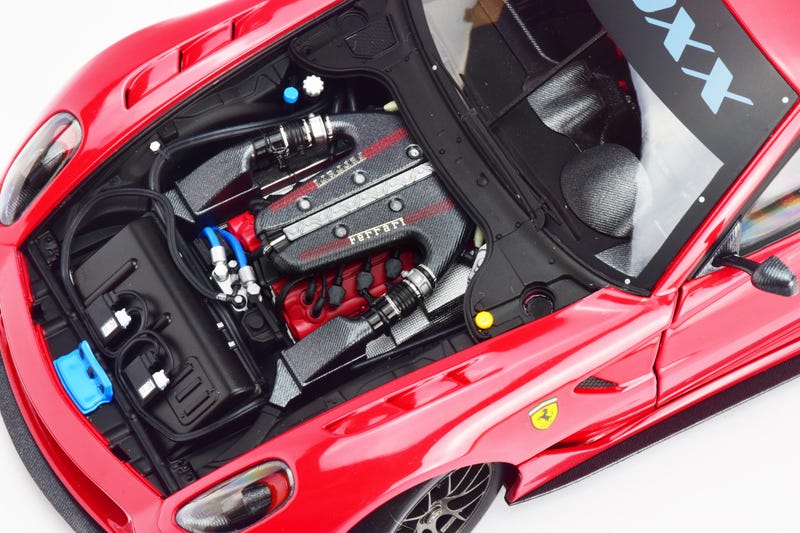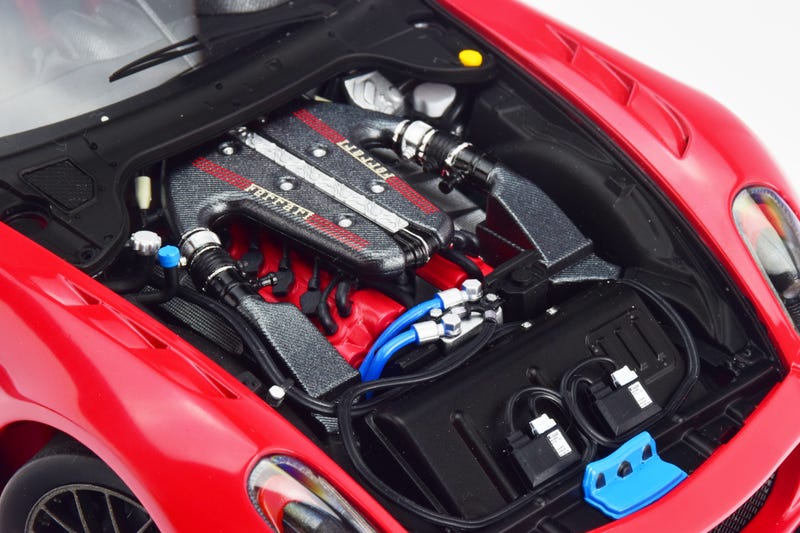 There absolutely is nothing wrong with 612HP and 448ft-lb of torque to help throw you across an international border or two on a road trip. But 3900lbs is a bit hefty for me, I've always been a fan of the 'add lightness' campaign attributed usually to Colin Chapman of Lotus fame. He would have shaved some of those 3900lbs off of his 599GTB, if he had one.
Now, some of you are probably already screaming "but the 599GTO edition exists, you lunatic" at your respective screens, while some others may have just straight eaten your keyboard already. Calm down. 670HP and 3600lbs is indeed a lot better of a power/weight figure than before, and those of you who know that I am indeed a lunatic might be thinking that the GTO would be a fascinating concoction of hardcore streetability and that I would most likely much enjoy the GTO in 1:1. But what if I'm even less normal than you thought. How about 720HP, 506ft-lbs, a 9000rpm redline, and 3340lbs wet? Better.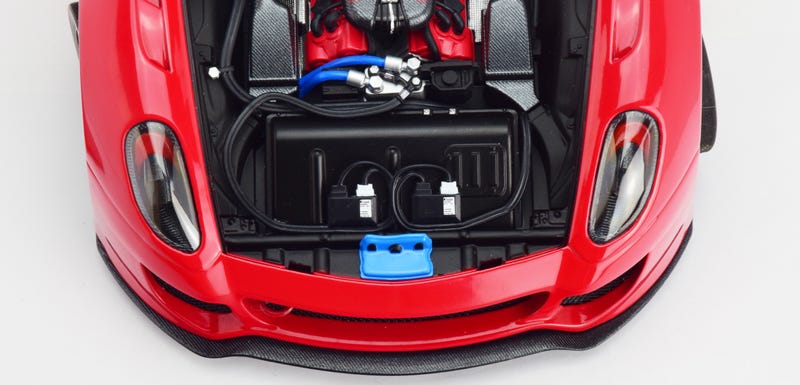 Blueprinted and balanced, a new ECU tune and camshafts to match, and sexy carbon fiber everywhere. Hot Wheels did a great job detailing the engine bay in this, the Elite version of the model. The engine components are all there and mostly all accurately detailed. Some of the wiring should be differently colored, and even more of the wiring and hosing should be separate parts rather than being molded into the surrounding engine covers, but that is the level you get from a Hot Wheels Elite cast. if you want less, get a regular version from Hot Wheels, if you want more, try to find a BBR model. At the 80ish dollars these cost when first released, they were a great bargain for this level of detail and finishing, though nowadays they're closer to the $110-120 range.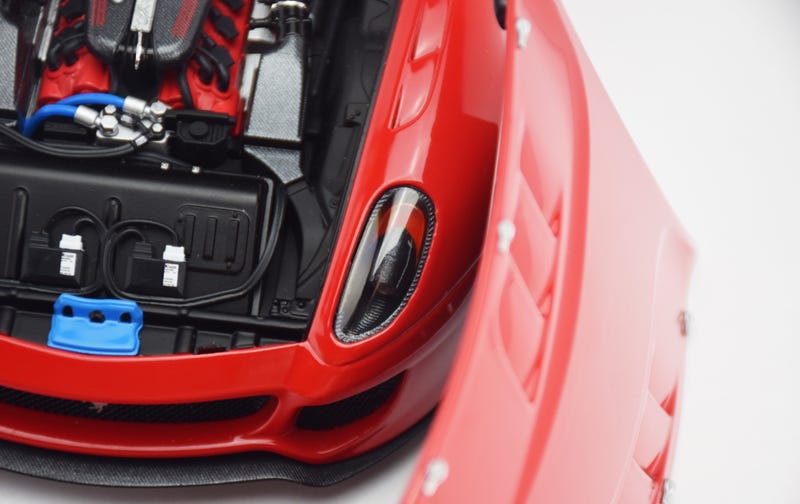 Did you know the 599XX engine has a pound/HP ratio of 4.7? That's .2 more than a Bugatti Veyron.

The hood and trunk detach completely from the car, and re-attach firmly with the aid of magnets to ensure correct fitment and to minimize the chance of scratching something or breaking those 10 precarious hood pins off (speaking from experience here…)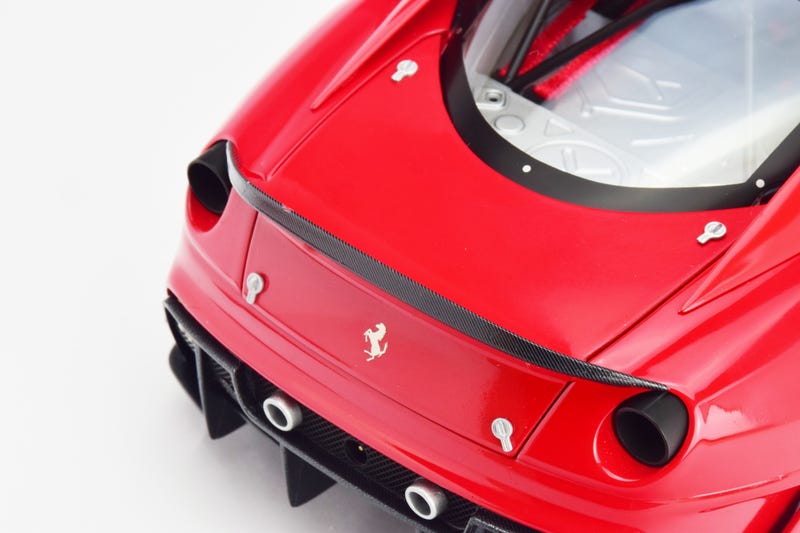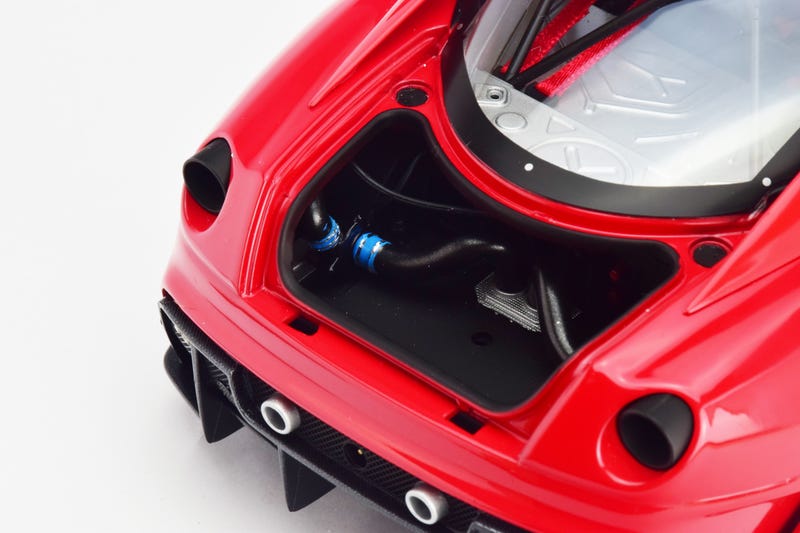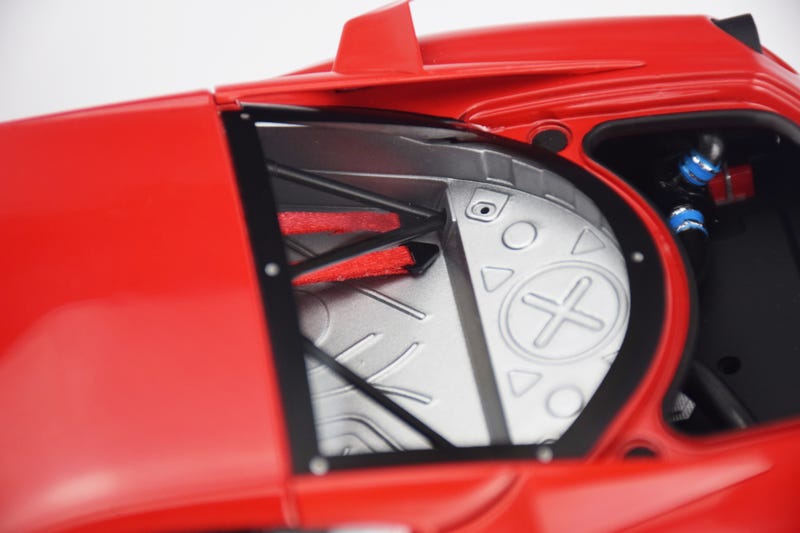 The rear window reveals the bare floor of the car as well as the roll cage and seatbelt mounting points. nothing elseneeds to be in here.
Note the side blades on the C pillar. The C pillar itself funnels air smoothly over the rear window, and those side blades direct the remainder of flowing air down and out, adding downforce and stability.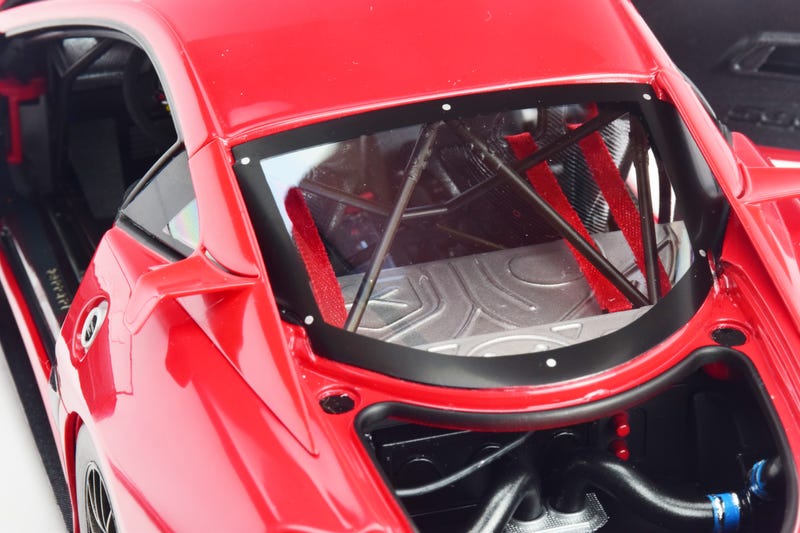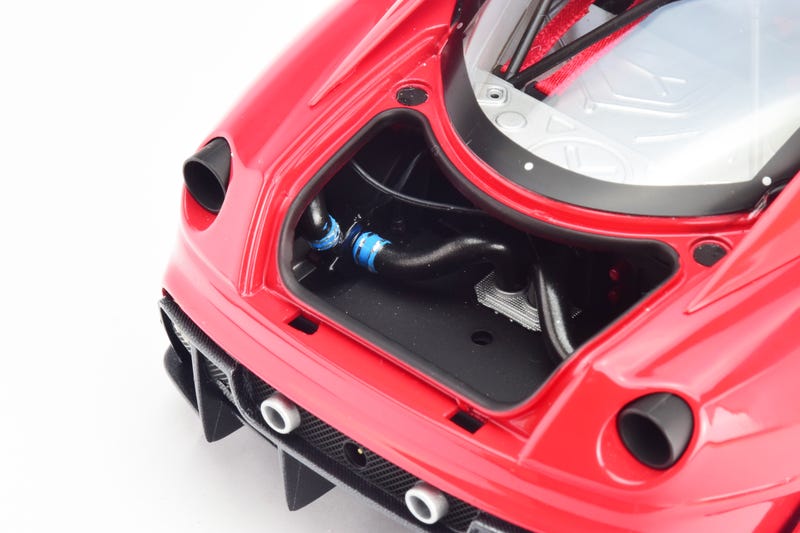 The carbon fiber-lipped trunk itself opens to reveal the extreme level of attention paid to aerodynamic superiority (superiority over what I don't know, this car doesn't really have competition). Those tubes funnel air sucked by electric fans from underneath the car into a storage area, where a diaphragm of sorts can release short bursts of pressurized air out of what used to be the rear lights; those big, black, round, exhaust-looking things.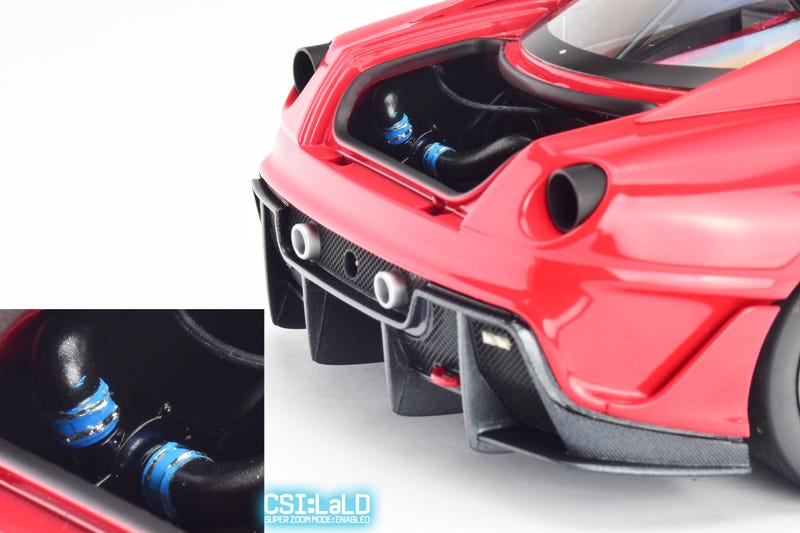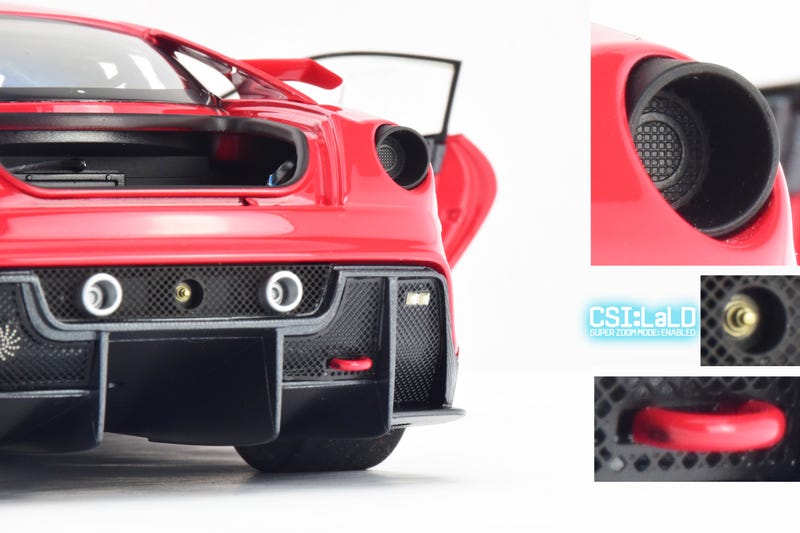 Along with the huge diffuser and the actual tailpipes; the silver ones protruding from the mesh under the trunk opening, the details from the 1:1 car are almost perfectly translated to this 1/18 model. Admittedly the interior mesh in those special black pipes could be rear mesh as opposed to molded plastic, and the diffuser has very noticeable mold lines seen through the carbon fiber pattern. The mesh is all see-through, and the separate components are actually all separate, a design feature that goes a long way to make this busy rear end seem as realistic as possible. The mesh around the air-jack plug and tow hook are not just cut outs, the mesh tapers into a frame for the piece that pops through it there. That is a nice detail.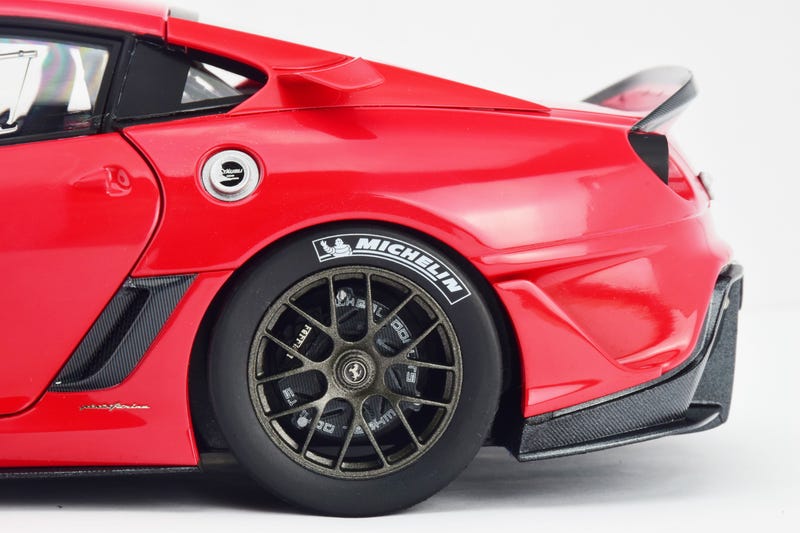 The wheels on this model are stunning. The matte anthracite pattern is very nicely translated to this size and multi-spoked application. The tires -while racing slicks and having no thread- are very realistic looking with their prominent Michelin logos while the softer compound gives them an accurate feel as well.
The brakes calipers are very nice, with their little chrome logos shining through the almost-monotonous shade of black. The brake rotors are barely visible, as they have gorgeously detailed dust shields on them used to vent heat and brake dust out of the wheel well. Those covers, especially on the rear with those logos ("WHEEL DONUTS") are really really nice to see once in a while, and I tend to forget they are there until I really start staring at this model again. These wheels also have black carbon fiber center caps, rather than the yellow ones seen on most Ferrari road cars, an option you could spec to any 1:1 Ferrari if so-inclined.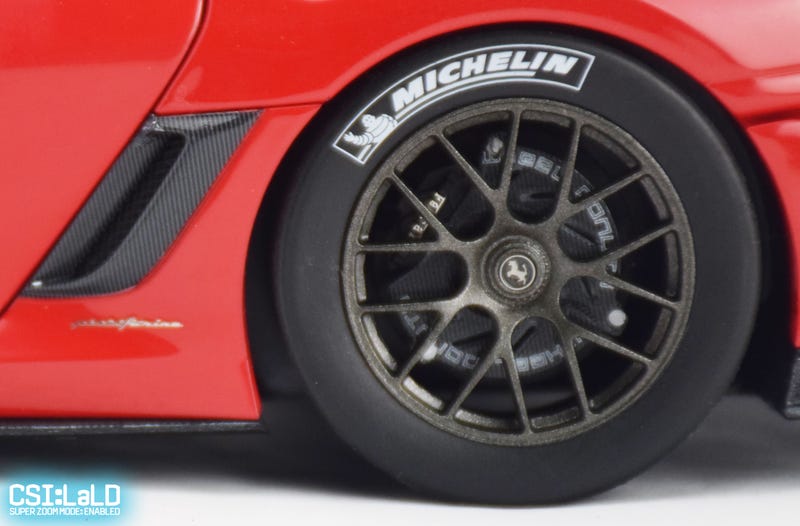 The tiny Pininfarine logo is pretty to see here, especially on the Rosso Corso paint, but it could be more accurate, it just is not as sharp on the similarly sized and intricate logos on Kyosho or AutoArt models.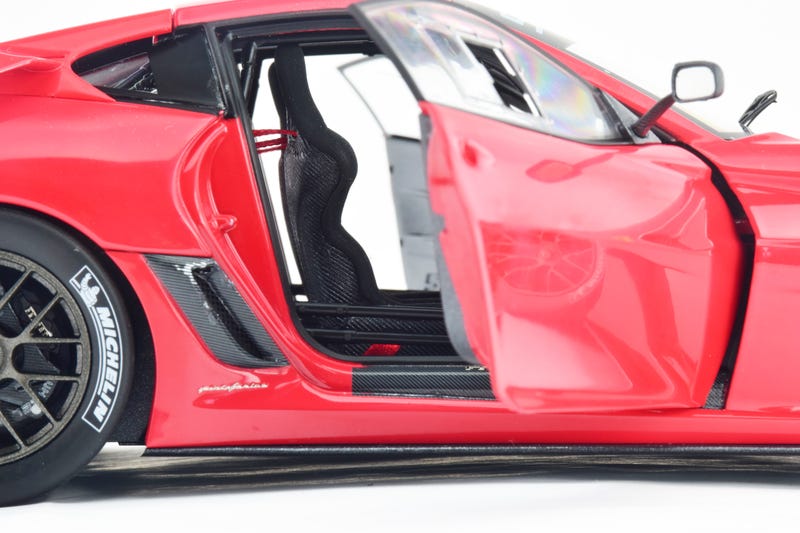 The side scoops have beautiful carbon details on them, though they are decals rather than molded parts such as the wing mirrors or rear diffuser on this car. I've accidentally removed some of that decal on the passenger side of the car while I was removing the number 3 decals this model originally had. My bad.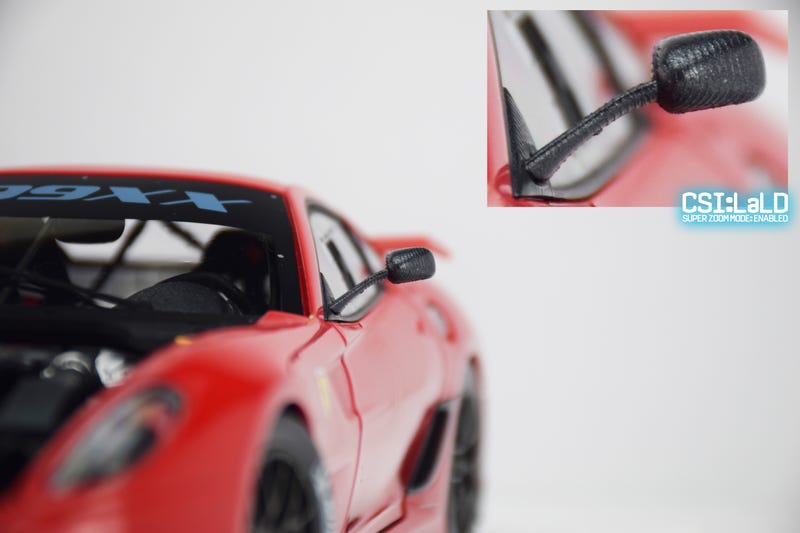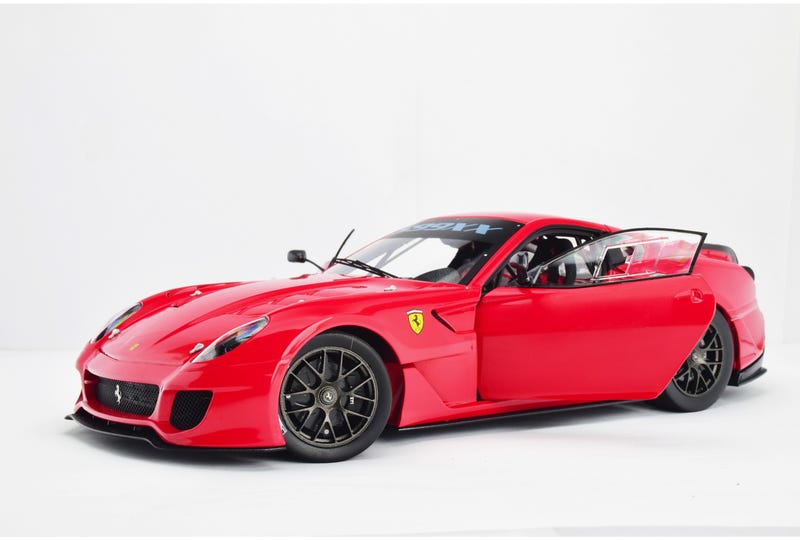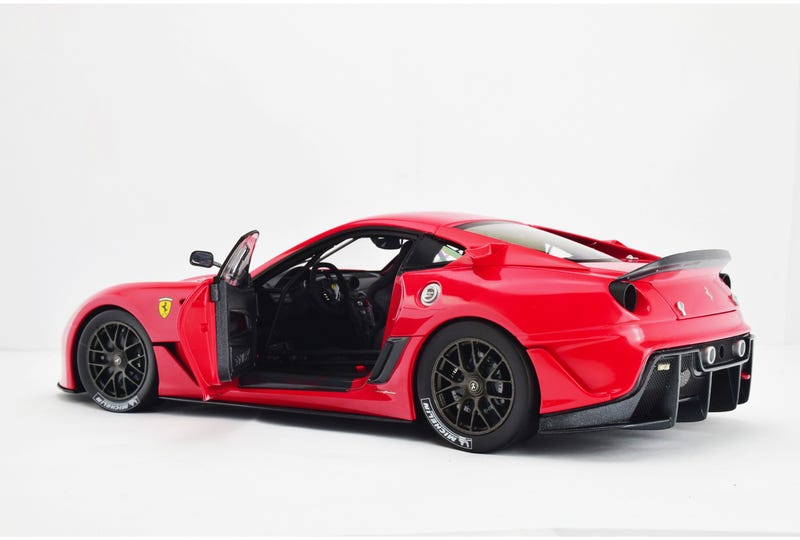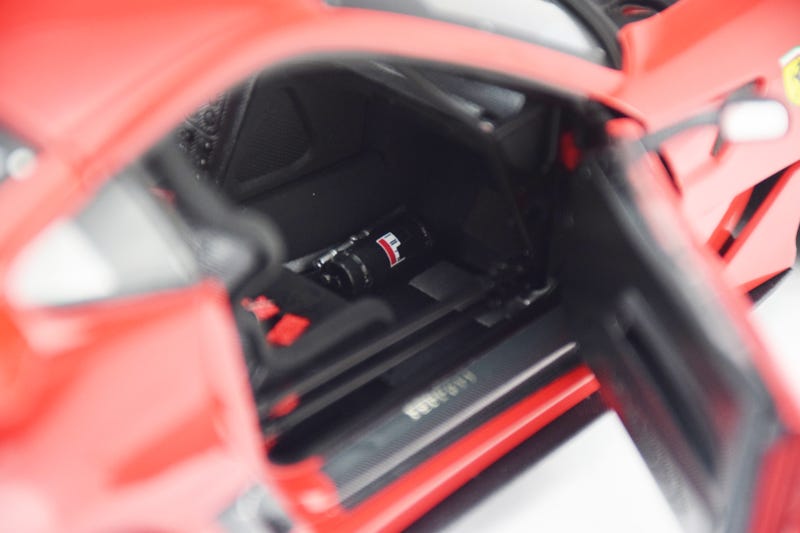 Opening the doors, we can see the fantastically intricate interior. I've said before that I think all race car interiors are virtually identical, and I stand by that. This one is just a little less identical to other, and just that little bit more special, being that it's a Corse Clienti car. That is Italian for Customer Racing, and it is Ferrari's attempt to re-start the idea of 'Gentlemen Racers', like those glorious heroes of racing's past that would buy a car and drive it all over the place, racing it against other similarly-inclined gentlemen. Those guys just weren't all forced to race in the same car and they weren't forced to contain their racing to 18 tracks; they raced wherever.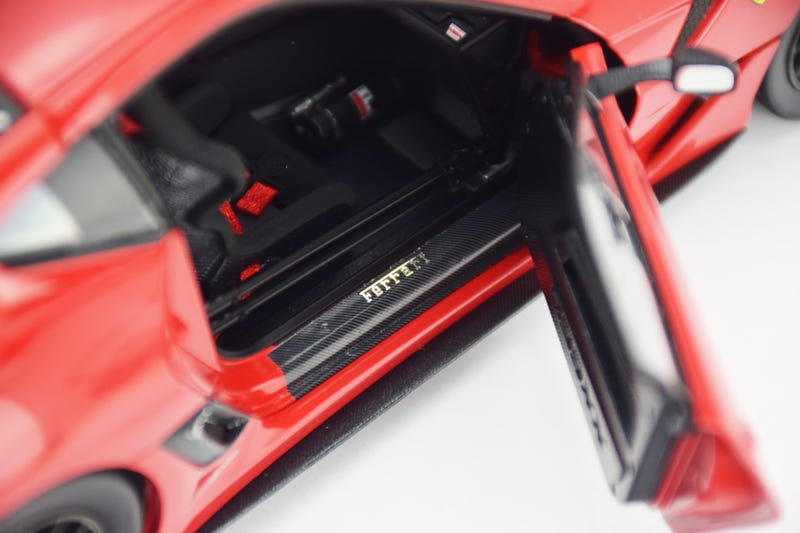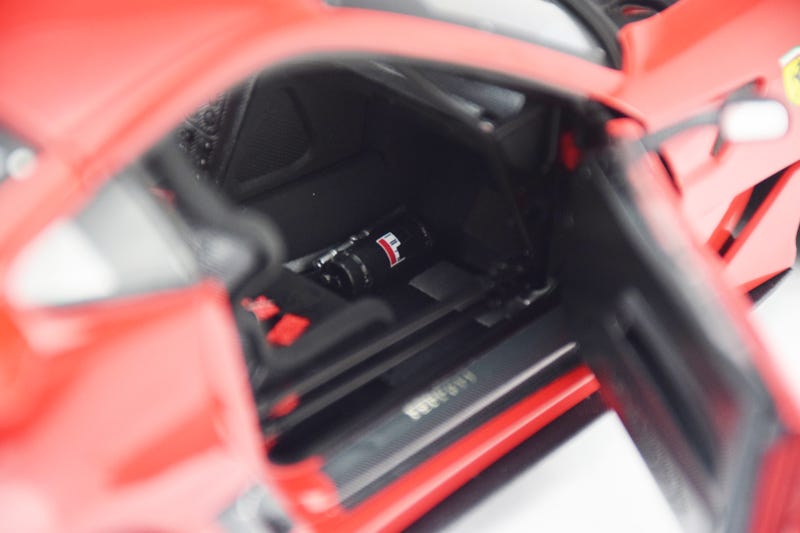 The Ferrari logo over the carbon fiber decal is a wonderful welcome to any situation, while the fire extinguisher reminds you that this thing is no joke. Carbon dash components and race-spec-switches are contained to the center console stack to minimize clutter, while the gauges have been swapped with a race-logic style digital race pack, left blank on the model. The steering wheel is gloriously Ferrari, with carbon fiber 'drivers zone' LEDS atop the wheel, and looks very accurate in this bare-bones interior.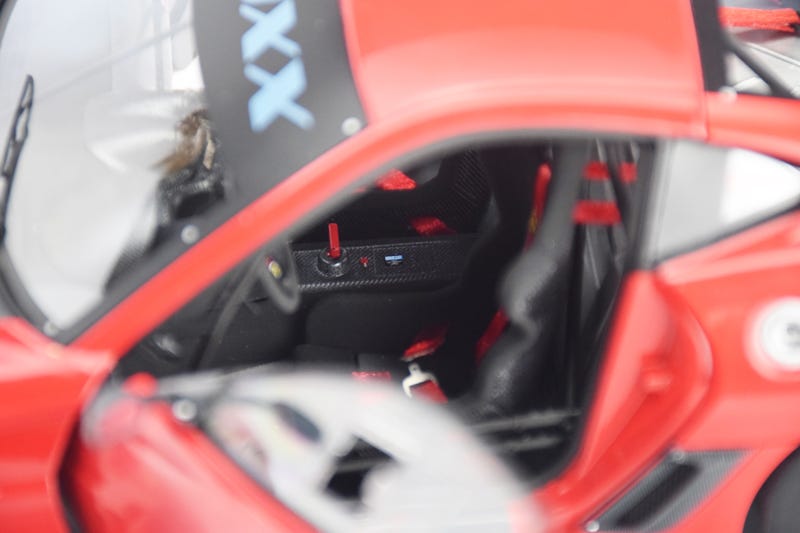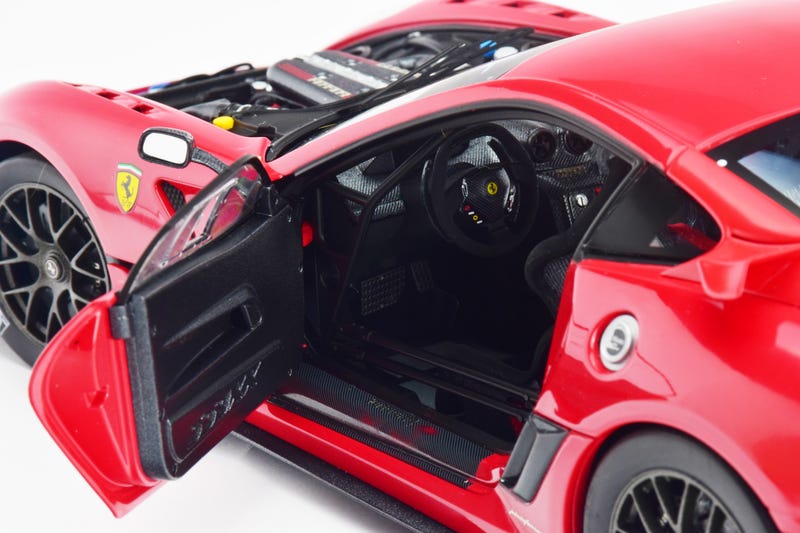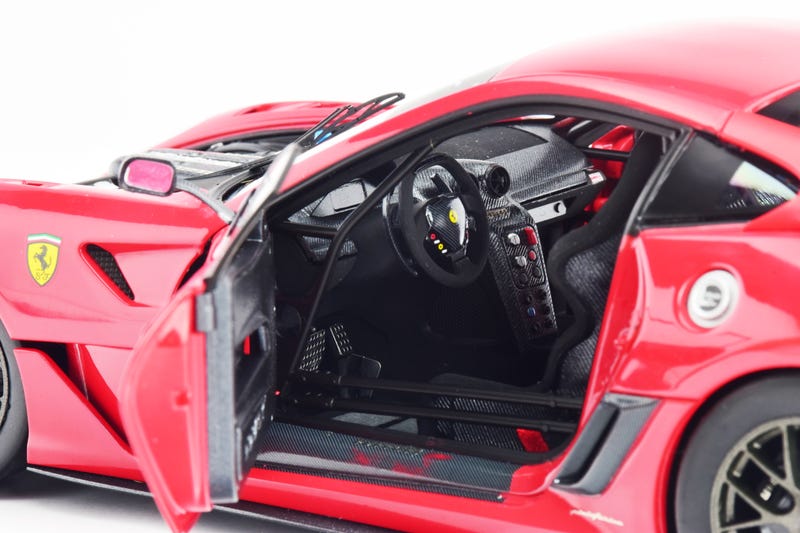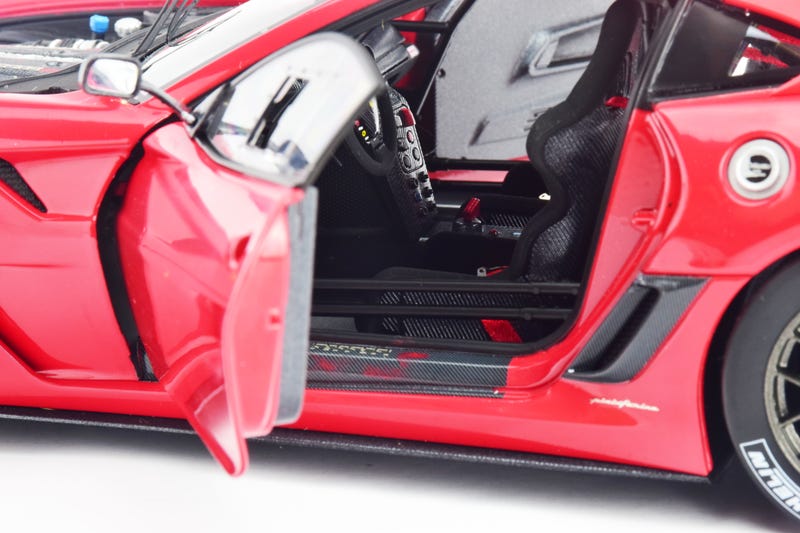 The seats are very nice as well, with carbon fiber backing and alcantara-look fabrics. They have a very subtle red Ferrari horse logo on the headrests, and fantastic looking red woven seatbelts with laser-etched metal buckles.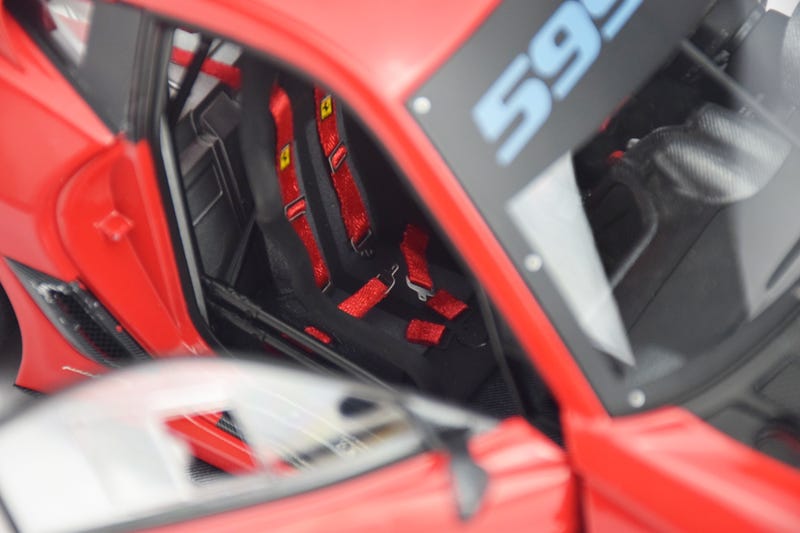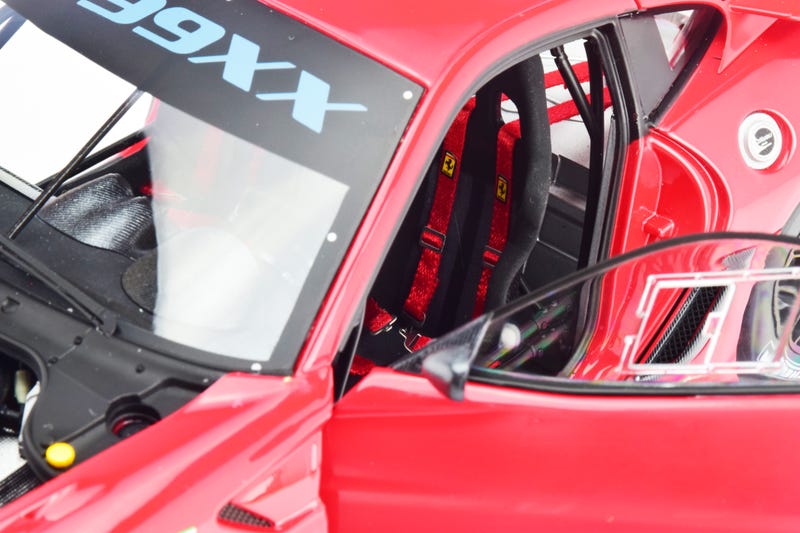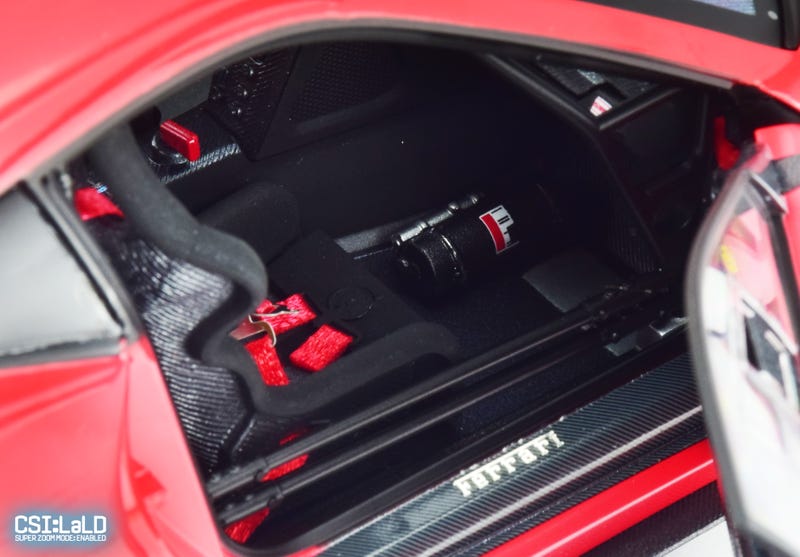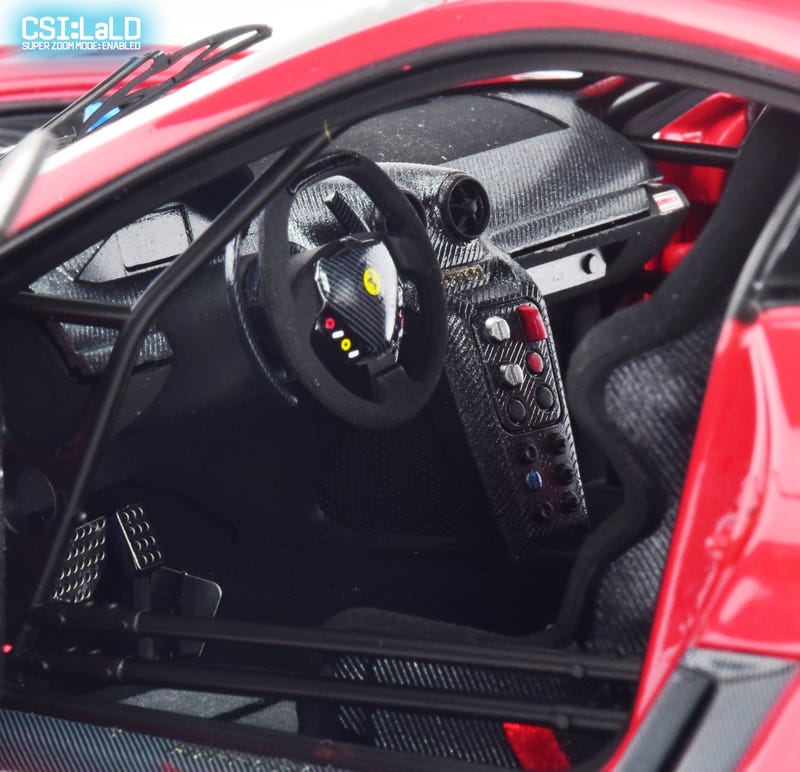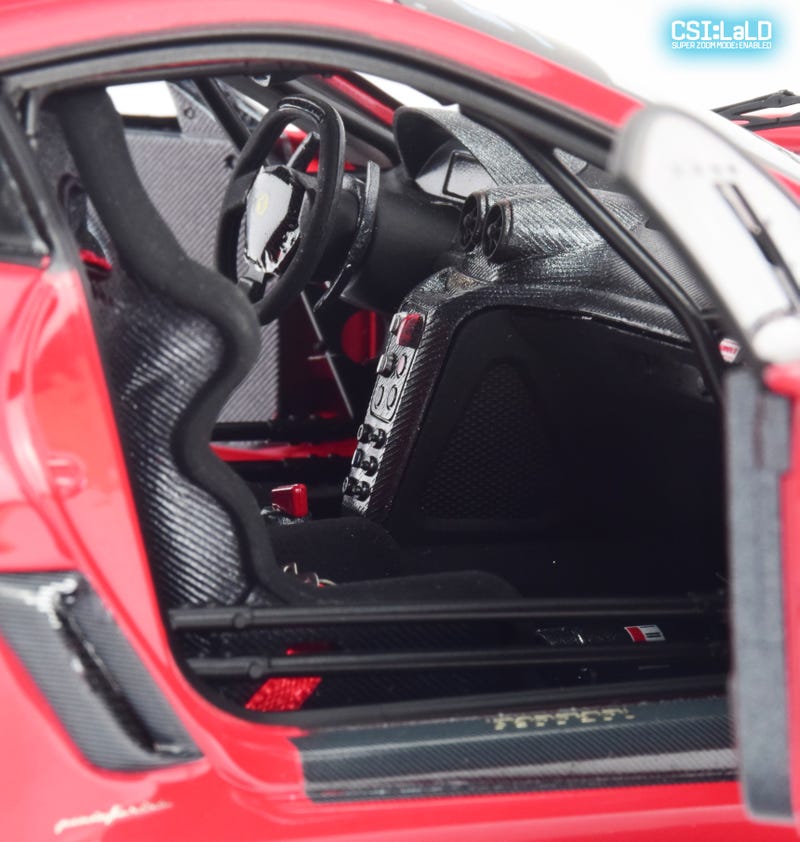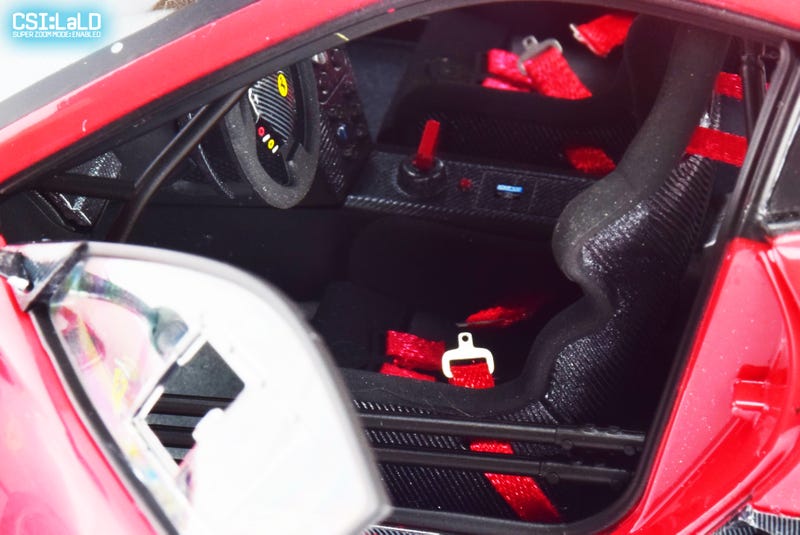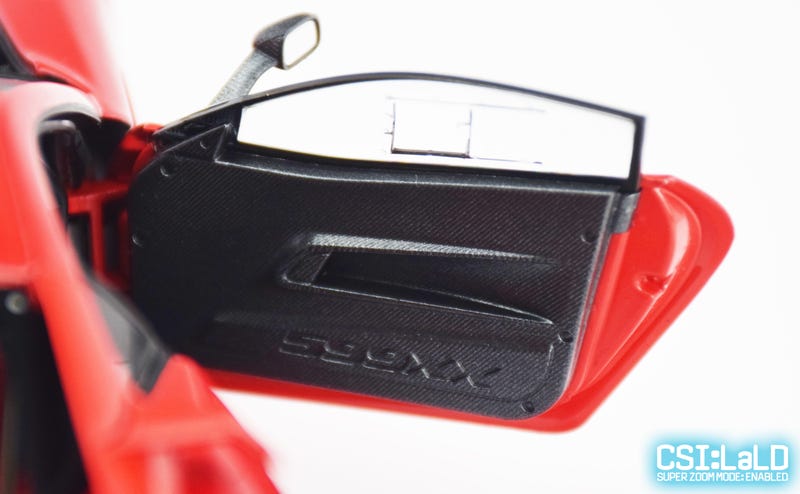 It is also worth noting that the doors have no interior coverings to speak of, just a 599XX-emblazoned carbon fiber door card. Very cool.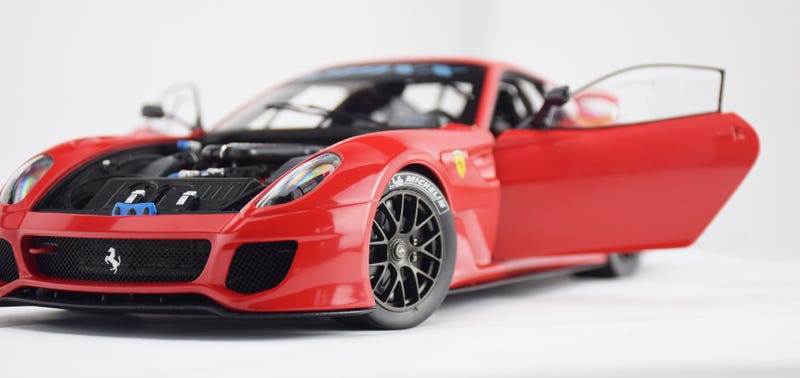 It is a very good model; sure there are more accurate ones, but those are multitudes more expensive than this one was and still is. The regular version of this, which retails around $40, just doesn't cut it for me on an intricate car like this, it is a 'Maisto-level' model. While it isn't more expensive than a Maisto model, and no one but Hot Wheels makes a model of this car for under $300, I still prefer this entry which sits in the middle of the quality/price scale. It has a few flaws and details which aren't spot-on, but the vast majority of this car is stunning, and it looks absolutely fantastic next to the Enzo GT in my display case!

So then, what is my obsessionwith driving this thing on the street being that is has zero comfort or noise control and a race-spec suspension setup? Because I want to. That is all.
Something inside me tells me that sometimes, on rare occasions where the drive is more important that the destination, this is the perfect road car in it's own weird, no-compromise kind of way. It is a solid and fast grand touring speed machine that has been absolutely stripped of anything non-essential to that art of speed. Grab your driving shoes and wallet, leave your phone at home, and go drive this thing; go show it to people at Cars and Coffee events and make little kid's heads explode as you cruise the highways. Wake people up on Sunday mornings with 60-milisecond upshifts and cat-less exhaust downshifts. Scare people at drive thru windows and try to fit groceries in the trunk. Drive it all day and then collapse into a motel bed, just to blast 700 more miles tomorrow. Enjoy the car because it is good, enjoy the car because it is rare, but mostly enjoy this car because it's the most special modern Ferrari I can think of, and with so little compromise that it's unique and special nature actually shines through, loud and clear.
Have a good weekend everyone!