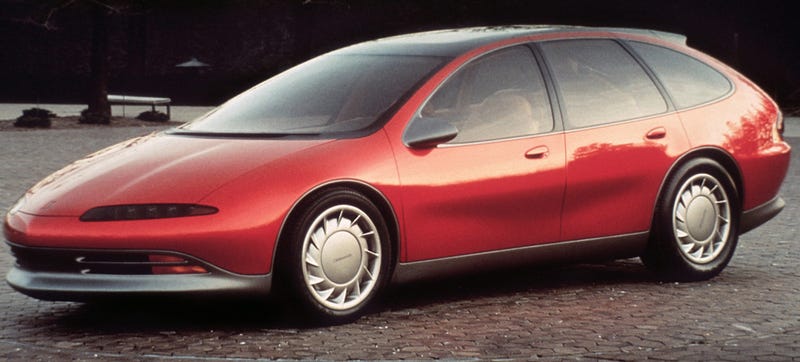 As the last car of the eighties was an angry Maserati, the 90s couldn't have started better than with Oldmobile's fantastic Expression Concept first shown at the 1990 Chicago Auto Show.
The Oldsmobile Expression was a six-seater wagon made of fiberglass body panels with such advanced technologies as four-wheel steering and automatic windshield wipers. It ran on 17/18 inch wheels and had a full leather interior with four bucket seats facing normally and two turned backwards in the trunk.
That's where Oldsmobile put the 8-bit, first-generation Nintendo system as well as the VCR, so kids could play while mom or dad was driving. Are we there yet just became old news.
Let's zoom in on that a bit so you can see the NES:
I do love the fact that Oldsmobile still has a website that welcomes you with this:
For over 100 years, Oldsmobile proudly represented the leadership and innovation of General Motors, winning countless awards and earning a place in automotive history. While GM no longer makes Oldsmobile vehicles, its passion for engineering, technology and design lives on in every Chevrolet, Buick, GMC and Cadillac on the road today.
You can also contact GM about your Oldsmobile-related concerns at cac@oldsmobile.com. Send the poor chap behind that address long letters explaining how everything went to hell when this car didn't make it into production in 1992, and how they should be ashamed of themselves.
No excuses. The Oldsmobile Expression was a Ford Taurus Wagon with a damn Nintendo onboard.
What rear overhang?
Photo credit: GM. Hat tip to Cars That Never Made It!