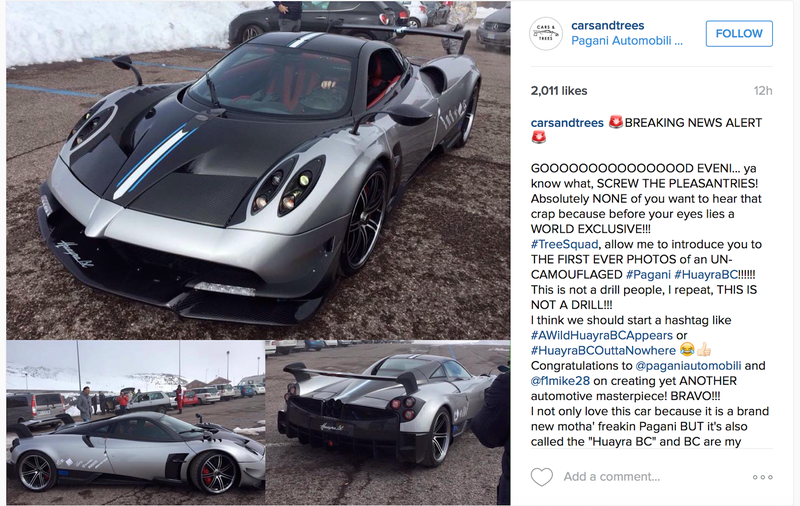 There isn't much to know about the new Pagani Huayra BC just yet, but a few shots posted—and some now deleted—from this weekend might have just leaked its new looks over a month in advance.
The photos above come from @carsandtrees on Instagram, and the post is still up for the time being. The post claims that the owner of the account is unaware of who took the photos, and it's also unclear where the vehicle is.
These photos aren't technically the first look we've gotten at the Huayra BC, if this is indeed it. The Huayra BC recently took a trip to Italy for testing, and it made for a good photo shoot—in that dreaded camouflage wrap we all know so well, of course.
http://jalopnik.com/heres-the-new-…
Pagani also teased the new model on Facebook in December, only revealing a few shots in more of the camouflage wrap. But it is hard to hide the car's giant wing in any situation, so we weren't totally in the dark about its looks.
http://jalopnik.com/the-new-pagani…
But looks are about the only thing we do know, since there are no specs currently available on the Huayra BC and its official debut won't occur until the Geneva Motor Show in March. According to Road & Track, Pagani did confirm that the car is a more track-oriented version of the Pagani Huayra.
Whether this is the official Huayra BC or not, we'll probably find out everything we need to know in a month or so—which is probably about the same time New York City will dig itself out of the blizzard.
H/t toRoad & Track!
---
Contact the author at alanis.king@jalopnik.com.