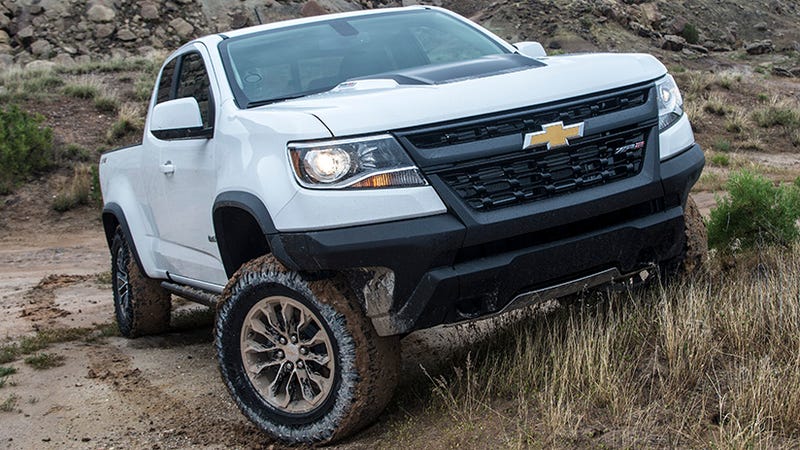 Between sessions of throwing dirt and hitting jumps at the 2017 Chevy Colorado ZR2 launch, I overheard a lot of people asking GM engineers the same question: "So can you still lift it with these fancy shocks?" Technically, yes, you can. But you really shouldn't.

As you probably know, the Colorado ZR2 is the off-road oriented variant of Chevy's mid-sized pickup truck. The crown jewel of its features list is a set of Multimatic DSSV (spool-valve) shocks paired with independent coils in the front and two-stage leafs in the back.
These shocks have been painstakingly engineered to give the truck responsive handling on-road and off-, and they are not user adjustable. But more relevant to my ranting, these shocks have no equivalent in the off-road space, from automakers or the aftermarket.
If you replace them with traditionally valved shocks, tick puck spacers above them, stretch them out with longer springs, lengthen axle shackles or just generally mess with the truck's geometry, you're going to lose the precision of Multimatic's design and that's a very big part of what you're paying for when you sign on the dotted line for a ZR2.
Some would say this applies to any factory-configured performance car. Changing one thing, like the shocks and ride height, wrecks the holistic system that professional engineers have kindly dialed in for you. Of course, those same engineers also had to work with a build budget. And one you might be willing to exceed to perfect what they started. But in the case of the ZR2, the shocks are one of the biggest parts of that pre-set system, and they have no upsized equivalent.
There may be more off-road capable shocks out there than the ZR2's Multimatic units. There are definitely longer ones that would increase the truck's ride height. But since they're the keystone to the ZR2's anatomy, replacing the Multimatics with anything else would defeat the purpose of buying a ZR2.
So don't play yourself: let the ZR2 work its magic as it is, or just don't waste your money on complex parts you're going to throw out. But I suppose if you are compelled to ditch your ZR2's Multimatics, send them my way and I'll see if I can fit them on my Scout.