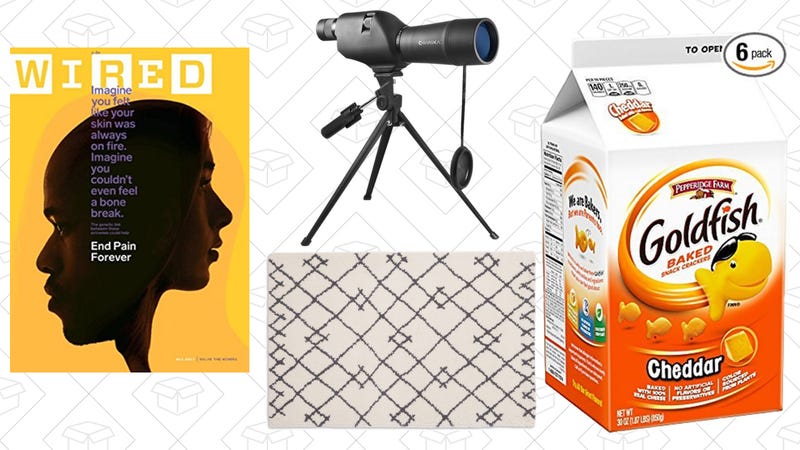 $4 yearly digital magazine subscriptions, Target rugs, last-minute Mother's Day gifts, and more lead Saturday's best deals.

Bookmark Kinja Deals and follow us on Twitter to never miss a deal.
Top Tech Deals
Right now, you can save $5 on RAVPower's Filehub, which is actually two travel-friendly devices in one: A 3,000mAh USB battery pack, and a media streamer that can let you access files on USB flash drives and SD cards wirelessly from your phone or tablet. That's perfect for, say, watching movies on a plane when your tablet is low on space.
Top Home Deals
If spring cleaning involves redecorating for you, Target can help you out. Take $40 off when you spend $150 on any rugs. That includes area rugs, runners, welcome mats, and more. Plus, use the code LOVEMOM and take 10% off.
---
If you live in an apartment building, but still want to enjoy grilling meats and veggies out on your patio, this Char-Broil electric grill can get the job done for $110.

We've seen deals on some similar products in the past, but few can match this model's 320 square inch grilling surface, which is large enough to cook 8-12 hamburgers at once. Obviously, an electric grill will never replicated the smokey flavors of charcoal, but most of the fun of grilling is just being outdoors with a beer in your hand, and this allows apartment dwellers to enjoy the same experience.
---
You've probably noticed that mules have taken over all of your favorite bars, and now you can serve them at home with a pair of highly-rated hammered copper mugs for $22.

---
Goldfish crackers are one of the most addictive snacks out there. I could probably finish one of these 30 ounce cartons in one sitting. Good thing this 6-pack is marked down to under $30 when you clip the 20% off coupon and sign up for Subscribe & Save.

---
You probably looked at that image up there and laughed. But let me tell you, there's nothing funny about using the bathroom in the middle of the night and having to turn on an overhead light to see where you're going. Because as soon as you hit that switch, you know you're not getting back to sleep for another hour.

OxyLED's new motion-sensing toilet lights fit on just about any toilet, and can output 12 different colors of light without wreaking havoc on your circadian rhythms. For a limited time, you can score a 2-pack for $10 with code 2OXYTN01. That's the best price we've seen on these by $4.
---
If you got a fancy new TV for the holidays, this highly-rated AmazonBasics mount will hang it on the wall for $20. This particular model swings a full 180 degrees and can hold TVs anywhere from 22″ to 55″, so it should be sufficient for most of you.
---
Summer is fast approaching and you're gonna want to think about how to keep yourself cool sooner rather than later. Going out to get ice cream is a whole thing, so why not make it at home? This $42 frozen yogurt machine from Cuisinart and you won't have to worry about accidentally overfilling your bowl and spending $10 on a cup of ice cream.

---
Blacklight flashlights are great if you want to spot hidden stains on train seats, hotel sheets, or (gasp) even in your own house…if that's something you want to do.

It may seem silly, but if you find even one stain in a hotel room and complain to management, I guarantee that this thing will pay for itself several times over.
---
The weather just keeps getting nicer, which means it's about time to put some meat on the grill and enjoy it. Amazon is knocking off $5 from $20 orders of grilling favorites. What are these favorites they speak of? Think sodas, sides, spices, and more.
---
OxyLED's uber-popular motion-sensing night lights come in a lot of different varieties now, but today, you can get their new T-04 modular, rechargeable, night light with the code KINJAT04 for $18.

While the T-02 is one of the most popular products, these T-04 night lights are significantly easier to recharge. With its modular design, you can detach the battery pack and plug it directly into any USB port to recharge, then pop it back into the light when you're done. That means you don't have to remove the entire fixture, or even find a microUSB cable.
---
Bodum's pour-over coffee maker is as beautiful as it is functional, and Amazon's marked it back down to $15 today, matching the best price they've ever listed on the 34 ounce model. Hopefully, you take your coffee makers like you take your coffee: Black. Because that's the only color on sale today.
Top Lifestyle Deals
So, tomorrow is Mother's Day. Did you forget a gift or just procrastinated until the basically the last day? Well, you're in luck. Amazon is running a one-day sale on a year of art & craft classes with Creativebug. Today only, you can get the perfect last-minute gift for just $25.
---
Elago's Macintosh-themed Apple Watch charging stand was the cutest thing at CES this year, and now you can say hello to it for $10 from Amazon, or $4 less than its launch price.

---
Prepare for the apocalypse your next hunting trip with Amazon's sale on Barska optics. Pick up a quality spotting scope or a new pair of binoculars. Personally, I would just use the binoculars to spy on the people that work across from my office building, but that's just me.
There is also a pair of beautiful telescopes that would look great next to all your leather-bound books.
---
The Amopé is an electric foot file that literally files down the gross calluses on your feet until they slightly resemble that of a modern human. Right now, grab one for $25 when you clip the $2 off coupon. Pick one up and start taking better care of your treads.

---
American Eagle is letting you revamp your wardobe for less. All tops, for both men and women, are buy two, get one free. This includes tees, button downs, sweaters, and more. Basically anything you can put on the top of your body (except a bra) is marked down.
---
LifeStraws are great backpack staples for hiking, or nice gifts for the outdoorsmen in your life. And right now, they're just $15, which is about as cheap as you're likely to see them, with a few short-lived exceptions.
If you aren't familiar, these allow you to sip directly from basically any source of fresh water you find in nature. Hopefully you never need one, but if you like to spend time outdoors, it's worth keeping one in your bag.
---
The summer is so close, you can feel it, so make the most of it. $20 today gets you an ultralight camping hammock, plus two carabiners and tree straps. All you need is a park.
Top Media Deals
Add an entire year's worth of magazines to your tablet for under $5. Today only, Amazon has a huge sale on digital magazine subscriptions. 12 months of titles like GQ, Vanity Fair, Wired, and more are just $4.
Top Gaming Deals
If you missed out on the pretty big savings last year on the Steam Link, here's your chance. Grab one for $20 and get connected for a whole lot less.

---
The latest Humble Bundle puts indie developer tinyBuild front and center, with a dozen games and DLC packs available for the next two weeks.

The highlights here include Punch Club Deluxe and The Final Station, but if you pony up $40, you'll also get a preorder and alpha access to Hello Neighbor, a stealth horror game about sneaking into your neighbor's house.
As always, the games are divided among a few different price tiers, and a portion of the proceeds will go to charity.
---
Logitech's G602 is more than enough gaming mouse for most people—we're talking 250 hour battery life, 11 programmable buttons, and per-user programmable DPI settings—and it can be yours for $40 today, matching a deal we saw last month.

TECH
HOME
LIFESTYLE
MEDIA
GAMING
---