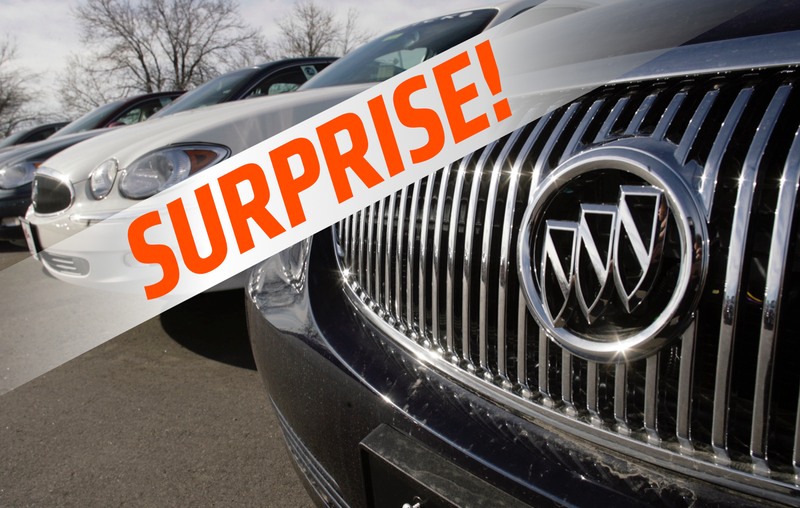 Lately, Buick constantly manages to remind us that its cars are hip and cool. The company's next attempt to reach the youth isn't far away, as it will reportedly show two cars—one of those being brand new—prior to the Detroit Auto Show.
According to Bloomberg, a source familiar with the company said the unveiling will come at a party on Sunday night and feature a new sport coupe along with the Buick Envision SUV. We found out about the Chinese-built Envision's move into the U.S. in December, but the coupe will be the one to watch for tomorrow.
The coupe will be around the size of the Chevrolet Camaro, and that's about all we know at this point. Bloomberg reports that it will be a concept car and may or may not end up going into production, per the source.
The concept fits the company's current advertising campaign, as its "That's A Buick?" approach attempts to facelift the U.S. perception that Buicks are for old folks. That sentiment isn't present in China, where Buick sales are high—nearly a million last year, compared to 223,000 in the U.S.—and production is cheap.
Buick's quest to go from hip replacements to just plain hip is indeed moving along, but a youthful average-buyer age remains far away. From Bloomberg:
Buick's average buyer is now 59 years old, said a company spokeswoman. The average Buick buyer was in the mid-60s a decade ago before new models like the Encore subcompact SUV and Verano compact car started bringing in younger shoppers.
Whatever Buick does end up showing at the Detroit Auto Show, there's no doubt that it's a part of the manufacturer's plan to change sales numbers—last year, U.S. sales went down three percent—and demographics. It'll add to the lineup of new cars, redesigned models and a Chinese-built money saver in the Envision.
And if the reports are true, we'll find out exactly what it will be pretty soon.
---
Photo credit: AP Photo/David Zalubowski
Contact the author at alanis.king@jalopnik.com.