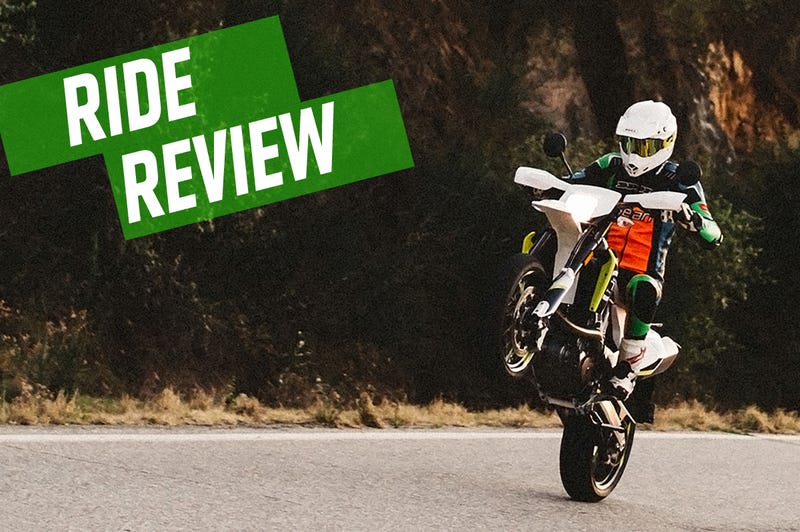 With the 2016 Husqvarna 701 Supermoto, Husqvarna has created a true do-it-all road destroyer. I've never ridden a bike perfect for the twisties and urban settings that could also do freeway stints without brutalizing my body into a painkiller addiction. Then I finally got to throw a leg over the 701.
I am amazed by this bike, and I couldn't wait to tell you how good it is.
(Full Disclosure: Husqvarna wanted me to ride the 701 Supermoto so bad, they invited me to ride one from their office in Murrieta to Anza Borrego. When I told them I needed more time on it, they kindly obliged and let me borrow it for a week.)
Husqvarna has an odd history in the motorcycle world. With a few incredible off-road machines and a little help from this guy named Steve McQueen, it has a huge heritage. Unfortunately, in the past few decades it's wavered between going under completely and being passed around like the smelly kid at daycare.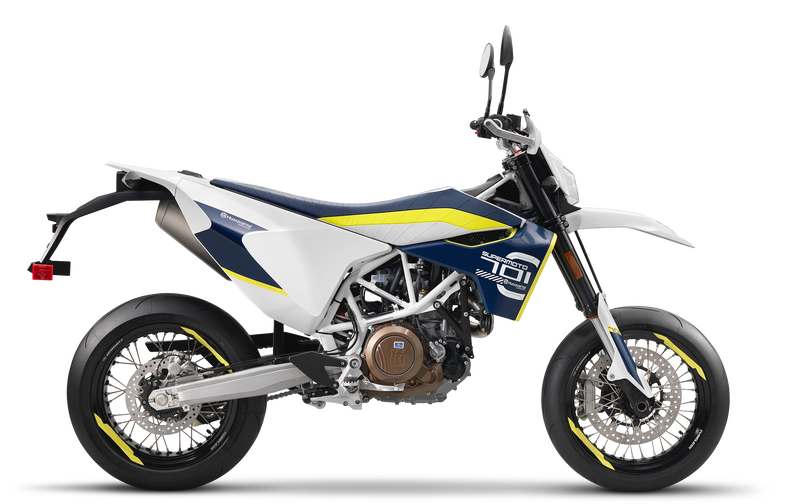 BMW bought Husqvarna from Cagiva MV Agusta in 2007, which we all assumed was a move to fill out their dirt offerings. BMW went a different route, taking them on road as basically rebadged BMW F 650 GSs. They were bad. Really bad.

In 2013, BMW sold Husky to Pierer Industrie AG, the holding company owned by KTM CEO Stefen Pierer. They dropped the silly Terra and the quality of their dirtbikes shot up, as they re-launched with basically just rebadged KTMs.
http://lanesplitter.jalopnik.com/how-one-design…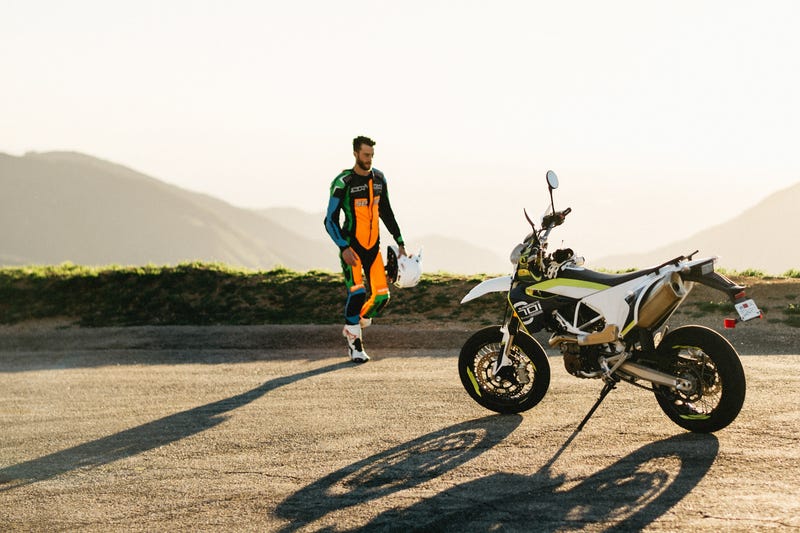 Even though the 701 Supermoto looks to be just a rebadged KTM 690 SMC, it's actually Husqvarna's first (mostly) originally-designed motorcycle since coming under new ownership. Sure, it's the same motor and shares a lot of the same geometry as the KTM, but Husky's designers took some building blocks and what was working on the KTM and made it better. Not an all new bike, designed from the ground up, but a good start.
The Specs That Matter
The 701 Supermoto uses the engine from the KTM 690 SMC supermoto, which is a single cylinder, 690 cc single overhead cam motor. Where it differs from the KTM is in the throttle bodies and fuel mapping, where Husky played with the timing to smooth the throttle response and decrease vibrations. The 701 makes 67 horsepower at 7,000 RPM and 49.4 pound-feet of torque at 6,500 RPM.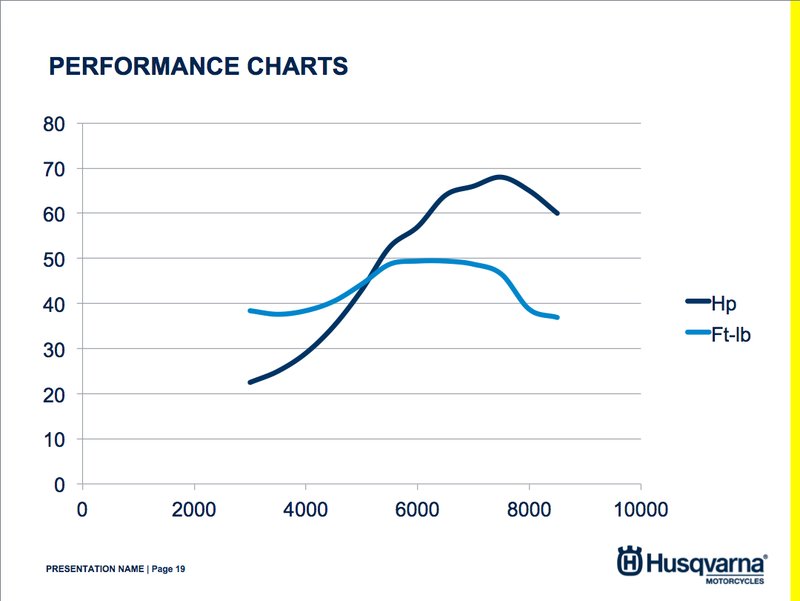 The bike has a ride-by-wire throttle and comes stock with three fuel maps: standard, soft, and advanced, and also has a "bad" fuel map available for when you decide to ride in far off lands with less than ideal gas.
The 701 Supermoto comes with a slipper clutch standard, which means the pull on the clutch is 50% easier and also further removed from the vibrations of the bike. It also means the rear wheel won't chatter, chirp, or hop when you downshifting aggressively—which is going to happen a lot.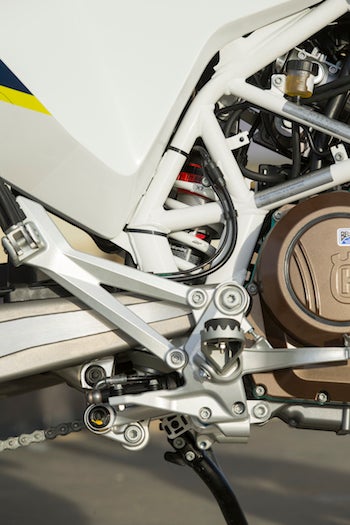 The rear subframe is also new, and Husky went with a plastic unit to help save weight. The 3.4 gallon tank is integrated into the tail, as are the passenger handles, but the entire unit still only weighs 11.5 pounds.
Suspension comes in the form of a WP closed cartridge 4cs front fork and WP read monoshock with linkage, which is nicer that the ones on the KTM 690. It has 275 mm (10.8 inches) of travel front and rear and is fully adjustable for spring preload and compression/rebound damping adjustments adjustments.
To help slow you down, the 701 Supermoto comes with a single, 320 mm disc up front with a Brembo four-piston, radially fixed caliper. Out back sits a 240 mm disc with a Brembo single piston, floating caliper. Also included is Bosch's 9.1 MP ABS system which can be turned off. Or, for those of you who really like to push your hooligan riding, an optional dongle will let you turn off the ABS only at the rear. Because sliding.
Finally, and while this may seem trivial and silly, one of the specs that plays a huge role in this bike's being so good is that they've mounted the triple clamp with a thick rubber, which greatly reduces vibrations at the bars. When I asked for your questions on the bike, most of you asked about vibrations. We'll get more into those questions, but they vibes are drastically reduced.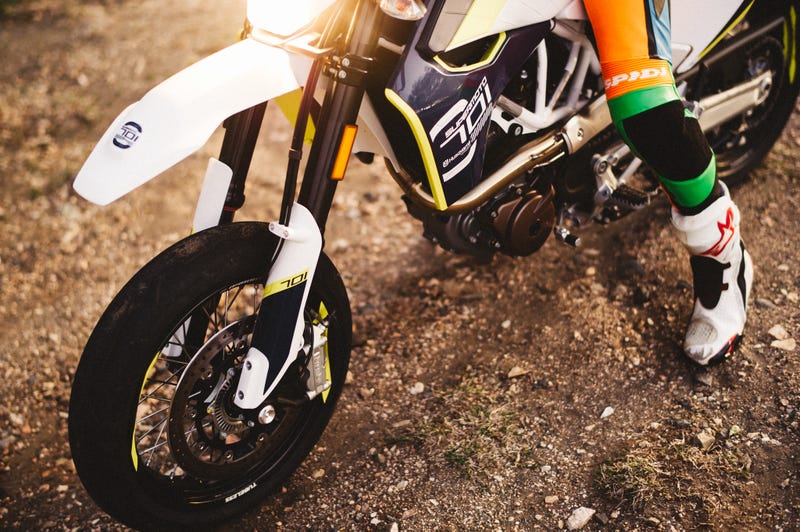 The 701 Supermoto and 701 Enduro will be in dealerships soon, and will retail for $11,299. They say they're only bringing in a limited number this year, so get your deposits in early if you haven't already.
We Rode The Damn Thing
I'm a big fan of supermotos, which means I'm also acutely aware that there is nothing available today that is really worth buying. I love the DR-Z, but they just take so much work to get them to actually be able to go fast, and even then they aren't that fast. Even when KTM did offer the 690 SMC here in the U.S., it was too big too be a true race bike while not refined enough to be a great every day bike.
The Husky checked a lot of boxes, but dating has taught me that good on paper and good for day to day life can be very different things.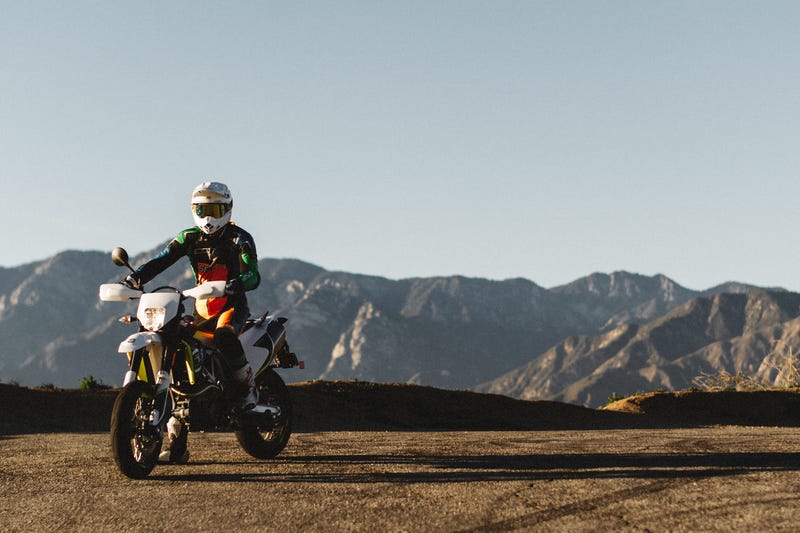 But the Husky delivered. Immediately. Within the first 10 miles, I knew the 710 was something special. It's a very similar size to the Suzuki DR-Z400SM supermoto, with both weighing 320 pounds and having 35 inch seat heights – but has more than double the power.

From go, fueling is spot on. Even in the "advanced" fuel map (which is changed under the seat), there's no abruptness between off and on fueling and the bike pulls hard until just before the rev limiter kicks in.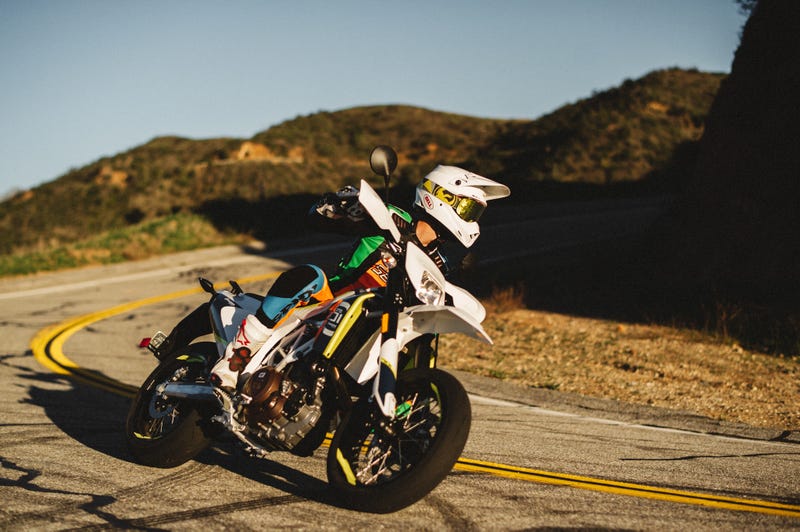 While you'd think that much power in a package that small might be really difficult to handle, the six speed gearbox is spaced perfectly for the bike. Many of us like the closer gearing of the Enduro in the tight stuff, because we're dumb and want everything turned to 11, but cooler heads agree the gearing is spot on. That huge thumper means you don't have to gear it super low to have enough power at the bottom, and the additional space up top is vital for making this bike appropriate for day to day riding.
It also means that you can ride it like a real street bike, playing in the middle of the rev range rather than making your next shift as soon as you've completed the last one (as you do on the DR-Z). Even better, that tall gearing (along with the rubber mounted bars and refined fuel mapping) means you don't feel like you're revving the guts out of the bike on the freeway.
I did 50 miles of Southern California freeways at So Cal freeway speeds (85 plus) and didn't feel like I was stressing the bike more than I did my old 2010 Triumph Bonneville. At normal freeway speeds (70 mph), the bike cruises along in ease.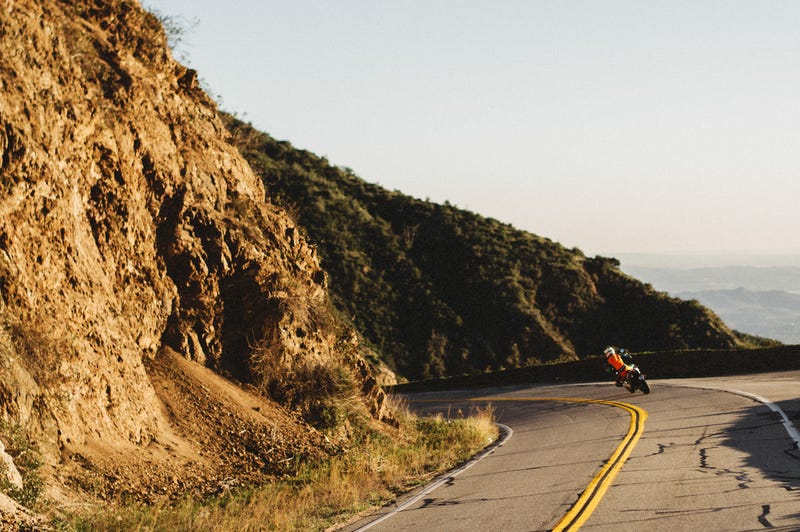 Once I'd finished that long trek riding up to Malibu's tightest and twistiest, it was time for real fun to start—and the Husky was more than happy to oblige. It was here that the 701 really cemented itself as maybe the best bike on the market for public road pounding.
The front fork was set up near perfectly for my weight (on roads with lots of imperfections), and the side to side transitions are insanely fast. The front gets a tad shaky coming out of corners on the gas as the front end wants to lift but, besides that, the 701 is planted no matter how far you lean.
That big Brembo front and slipper clutch kept things settled as I came screaming into the tighest turns Malibu had to offer, and the fueling made applying throttle out of them drama free and gave me confidence to push harder. Then, on parts of road like the fast section of Mulholland, the gearing and strong mid range power helped me chase down liter bikes well into triple digit speeds through the sweepers.
The 701 Supermoto put such a stupid grin on my face, partly because it's a supermoto hooligan bike and that's what they do, but also because it really lets me focus on being a better rider. It gives you all the tools you need to go fast, but doesn't need to be ridden hard to work or be good. It's so consistent in how it responds to inputs, that it lets you stop worrying about what it might do and focus on the next corner's apex or your body positioning—even on your first day on it.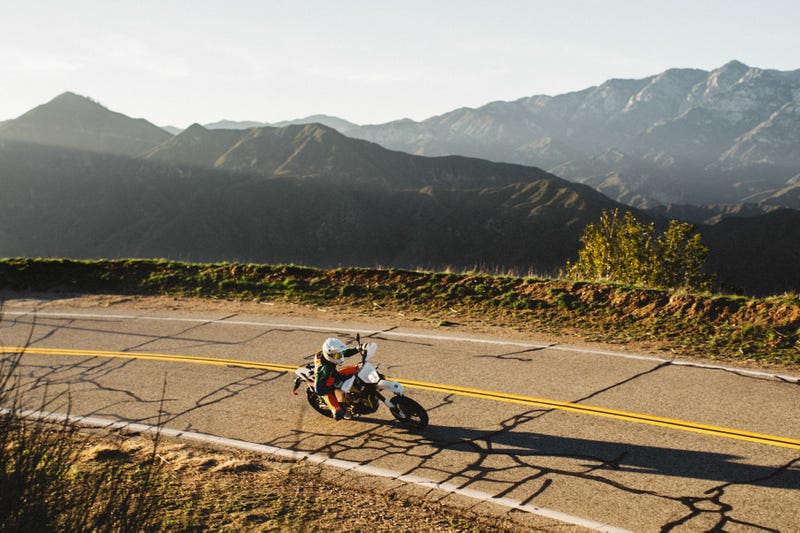 I've never been great at wheelies because binning a press bike learning to show off is not a good way to keep a job. But the 701 is so predictable and makes it so easy that, by the end of the day, I refused to keep the front end down.
What We'd Change
All of this isn't to say that the Husqvarna 701 Supermoto is completely perfect out of the box or that we wouldn't change a thing. It's just really close.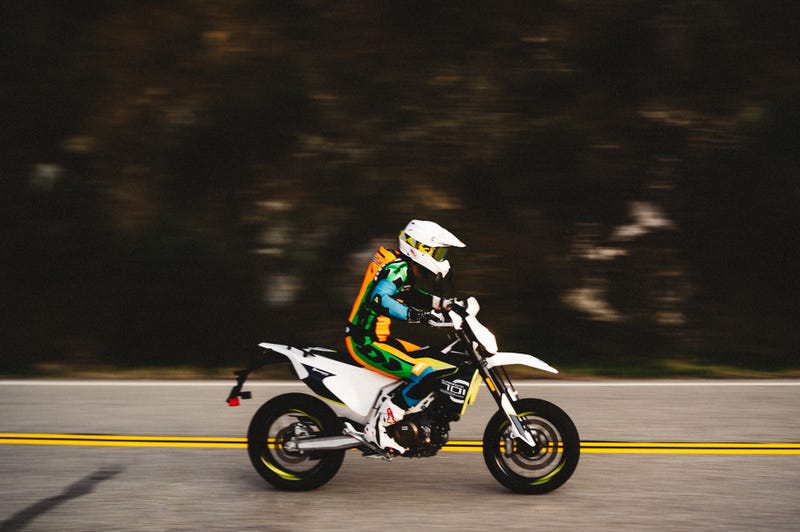 The first things to go would be the stupid mirrors and seat. The mirrors hit me in the helmet anytime I was really hanging off the bike, and the seat is sort of slippery and shaped in a way that made any sort of decent mileage day pretty uncomfortable. Seat Concepts does a seat for the DRZ that's absolutely incredible and should be added to every Dizzer out there, and hopefully they'll have an option for the Husky soon.
The ABS system on the bike works really well (thanks, guy who pulled cross the double yellow lines into the carpool lane on the freeway!), but I would love more stopping power up front and noticed some significant brake fade after my long day of canyon riding. If this were my bike, I'd be eyeball deep into some dual disc options on Thumpertalk.com.
Besides the brake fade, the only other problem I had was with false neutrals. I hit a lot of them, mostly when upshifting sans the clutch.
Husky has a great range of accessories, and the Akropovic exhaust system, ABS dongle ($109.99), skid plate, and graphics kit would also find their way onto a permanent bike – because they're awesome. I'd also add a steering damper.
You Wanted To Know
I posted a pic of the bike on those social medias the teens are always talking about and asked what your questions were about the bike so I could help tailor the review to what you wanted to know. If you aren't following me on Instagram or Twitter, you really should be. I try and keep the food and cat pics to a minimum.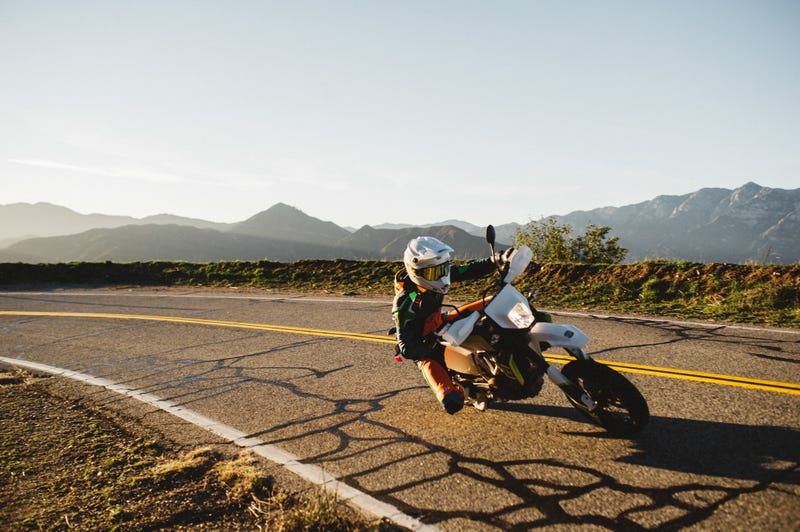 "Too much power? I'm seriously considering something like this in a few years." – I would say that a new rider could definitely pilot this bike without killing themselves, especially with the mellower fuel maps, but you'd probably want to look elsewhere anyways. The dealer network is still really scarce and maintenance will be a little more and I'd be more concerned about being sure you wanted that level of investment more than worrying about it being too much.
"WHY ARE YOU WRITING ABOUT HUSQVARNAS AND NOT TALKING ABOUT THOSE HIPSTER BIKES?!?!?!" – Because those won't be out for at least another year or two, and this bike is honestly better. Those are pretty and I want to cuddle them and they're going to be really good, but this thing is special.
"What's the gas mileage like if you don't ride like a hooligan?" – This question does not make sense to me.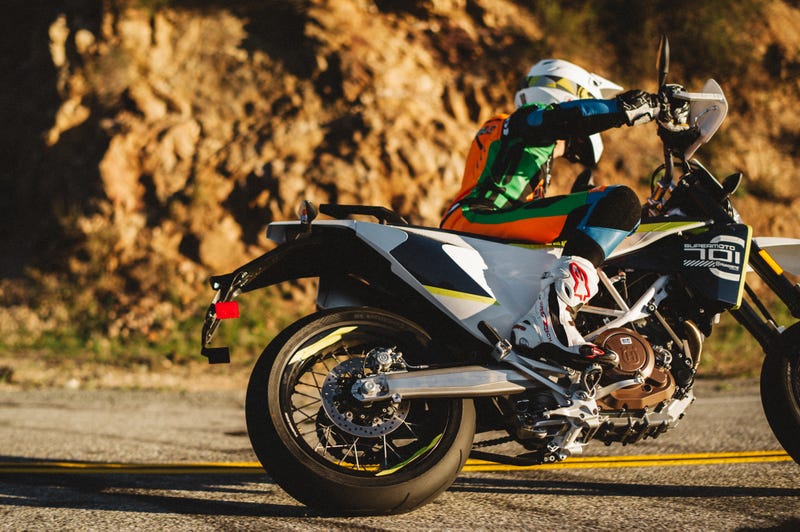 "Shut up, seriously though." – I got about 130 miles out of a tank when riding like a complete asshole (90 on the freeway up to Malibu and then like a banshee with his ass on fire all over the mountain). The tank took 2.7 gallons when I filled up. Husky claims it will get more like 160, but I couldn't bring myself to waste that sort of mileage on the bike.
"Why doesn't it have the Duke's new double counter-balancer?" KTM and Husqvarna are run as seperate companies, and design the bikes in different departments. This bike was first concept back in 2012/2013 when the Husqvarna team likely took the existing motor as one of their building blocks and went from there.
"What celebrity date would you pick up on the Husky 701 and why?" Easy. Gal Gadot. Because I'm a sucker for an ethnically ambiguous babe, I love the Fast & Furious movies, and she doesn't look like the type who only likes scramblers/cruisers.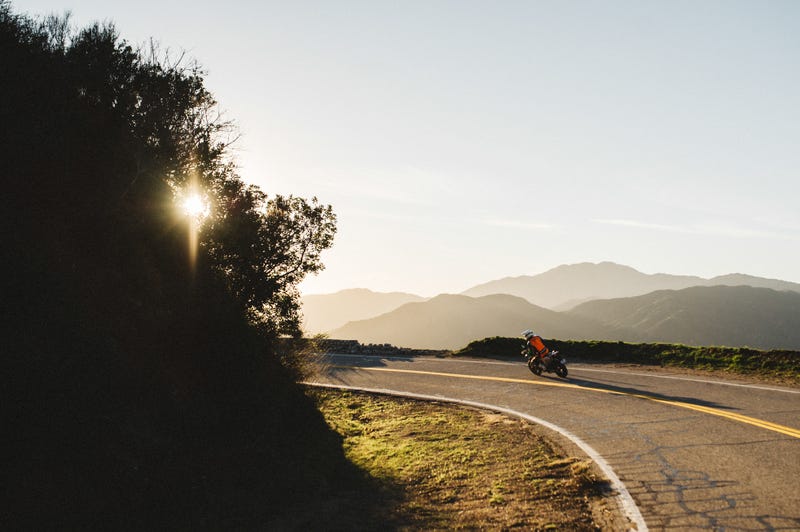 "Does the seat heigh require basketball player length legs?" – Surprisingly, not at all. I'm six feet tall and am more torso than legs and I can almost flat foot on both sides of the bike. I let my photog buddy, who's 5'8″, sit on it and even he said he was surprised it wasn't too tall. That narrow seat and low weight do wonders.

"How long did it take your moto-boner to subside after riding the bike?" The dude still won't go away.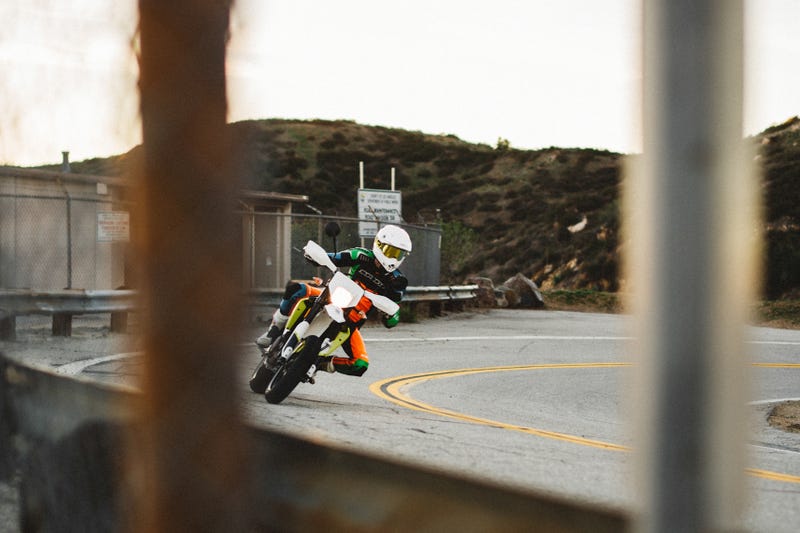 "Did they use that new, high performance blinker fluid? I heard it improves cornering." – It works really well when you're leaning right, but not as well when turning left.
"What are the service intervals on that bad boy?" – Husky quotes 6,200 miles.
Why You Should Care
If I were a wealthy man (which I will never be as long as I work for the Internet), I'd have a Husqvarna 701 Supermoto, Ducati 959 Panigale, and Honda Africa Twin in the garage—and I'd do 90 percent of my riding on the Husky. (Okay, and a Husky FE 350 S, Yamaha YZ250F, and KTM 1290 Super Duke GT).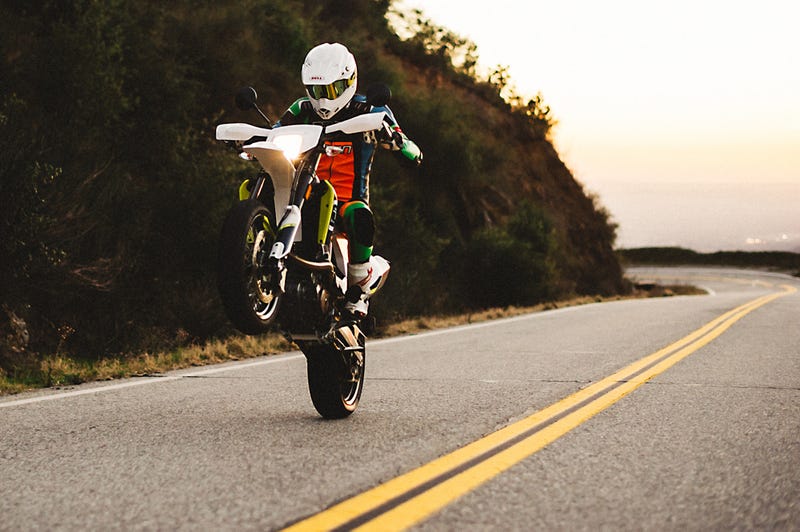 This bike just does so many things well, I can honestly say I think it's worth the relatively high price of $11,300. Is that a lot for a single cylinder supermoto? Sure. But, for this bike it's totally worth it.
It's honestly amazing that, in an age when so many brands are unable to create a production bike with decent fueling, Husqvarna can nail it with such a torquey thumper. Great fueling, great handling, incredible motor, relatively low vibes, nice brakes, and low weight? On something that will make my commute fun instead of miserable? And that I can spend countless hours hooning in the canyons? SIGN. ME. UP.
Unfortunately, Husqvarna says they're still working on expanding their dealer network. They're done pairing Husqvarna with KTM, so looking for other shops has been a struggle. As such, the nice Husky man (capitalization counts, people) said they weren't bringing many 701s into the States this year. I think it's time we demanded more.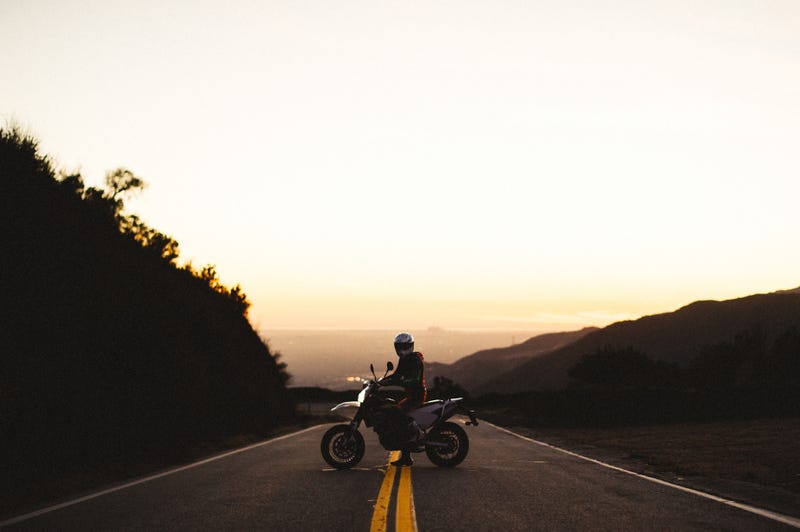 I haven't had the chance to take it to the track, but can promise you that's on my list—for science's sake. I can also promise you that if you ask me what bike you should buy, I'm going to tell you this one.
Sean's Gear:
Helmet: Bell Moto-9 Flex Helmet
Goggles: Dragon NFX
Suit: Spidi Track Wind Replica Evo Race Suit
Gloves: Racer High Speed Gloves
Boots: Alpinestars Supertech R
Photos: Chris Glenn and Kevin Wing
Contact the author at sean.macdonald@jalopnik.com. Follow Lanesplitter on Facebook and Twitter.