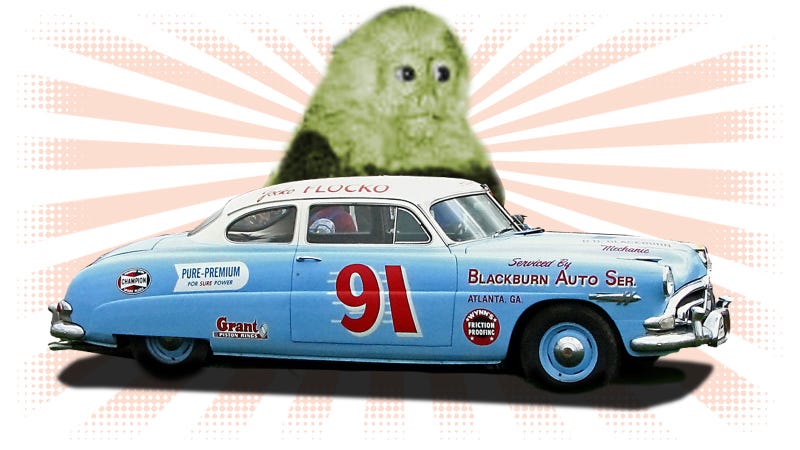 This is one of those stories I can't believe I've never heard before. It's a story that has everything– a Hudson, racing, rule-breaking, and a freaked-out Rhesus monkey going nuts on a man's face. That's every element you need to make a timeless, compelling tale. So, sit back and enjoy the saga of Jocko Flocko, the fastest monkey to ever race in NASCAR.
I was told this story by Ray Evernham, a higher-primate NASCAR legend and former crew chief for Jeff Gordon. Ray was talking about the rich, colorful history of NASCAR, and I'm pretty sure this monkey is one of the richest, most colorful parts of that history.
Jocko's tale starts with one of NASCAR's greatest early drivers, Tim Flock. In 1953, Flock was racing the number 91 Fabulous Hudson Hornet and doing quite well. Flock's sponsor, Ted Chester, was happy with Flock as a driver, but felt he could use a little extra something to get more attention.
That extra something turned out to be a Rhesus (you know, the kind with peanut butter inside) monkey Chester saw in a pet store while looking for a puppy for a birthday present. The monkey Chester saw was named Jocko, which works really well with the name 'Flock' if you just add on that 'O,' and in that moment the legend of Jocko Flocko, racing monkey, was born.
Chester bought the monkey and had a special helmet, goggles, racing suit, and seat made for him. The seat was mounted in Flock's Hudson on the passenger side, high enough so Jocko could peer out the window and see and be seen by fans and other drivers alike.
Perhaps Jocko could fling some feces at other drivers to help gain an advantage too, maybe?
Proving himself to be possibly one of the most flexible and accommodating drivers ever to race, when Flock was shown the monkey and told that this small, hairy simian would be his co-pilot, he said okay.
According to Our State, this was Flock's response, along with a question about how NASCAR would react to driving with a monkey:
…Tim hemmed and hawed until he finally said, "You're the boss, but I think you're crazy. NASCAR's not gonna let us race with that monkey."

"NASCAR," Chester replied, "is not gonna know about it."
So, on April 5, 1953, on the Charlotte Speedway dirt track, Jocko became the first monkey to participate in a stock car race.
After a slow start, Jocko eventually proved his worth:
Tim believed Jocko sometimes gave him an advantage. As Tim tried to pass other drivers, the sight of the monkey staring at them broke the drivers' concentration just long enough for Tim to gain an advantage and make the pass. Nonetheless, with Jocko aboard, Tim's winless streak for the 1953 season continued.

…

It wasn't until Tim's 10th race of the season on May 16, 1953, at Hickory Speedway's half-mile dirt track, that Tim took the checkered flag, making history in the process as Jocko Flocko became the first — and still the only — monkey to win a NASCAR race. The Hudson Hornet took the lead after about 30 laps and never relinquished it, beating 26 other vehicles to win the 100-mile race.
Jocko rode with Flock for eight races, and NASCAR, incredibly, didn't seem to mind. Jocko's career came to a halt because, let's face it, he was a monkey in a race car, and eventually some shit was bound to happen.
According to Tim Flock himself, this was what caused Jocko's retirement:
"Back then the cars had a trap door that we could pull open with a chain to check our tire wear. Well, during the Raleigh 300, Jocko got loose from his seat and stuck his head through the trap door, and he went berserk! Listen, it was hard enough to drive those heavy old cars back then under normal circumstances, but with a crazed monkey clawing you at the same time, it becomes nearly impossible! I had to come into the pits to put him out and ended up third. The pit stop cost me second place and a $600.00 difference in my paycheck. Jocko was retired immediately. I had to get that monkey off my back!"
There's varying reports of exactly what Jocko did while freaking out in the car, but most seem to revolve around the crazed monkey climbing on Flock's head, covering his eyes, scratching the hell out of his neck, and generally behaving like how you'd expect a terrified monkey to behave on a human head.
A crazed monkey freaking the fuck out on your face might just be the worst possible situation to be in while on a racetrack.
As an aside, it's worth noting that Jocko's achievement of being the World's Fastest Monkey was set in races in North Carolina. It's also worth noting that Ham, the chimpanzee who went on a sub-orbital Mercury flight, achieving speeds of over 5,000 MPH, ended up retiring at the North Carolina zoo.
I bring this up because I think it's enough for North Carolina to make the claim that the state is Home of the Fastest Monkeys and Apes, and I'd like to propose this new license plate design, based on this remarkable fact:
That seems right to me.
Maybe if EVERY driver had a monkey going to town on their face it'd be a fair race