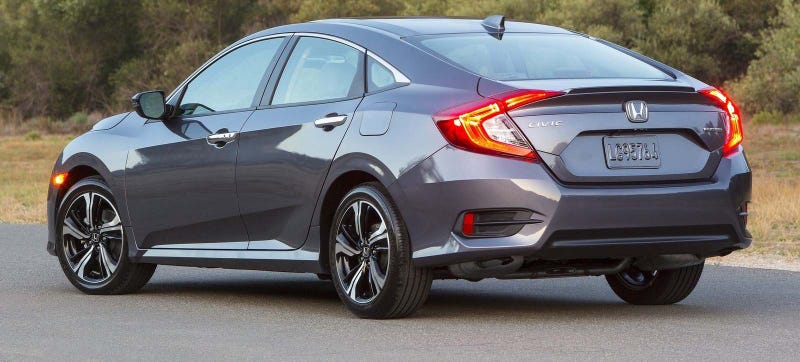 The all-new 2016 Honda Civic just hit the dealer lots and already it's having problems. Late last week Honda announced a stop-sale order on new Civics with the 2.0-liter engine "due to potentially missing or misset piston pin snap rings that may cause engine stall or failure." That is not good!
Any 2016 Civics on dealer lots with that engine can't be sold until they're fixed, and Autoblog reports a Honda spokesman said ones already sent to customers will be recalled. About 34,000 cars are affected.
The new Civic comes in two engine flavors: a 2.0-liter naturally aspirated four, or a more 1.5-liter turbo four. This recall only affects the former, not the latter.
From the CivicX forum, here's the recall announcement:
On Friday, January 29, 2016, American Honda notified NHTSA of a stop sale and safety recall for approximately 34,000 2016 Civic vehicles due to potentially missing or misset piston pin snap rings that may cause engine stall or failure. Any new or used units in dealer stock must be inspected, and if necessary, repaired per service bulletin 16-017, Safety Recall: Piston Pin Snap Ring once the parts, tools, and complete repair information are available. Refer to your eResponsibility report or VIN inquiry to determine which units in your inventory are affected by this safety recall.

Note: Affected vehicles should not be sold until the repair has been completed. Should an unrepaired vehicle result in any claim because of the required recall repair, the dealership will be solely responsible to the claimant, and will be required to defend and indemnify American Honda for any resulting claims.

All affected units will require use of a borescope to inspect the four cylinders to confirm correct piston pin snap ring placement. Vehicles exhibiting any concerns with piston pin snap ring placement may require replacement of damaged pistons, piston pins or rings, or other related engine components.

Replacement parts are not available at this time. American Honda is working to procure a sufficient number of borescopes and replacement parts to satisfy this recall. As such, the version of bulletin 16-017 posted on the Service Information System does not currently contain any tool, parts, warranty, inspection, or repair information. Once tools and parts are made available, American Honda will revise service bulletin 16-017 to include all details related to this recall. American Honda will notify dealers of the bulletin revision and tool distribution details via iN message.

Customers affected by this safety recall may visit your dealership prior to tool, parts and/or repair procedure availability. Please be sure to inform these customers of the safety recall, being sure to let them know that tools and parts are not currently available, and that they will be notified once supply stabilizes. American Honda expects to conduct customer notification in mid-March 2016. By this time, all necessary tools, parts and details are expected to be available.

As always, please be sure to check VIN status inquiry to determine if this or any open safety recall applies to a particular vehicle.
If it hasn't been pulled for recall, your Jalopnik staff should be driving the new Civic in a few weeks. We'll let you know how it holds up.
Thanks for the tips!
---
Contact the author at patrick@jalopnik.com.