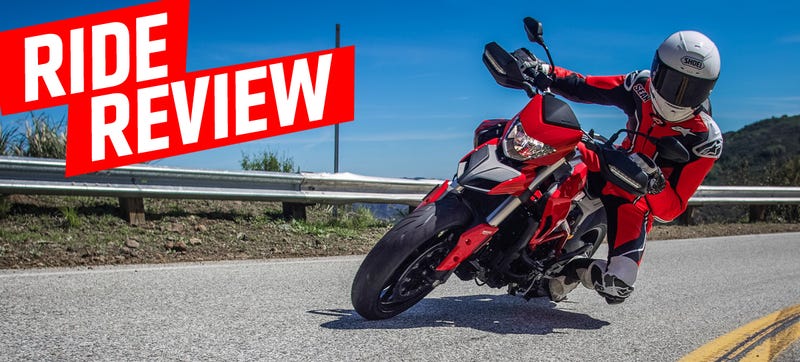 We got up at dawn, threw the last of our camping gear in bags, and set our sights south down the Big Sur coast. The next hour and a half of my life saw a completely empty Highway 1 and speeds like I'd never ridden before, with only the birds, elephant seals, and whales off the coast to witness us. That was the morning I fell in love with sport riding and the morning I fell in love with the Ducati Hypermotard.

(Full Disclosure: Ducati wanted me to ride the new Hypermotard 939 and Hypermotard 939 SP so badly that they let me come along for the launch despite the fact that I crashed another Ducati into a Volkswagen Beetle only two weeks prior.)
The Hyper is an incredibly versatile motorcycle. It has the riding position of a supermoto, which means it has changes directions quickly and has nimble handling, but has a motor big enough for the fast stuff or for riding long distances. It also has a ton of personality, looks incredible, and makes you want to ride like an asshole. On paper, it's just about perfect.
Emissions standards are tightening (all bikes in Europe will need to be Euro4 compliant by 2017), which means that the coming bikes will need to be more bottled up and will make less power than in their current form.
The Italians have way too much pride for a new model to make less power than the old one, so they're giving the Hyper a little bump in power like they did for the baby Panigale.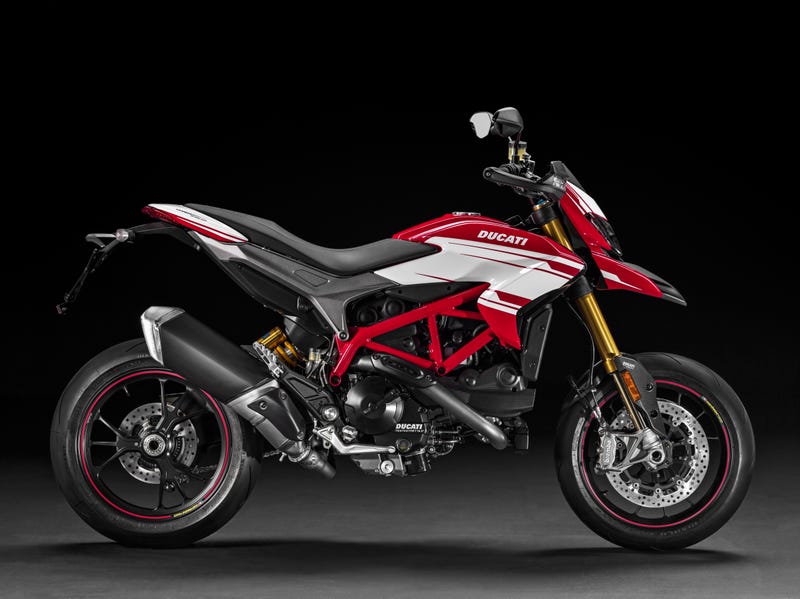 They've made a few other changes which they think will make the new Hyper 939 even better and, for a press launch unlike any other, they invited a handful of journalists and skilled riders to come live in a house with GoPro's internal camera team for a few days to see what sort of magic we could come up with.
The levels of shenanigans hit peak bananas, and the only way any of us avoided the hospital or losing our licenses were a whole lot of luck, a decent amount of skills, and the help of some very friendly police officers.
The Specs That Matter
For 2016, the Hypermotard has been bumped from 821 cc to 937 cc, which bumps power slightly from 110 horsepower to 113 at 9,000 RPM and 65.8 lb-ft of torque to 72.2 lb-ft at 7,500 RPM. This is achieved through a larger bore (94 mm vs 88 mm), which is paired with new pistons, rods, and a new crankshaft. It also gets a new oil cooler and Euro4 compliant exhaust system.
The front fork on the 2016 Hyper SP has also been changed to an Ohlins unit from the Marzocchi fork the Hyper 821 SP was fit with. Besides the motor and fork, it's basically the same bike.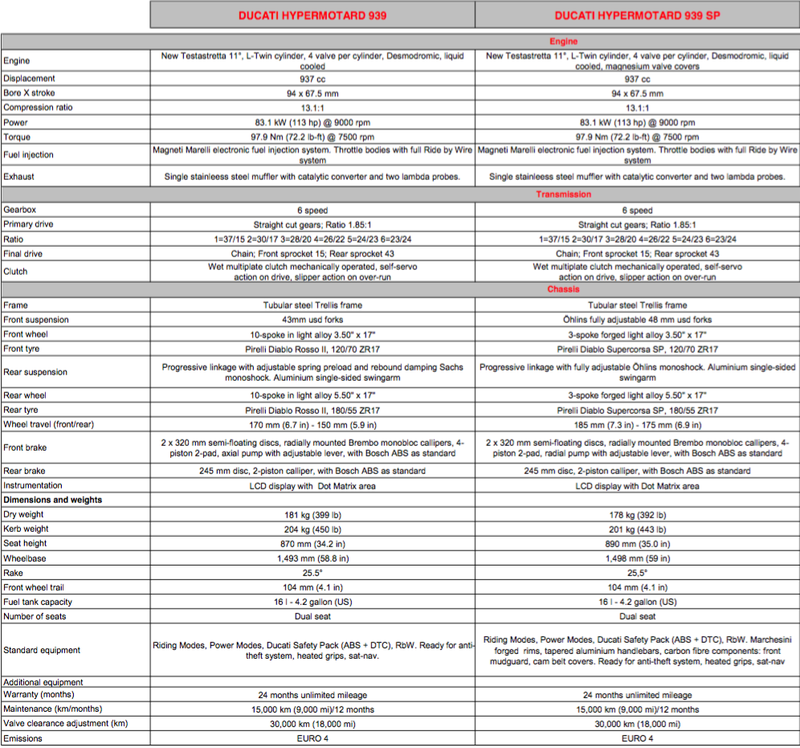 The regular hyper retails for $12,695, while the SP model will run you $15,595.
We Rode The Damn Thing
Like I mentioned, this launch was a little different. Ducati wanted us to get lots of time on both the regular and SP models of the new Hyper but, with fairly small changes, also wanted to give us a chance to make this launch feel a little different than a follow-the-leader ride on some winding roads.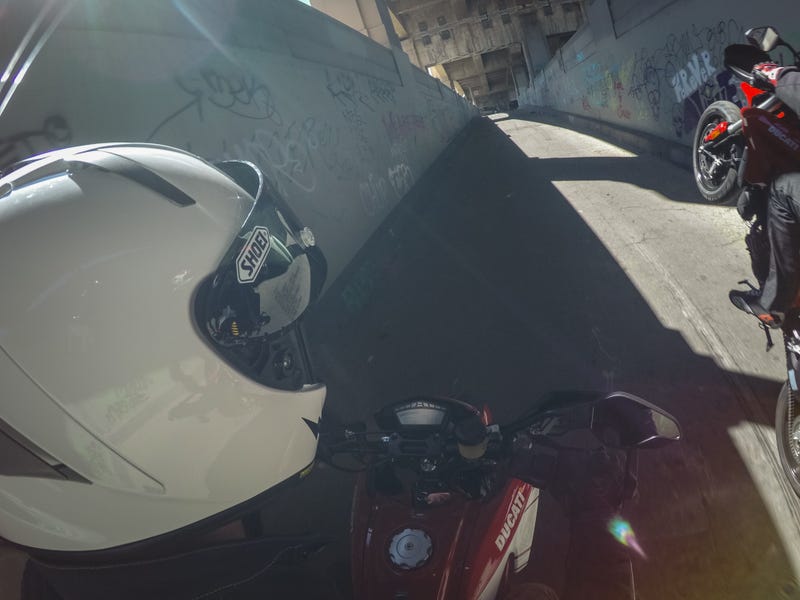 We were all excited on the idea of getting a chance to do a launch where we got to work more collaboratively, especially on a bike as capable as the Hyper. The handful of journalists present were all extremely talented riders, minus my broken butt, and adding in guys like X Games athletes Jamie Bestwick or Lance Coury, wheelie monsters Chris Kimball and Adey Bennet, or professional racer Corey Alexander turned the intensity up to 11.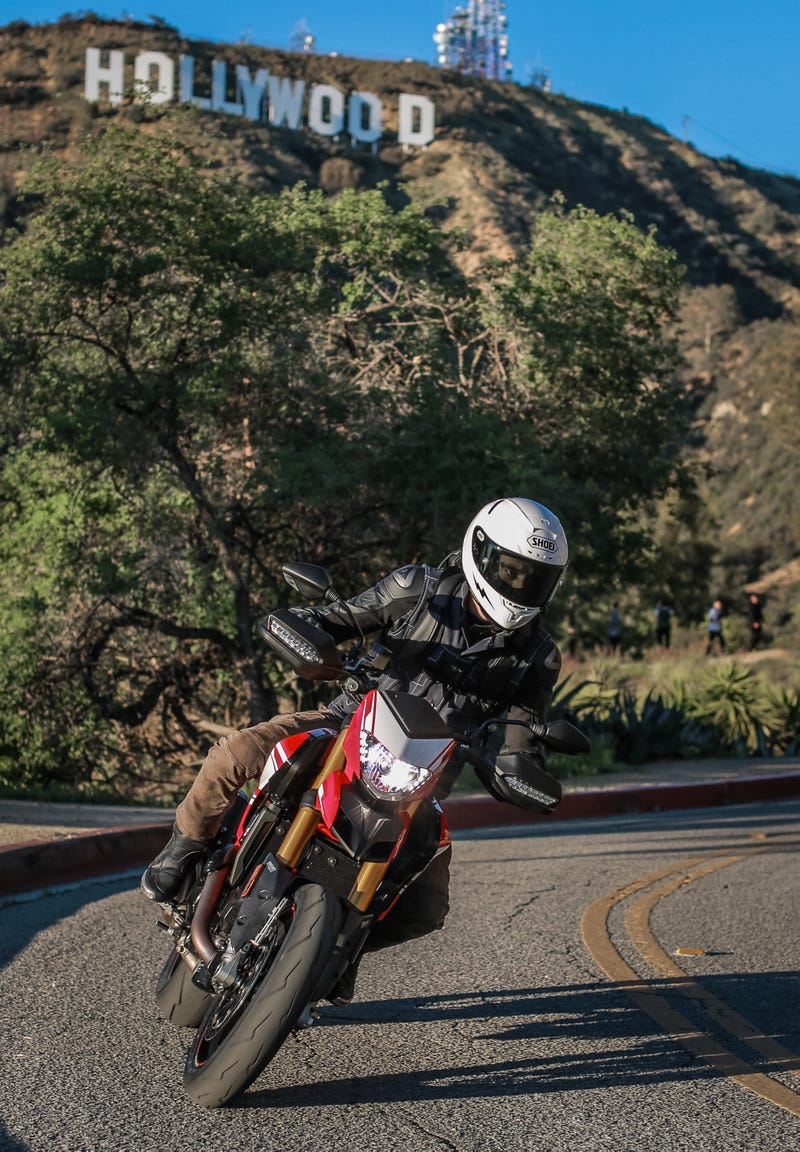 Not that anyone should know or care about this, but most launches involve a manufacturer lead and follow and a planned route, with photo stops along the way where we make several passes so we can make sure to get good stuff for articles. This was going to be different.
With the GoPro team on site to help nail down some amazing still photography—but no video this time—we were left to our own devices to decide our own photo spots, our own angles, and our own concepts for shots.
I don't know who gave the greenlight for this, but I'm proud to say only one bike took any damage and it was very minor (and occurred after an unnamed "influencer jumped a curb and landed in an aggressive power slide in an alley.)
For the first day of the launch, we spent most of our time in and around Downtown Los Angeles, where we could explore more of the urban nature of the bike. Around town, the Hyper isn't as nimble as something like the Husqvarna 701 I love so much, but it still feels lighter and moves sharper than almost anything else on the road.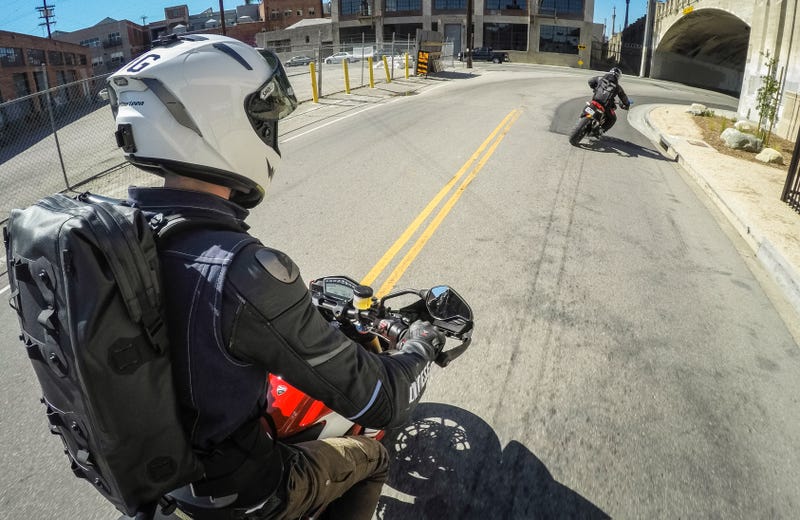 The SP, with its beefier suspension sits a little higher than the standard bike, though they use a different triple which keeps rake and trail the same. However, this gives it a slightly longer wheelbase which sure's up the suspension as it did with the Monster 821 coming from the 796. So, while you don't necessarily need the bigger brakes or fancy suspension for urban riding, the SP is actually a better bike even at slow speeds.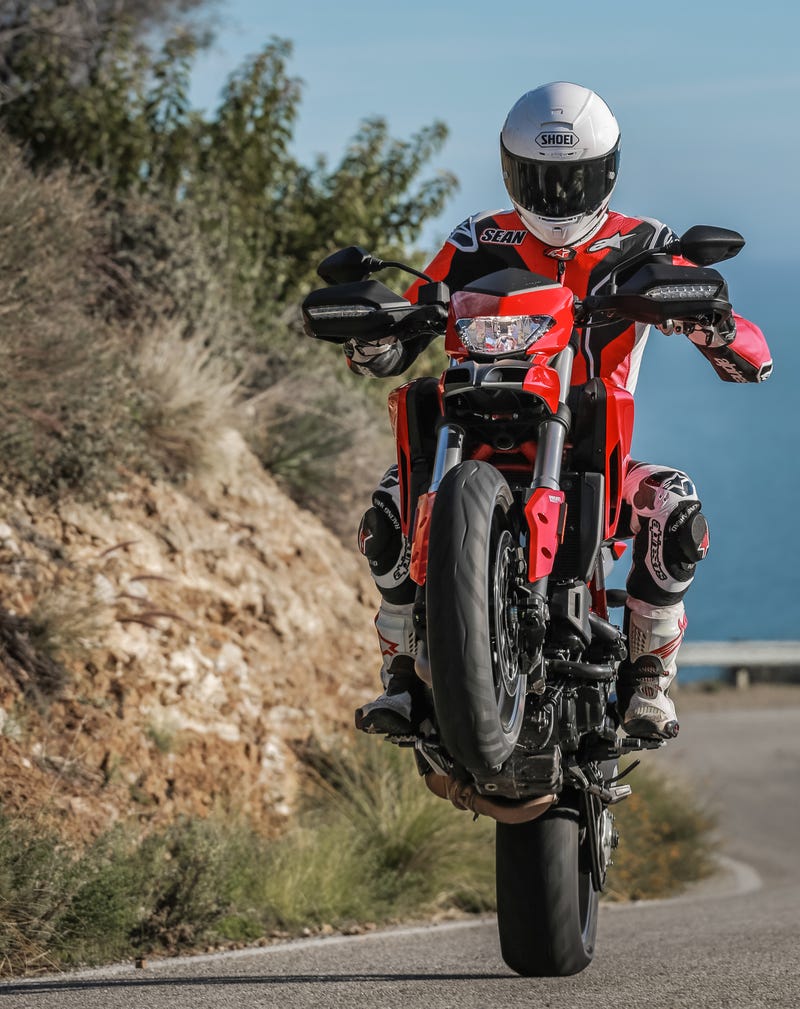 On day two we had most of Malibu to ourselves for the day, which meant we could make as many passes as we wanted as we tried to get the right shot. Once we finished the bulk of our shooting, Lance Coury and I took off to rage in some of the tighter canyons while a couple of the other guys decided to see what the Hyper was like in the dirt.
The Hyper does not, in fact, make for a good dirt bike because of its sport motor, suspension, and tires. But that doesn't mean a good rider can't do it anyways.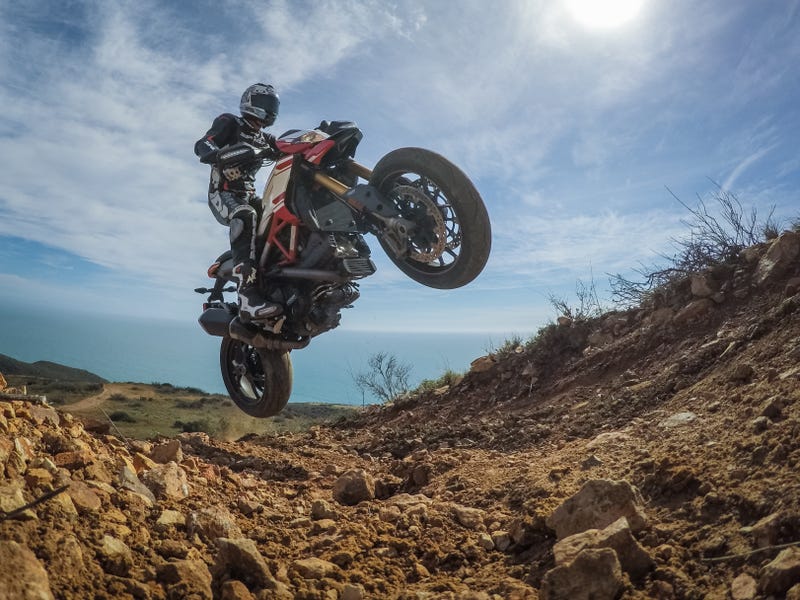 And, if you're a good rider, the riding position does lend itself for some good fun. Corey Alexander tells me some knobbies would make it fine for fire roads and that putting it in urban mode makes the traction control work pretty incredibly all things considered.
What We'd Change
I know this isn't a popular opinion, and I actually spent an evening with a slightly disgruntled Ducati rep talking about this, but I don't see a reason to buy the regular Hypermotard.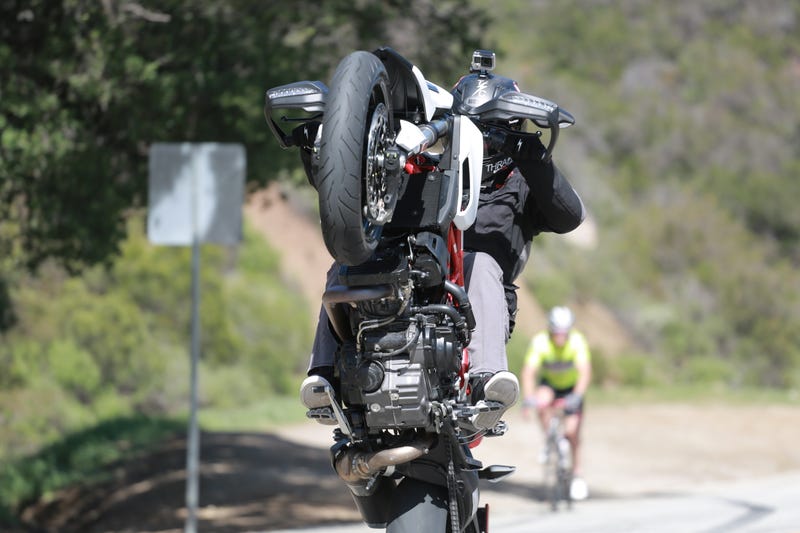 Yes, I know the $3,000 price difference is a lot of money, but hear me out. The base Hyper, at $12,695, is still a hefty chunk of change so it's highly unlikely that anyone who's really too concerned about a budget is buying one. It might mean you need to save longer or work nights or weekends, but I can promise you that the SP is worth it.
Like any good supermoto, the Hypermotard puts the rider in different in a head space than most bikes and it makes you want to ride hard… always. The beefier brakes, more stable wheelbase, and phenomenal suspension are better in every situation, and are there to support you when the bike convinces you to start riding faster and faster.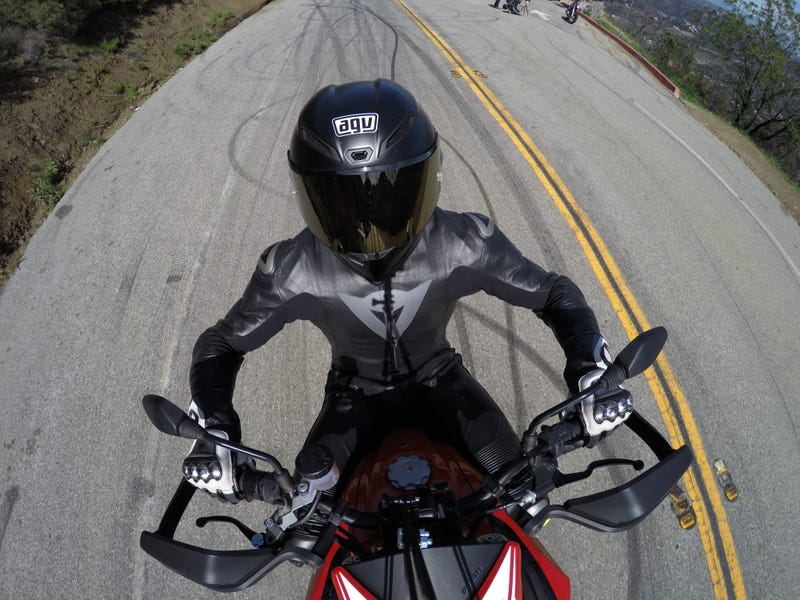 If I were buying one, it would get a power commander and a pipe, because everything needs those, and then likely a new graphics kit. That's because the 2013 model I reviewed was much prettier, and because my friend Patrick had a custom one made that I still have dreams about.
You Wanted To Know
I posted a pic of the bike on those social medias the teens are always talking about and asked what your questions were about the bike so I could help tailor the review to what you wanted to know. If you aren't following me on Instagram or Twitter, you really should be. I keep my rants about CIA cover-ups to a minimum, I swear.
"I don't know why I keep asking this, But how are the vibrations? Vibrations should be in your top list when you do a review." – I've never found the 821 to be particularly vibey, and I've spent a ton of time on this platform. Like the 821, the 939 has enough vibrations to give it some character over and inline four, but not so bad that you can't do eight hours on it.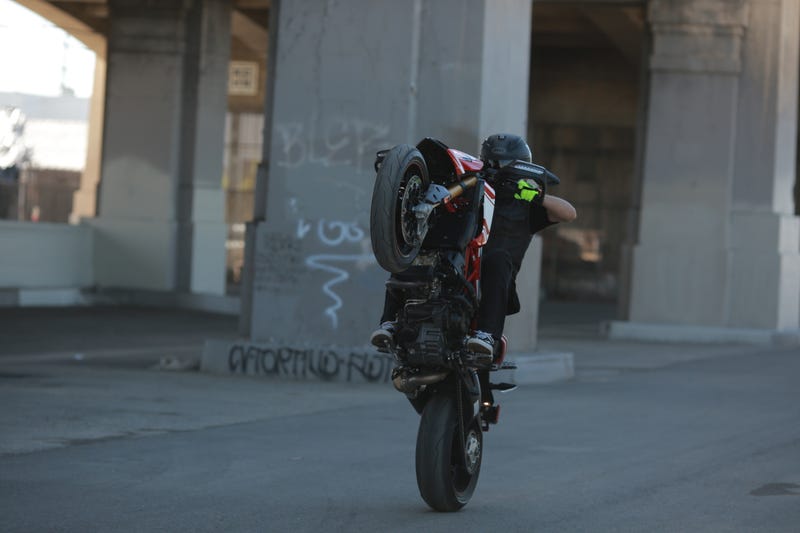 "Can you track day it?" – Oh dear Godm, yes.
"Do they come up to wheelie like the old 1100 or is it more of an aggressive clutch-up like the sportbikes?" – With 10 foot-pounds less torque, the Hyper doesn't loft the front nearly as aggressively as the old 1100. The front shoots up in first and will lift in second if you give it a good yank, but most of the guys were clutching up.
"How does they compare to last year's model?" – It's very similar, which is good. The little extra mid range is a little noticeable, but not huge, as is the new fork. But yeah, I wouldn't be running out to trade in an 821 for a 939.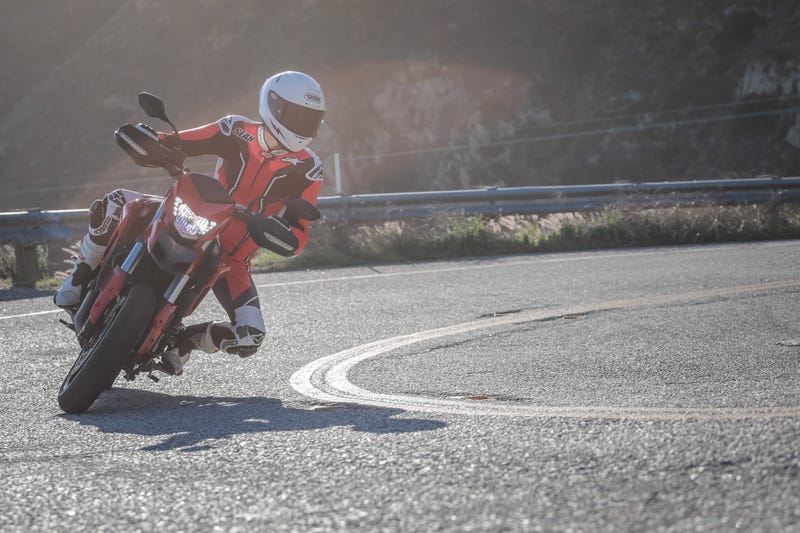 "Can this bike handle being dropped? I am not trying to be a jerk because I know you crashed on one. I just alway think with a bike like this I would want to push the limits but would be afraid I would drop it." – The nice thing about supermoto styling is that guards can protect the bike from a ton of damage. The one that went down was actually in pretty good shape minus the hand guard, and it would have been way better with a little engine protection.
"What was the Wheelie to Skid Ratio (WSR) for the SP vs the standard bike? Do the upgraded bits on the SP increase the WSR?" – Funny you should ask, but one of the other journalists mentioned that the only reason to buy the regular Hyper was if you were really into doing rolling burnouts—because the stock rubber on the SP was so much better. So I guess you're right, the WSR is higher on the SP, because it's worse at sliding.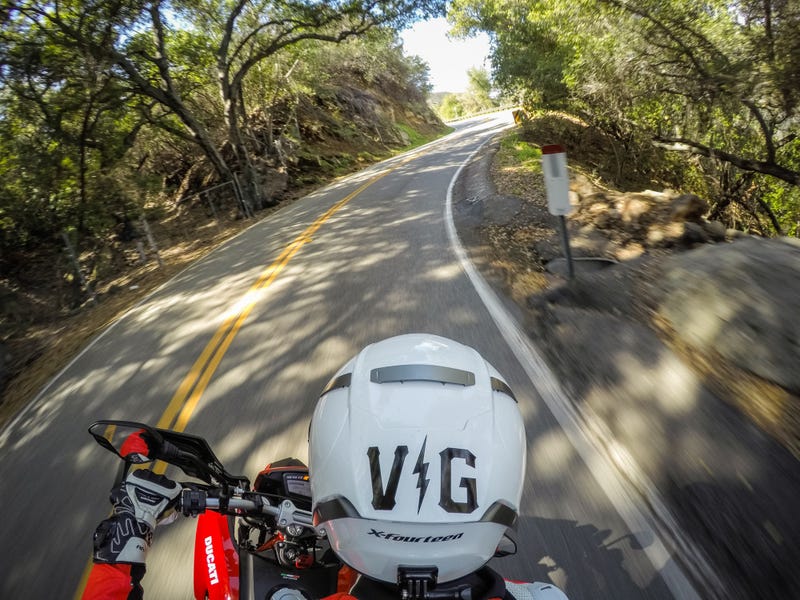 "Is it useful as actual transportation?" – Yes! Actually, the little screen from the Hyperstrada is perfect for keeping enough wind off your chest to make this perfect for pretty much anything except land speed records. I'd commute on one in a heartbeat.
"Did you get to ride the Hyperstrada version? I still think that the Hyperstrada is close to the perfect Ducati to commute and tour on. Am I wrong?" – They didn't have these on hand and we'll likely do something a little more distance oriented on them. However, the answer it to your question is that yes, you are wrong, and the correct answer is the SP with the touring seat, windscreen, and bags.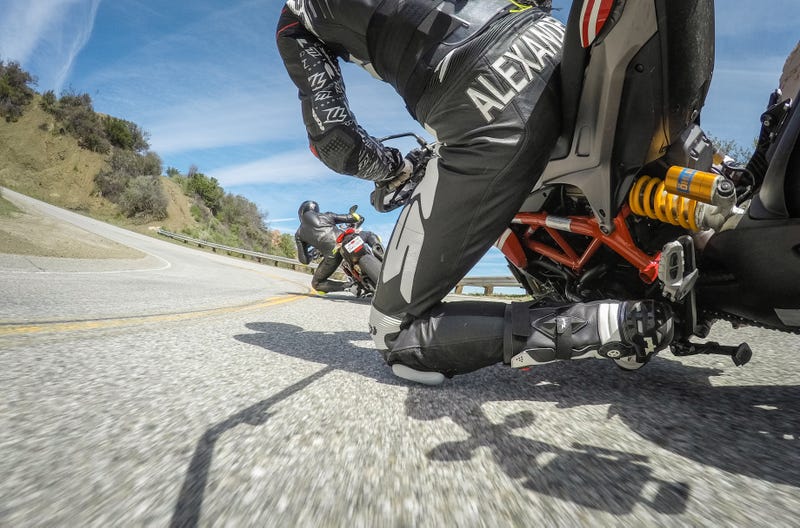 "This versus the Husqvarna 701?" – You assholes. I knew someone was going to make me answer this. I honestly can't tell you, but I have had nightmares about being put on the spot over this decision. It really depends on what your "riding life" looks like. I think if my life involved less freeway or the tracks around me were all pretty tight, it would be an easy win for the Husky. The Husky is definitely better on public roads, but its also a way bigger pain in the ass to get to them on it, and there's no way you'd want to ride one to San Francisco. They're similar, but have very different strengths.
"How'd you feel getting back on the bike that bit you?" – Honestly, the whole trip was so hectic with so many talented guys going nuts that it was hard to focus on anything but performing. I know my job is fun and all, but I also take it pretty seriously and I was there to learn about the bike and get good photos. I just tried to focus on that over my anxiety. At the end of the first day, we literally rode down the road where I was hit and the guy in front moved to split in the same position I was in and I had a full on panic attack and I stopped splitting and rode with traffic a bit. But, other than, not too bad. The SP is also so damn good that it sort of takes your mind off other things.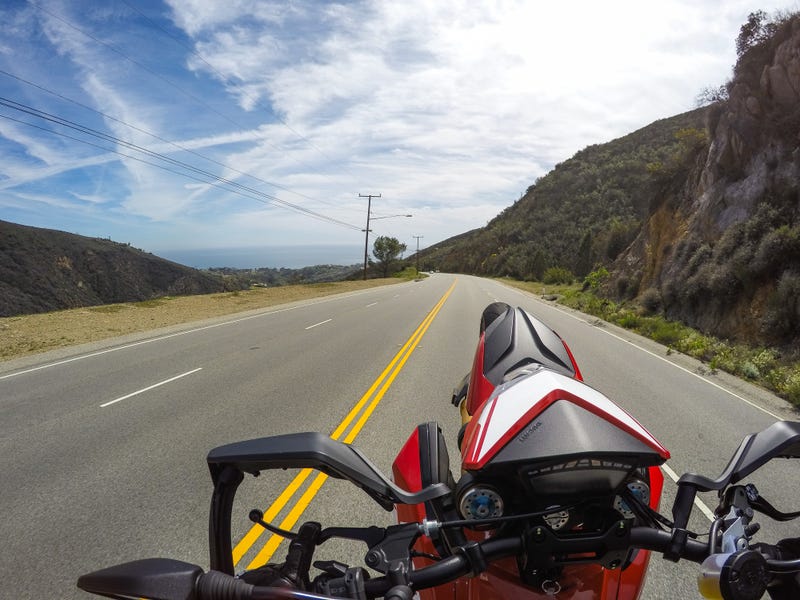 "Is this one of those 'if you could only have one bike' bikes?" – ABSOLUTELY. If I get fired tomorrow and can't find a job with another site or magazine and I become a one bike man, this is first on my list.
"I want to know what's up with the name. It's rather…unfortunate. Does it mean something in Italian?" – The word 'motard' comes from a French translation, which was then adopted for supermotard – which is the style of bike that puts street wheels/tires/brakes on a dirt bike. By calling this the Hypermotard, Ducati is tapping into that.
Why You Should Care
When it comes down to it, many of you will not be able to justify spending $15,595 on a bike that you can't race against liter bikes and probably won't want to ride across the country. But there are also lots of you who, like me, want to have something that speaks to you and is excellent in a way nothing else is.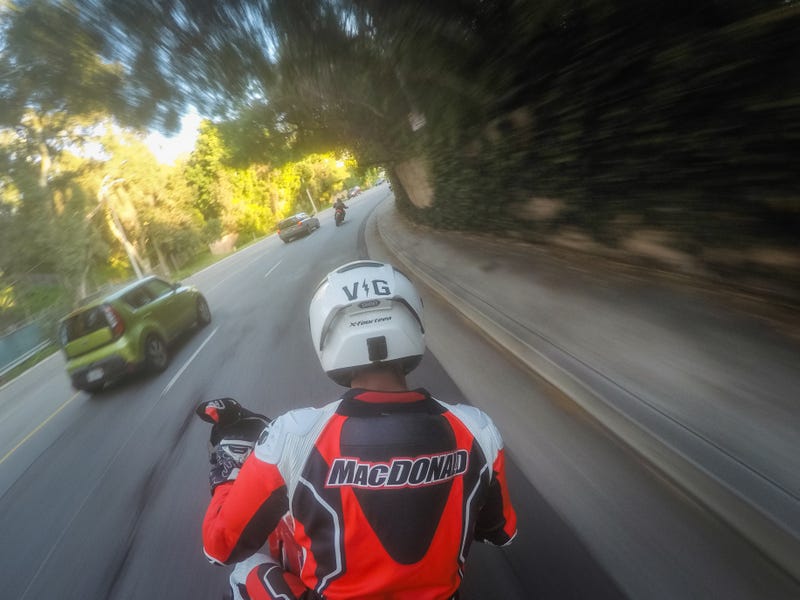 The Hypermotard SP is excellent in a way very few things are. The 821 motor was one of my favorites on any current bike today, and the 939 improves on it.
The Hyper carries its weight well, has suspension that smooths road imperfections and keep you planted even when flying down windy roads, and brakes that can bring you back to safety when you get too enthusiastic.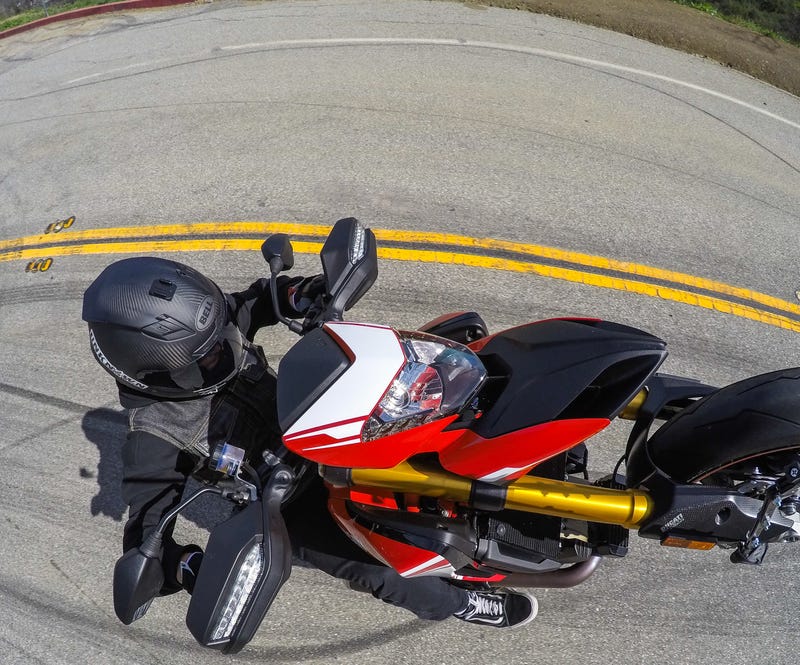 Honestly, I don't see Ducati improving on the package, unless it's to add the cornering ABS and traction control system from the Multistrada. Other than that, it's a near perfect machine and it will one day find its way into my garage.
Sean's Gear:
Helmet: Shoei X-14
Jacket: Dainese D1 Perforated Leather Jacket
Vest: Crank & Stroker Preacher Vest
Backpack: Black Ember TL Pack
Gloves: Racer Gloves USA Mickeys

Pants: UglyBros Smith Jeans
Boots: Dainese Axial Pro In
Race Suit: Alpinestars GP Tech Race Suit
Race Gloves: Racer Gloves USA High Speeds
Race Boots: Alpinestars Supertech R