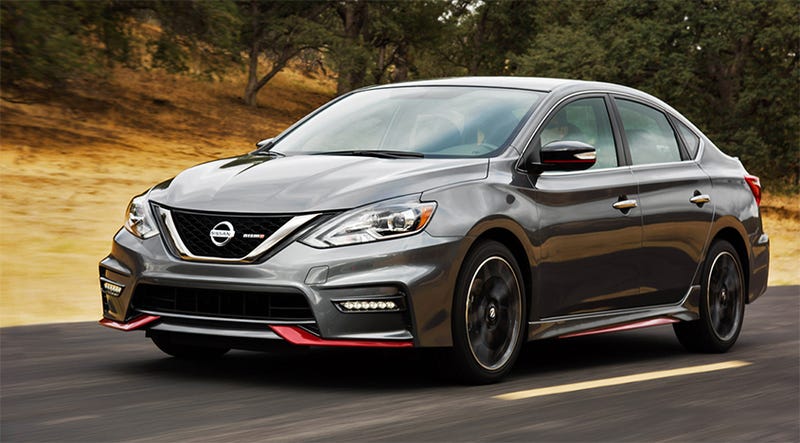 Some days, the automotive future for those of us with modest means and simple desires seems bleak. How long will we still be able to buy inexpensive, practical cars with personality and a traditional manual transmission? At least one more year, maybe, thanks to the 2017 Nissan Sentra Nismo.
This 1.6-liter turbocharged Sentra is rated at 188 horsepower and 177 lb-ft of torque with a slightly more aggressive ride and neat red-accented interior. At the center of that interior is the scepter of automotive joy—a regular-ass three-pedal six-speed manual transmission.
Okay, or Nissan's Xtronic CVT if you hate yourself.
The design is on the interesting side of safe, the cabin fits four people and a few bags. We've seen plenty of cars like this before—the Honda Civic Si, Volkswagen GTI, Ford Focus ST and Fiesta ST. I'm just glad one more company is working to keep this dream alive: new cars that are designed to fit into a normal person's life while making the experience of transportation just a little bit more lively.

The Sentra Nismo is supposed to cost less than $25,000 when it goes on on sale in January.
When I'm in a cynical mood, I feel like performance-spec economy cars are stupid, and anyone driving something like this is deluding themselves into thinking they're hot shit when they'd be lucky to blow the foam off a cappuccino.
But the reality is a Nismo-endorsed suspension and engine tune is leagues ahead of what you'd get slapping Pep Boys stick-on parts to a base-model Sentra. And for many drivers, something like this offers just enough driving engagement without having to be a dominating force in their lives.
I like my old International Scout because it's a basket case and interesting and a constant source of mental stimulation in the form of problem solving. But I love my Acura TL because it's exactly as fun as I need it to be and then fades into the background of my life when I want to mess with other things. That's what makes something like a Sentra Nismo great, too. That and the Nismo-specific tuner parts some of you will be hunting for in junk yards in a decade.
The aluminum-alloy engine has a variable timing system Nissan calls "Continuously Variable Valve Timing Control System (CVTCS)" which basically allows it to suck down more air and fuel when you want to go fast, and dial consumption way back when you want to be frugal.

Compression ratio is 10.5:1, and the rest of the brochure lists: "spray-coated and mirror-finish cylinder bores, a variable pressure oil pump and a low-pressure EGR system, which helps lower exhaust gas temperature and improve knock sensitivity" as the Nismo's new hotness.
The Nismo Sentra has unique suspension tuning which lowers the car 0.4 inches and adds a bit of stiffness. A special Nismo configuration for the electric power steering is supposed to exaggerate the car's sharpness, too.

Eighteen-inch Nismo wheels are available with Michelin Pilot Sport all-season tires or Bridgestone Potenza RE-71R performance tires for those who want to get the most out of the car. Brakes are 11.7-inch vented front discs and 11.5-inch solid rear discs.
As for aesthetic tweaks, I mean, you can see the pictures. Nissan's farkle feature list includes:

"a unique front fascia… standard LED Daytime Running Lights, NISMO dark chrome V-Motion grille and NISMO badge. Other styling features include unique side sills, NISMO rear fascia and spoiler, NISMO exhaust finisher, dark chrome door handles and trunk finisher, rear NISMO badge and black NISMO outside mirror caps with integrated turn signals and NISMO red stripe."
I like that cute little rally-style light in the bottom of the bumper!
Before you scroll down to critque the Sentra Nismo's look, I'll live you with this inspiring quote from Nissan Product Planning VP Michael Bunce:
"It's important to offer a six-speed manual transmission with the new Sentra NISMO, both to reinforce its pure performance credentials and to up the direct engagement factor between driver and the vehicle," he said.
Here's hoping he believes it.