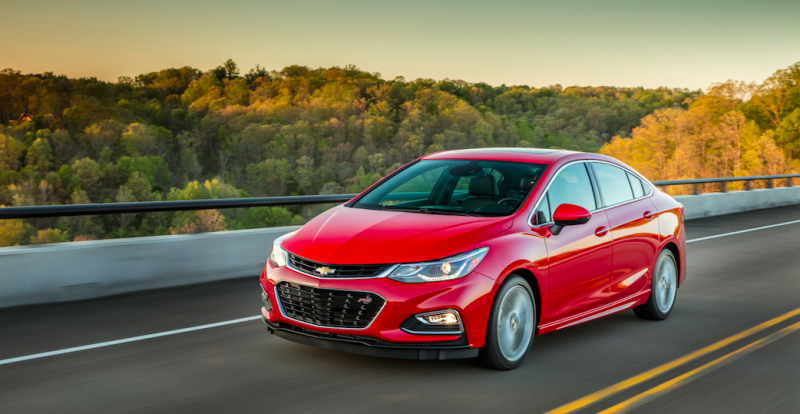 The all-new 2017 Chevrolet Cruze is a pretty damn good compact car. For buyers who prefer the added torque and fuel efficiency of a diesel—and still think that fuel has a future in America after Volkswagen lit it all on fire—Chevy has you covered for a starting price of less than $25,000.

Ever since VW pretty much ruined diesel for everyone, automakers have been hesitant about introducing new diesel models into the U.S. market and some have abandoned the idea altogether. However, Chevrolet (and Mazda) determined to fill the gap that Volkswagen has left behind with their diesel offerings on the Cruze compact and Equinox.

Our friends over at CarsDirect.com sent us a tip that Chevrolet has just released pricing for the new Cruze diesel and hatchback.
While the oil-burning version will command a premium over the gas counterpart, the diesel car comes packed with some additional standard features such as the Convenience Package which is an $1,150 option on the gas powered car. Also notable is the fact the hatchback version will come standard with the RS appearance package.

Chevy will also offer the Cruze diesel in "Pepperdust Metallic" which is really a fancy brown. So yes, Chevrolet will sell you a brown, manual, diesel, hatchback. Hey, a wagon would have been better, but that is close enough.

Of course, you can currently pick up a "fixed" Volkswagen Golf TDI for a bit less, but keep in mind those VW's are already two years old, and while some killer deals can be had in certain areas, some dealers aren't deviating from the $5,000 factory discount. Furthermore, the Cruze diesel won't be hitting your local dealership until the fall and inventory of old TDIs should be pretty slim by then.

Also, keep in mind that no one pays retail for a Cruze and thus far Chevrolet has been pretty aggressive with rebates and conquest lease deals to get new customers into the fold. This means the new Cruze Diesel could make for a compelling value proposition for buyers looking for a fuel-efficient and fun to drive commuter car.