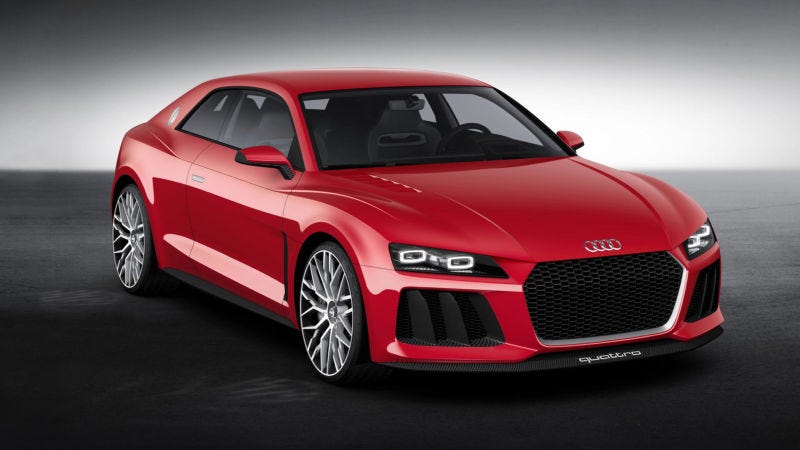 Despite Lamborghini's Stephan Winkelmann moving over to head Audi Sport GmbH—the 'fun' side of the German brand—no fun is to be had in anything resembling the desirably derivative Audi Sport Quattro concept from 2013. It is officially dead.
The bossman himself has confirmed there will not be a production model of the Audi Sport Quattro anytime soon or probably ever, according toCar And Driver.
Sure, you can call me ridiculous for waiting five years for a low-volume heritage sucker punch of a concept car and still think it might have a shot, but I'd point you to two things. The first is that the man behind the crazy-ass Lamborghinis of recent years became responsible for making the call on that dreamer's dream of a concept car, and second, the new Acura NSX still happened somehow.
It just isn't going to happen, though. Audi is too busy making money and adding 'S' and 'RS' to everything. From Car And Driver:
"It's a nice dream," new Audi Sport boss Stephan Winkelmann admitted, "but I think we have so much in front of us that the most important thing is to get the lineup where we need it. I think there is the opportunity for a very limited car, but this is not my top priority at the moment."

Instead, Audi Sport will focus on making RS Audi models more distinct from the S trims by adding power and more, like, lips and curves and stuff to existing surfaces. Also, there will be a lot of very quick SUVs and crossovers coming very soon. Those will kind of be like a new Quattro, if you're a perpetually depressed marketing asshole somewhere within Audi.
Car And Driver also mentioned the likelihood of the next RS6 wagon hopping the pond and becoming available in the US, which is information that seems like it was offered up as some sort of apology for Audi continuing to not make the one model everyone's been asking for over the last few decades. But I'll take the RS6 wagaon for now. Or after 2019 or whenever it's supposed to happen, if it happens.