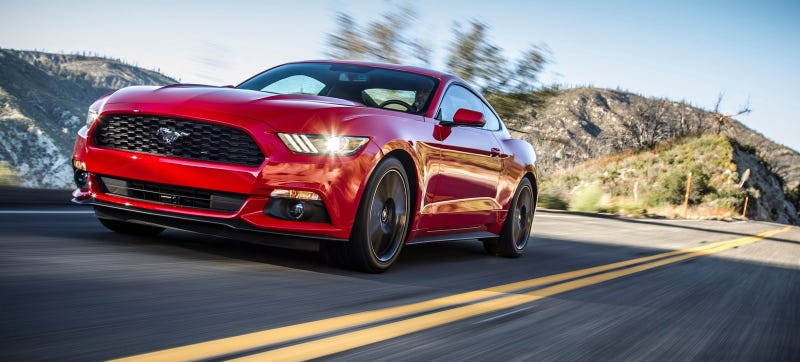 It would seem that for your next track day, illicit drag race against a Camaro or powerslide into a crowd of people outside Cars and Coffee, the 5.0-liter V8 Ford Mustang will be the best way to go.
The 2.3-liter, 310 horsepower Ford Mustang EcoBoost was heralded as something of a triumph when it debuted, a small and efficient turbo four-cylinder engine putting out more power than a lot of V8 and V6 Mustangs have had historically.
But lately, instrumented testing from Motor Trend reveals a troubling trend of newer turbo Mustangs getting weaker and weaker in the speed department.
The report (which, despite my occasional misgivings about the magazine, I will render full props unto them for here) says that during testing of four EcoBoost Mustangs—three manuals, one automatic, all but one with the optional Performance package—it was revealed that the newer cars keep posting slower and slower zero to 60 mph and quarter mile times.
I'll sum up their findings here, in order of when they were tested:
2015 EcoBoost Automatic Perf. Pack: 0-60 in 5.6, quarter mile in 14.1

2015 EcoBoost Manual, no Perf. Pack: 0-60 in 5.6, quarter mile in 14.4

2015 EcoBoost Manual Perf. Pack: 0-60 in 6.0, quarter mile in 14.3 (Automobile test)

2016 EcoBoost Manual Perf. Pack: 0-60 in 6.3, quarter mile in 14.5

That last number is the most telling since it's the newest car and the lightest MT has tested. The low 6 second time is also a very far cry from the mid-5 second result of the first car, tested in September 2014. (The Performance Package includes summer tires and a 3.55:1 limited-slip rear axle, so in theory there's no real reason it should be slower.)
The full Motor Trend story goes into a lot more detail about their test methods, which like most magazine time tests were meticulously done. But here's what they got when they asked Ford about it:
We reached out to Ford after our most recent test with all our data. A Ford communications representative noted that the quickest manual transmission Mustang EcoBoost we tested (the second car) was a pre-production model and speculated that it may have had a "different calibration." He did not elaborate. He also speculated extremely hot weather could cause the computer to pull timing, but when presented with weather data showing the car was tested on a 55-degree day, he said "it should've been making great power."
There could be several culprits here, including changes to engine calibration for fuel economy and/or emissions. But in the end they have "data but no answers," and a series of turbo Mustangs with odd discrepancies in the numbers they post.
We have reached out to Ford about this as well and will update if we hear back. In the meantime, and I'm just throwing this out there, there is one guaranteed way to go faster: spring for the V8.
Update: And here is Ford's response.
The class-leading power and output of the Ford Mustang 2.3-liter EcoBoost haven't changed since we launched the new car in 2014. It's the same powertrain, calibration and gearing. Different drivers in different cars can have different test results, especially when driving manual transmissions. We are investigating MotorTrend's results.