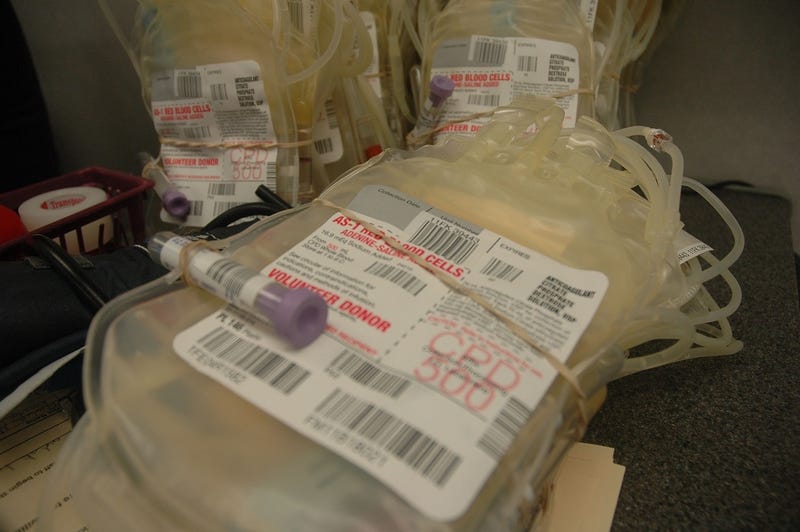 Early this morning in Orlando, 50 people were shot dead and 53 more wounded at a nightclub in Orlando. Whether you're local or not, here's how you can help, or at least find a vigil to attend, like-minded people to be with, or seek a little peace.
Check on Loved Ones, or Let Others Know You're Safe
If you know someone in the Orlando area and you're worried about them, the Orlando Police have set up a hotline at 407-246-4357 you can call to check on loved ones or first-responders you think may have been at Pulse nightclub in Orlando.
If you were there, and want to make sure everyone knows you're okay, Facebook's Safety Check tool has been enabled for Orlando, and you can (and should) mark yourself as safe so friends and family know. You can also see other people who have checked in as well.
Donate, or Donate Blood
First and foremost, if you're in the Orlando area, you can give blood. If you're not, you still can—or you can give money (more on that later.)
As of this writing, local blood banks are overwhelmed with people looking to donate and help, so you don't need to head out right now. However, they are encouraging you to make an appointment and come back later. Here's a great list of places you can donate, from the Guardian US:
Similarly, this list from Bungalower has a regularly updated rundown places accepting monetary donations, but blood donations as well:
OneBlood is saying they have met their needs for today. There is an urgent need for O Negative, O Positive and AB Plasma blood donors. One Blood is asking those that are not or do not know your blood type to please wait until tomorrow or later in the week and that you make an appointment by calling 1.888.9.DONATE (1.888.936.6283). Please note FDA regulations are still in place for blood donations according to OneBlood.

Confirmed blood donation locations today are:

Orlando West Michigan Donor Center, 345 W Michigan Street, Ste. 106, Orlando, FL 32806

Orlando Main Donor Center, 8669 Commodity Circle, Orlando, FL 32819

Oviedo Donor Center, 1954 W. State Road 426, Oviedo, FL 32765


Mobile Locations (please note some of these locations are running low on blood donation supplies):

Asbury United Methodist Church – Bloodmobile 220, West Horatio Avenue, Maitland, FL 32751

St. Luke's United Methodist Church – Bloodmobile, 4851 S. Apopka Vineland Road, Orlando, FL 32819

Metro Church Bloodmobile, 1491 East State Road 434, Winter Springs, FL 32708

Out of supplies – First Unitarian Church – 1901 East Robinson Street, Orlando, FL 32803 (until 1 PM)

Weingarten Realty – 2566 E Colonial Drive (12 pm-6 pm)

St. Richard's Episcopal Church – 5151 Lake Howell Rd, Winter Park (until 1 PM)

AMC 18 Altamonte Mall -451 Altamonte Drive, Altamonte Springes (until 9 PM)

Colonial Plaza Marketcenter- 2566 East Colonial (until 6 PM)

Metro Church Winter Springs – 1491 E State Rd 434, Winter Springs

St Cloud Presbyterian Church – 909 10th St, St Cloud

Since this targeted the LGBTQ community, it's important to note that only certain gay men can give blood (contrary to earlier reports, the ban on gay men giving blood in Orlando has not been lifted.) Even so, some blood banks are aware of the new FDA guidelines, and you should set up an appointment—you'll be screened, at which point you can find out if you qualify. If you're not sure, check the Red Cross's blood donation guidelines here.
Commenter Kelly adds:
http://lifehacker.com/one-blood-is-a…
Reader sybann also notes:
http://lifehacker.com/and-orlando-im…
If you're not local to the Orlando area, this GoFundMe (which has raised close to $60,000 as of this writing) is raising money to support the Orlando LGBT community with counseling resources, medical bill assistance, staff an emergency hotline, and pay for grief counselors. If you can't give blood, consider sending a few dollars their way.
Beyond that, if you're eligable, you should consider giving blood to your own community. Odds are they could use the donation. Check the Red Cross's donation tool here to find a bank or mobile blood drive near you, or the American Association of Blood Banks' tool here. Even if you can't give plasma directly to the victims, your neighbors will thank you.
Attend a Vigil
For those folks local to the Orlando area, Bungalower offers these local and nearby vigils to attend:
Confirmed Vigils:

Joy Metropolitan Community Church – 6:00 PM – 2351 South Ferncreek Ave

Parliament House – 7:00 PM – 410 N Orange Blossom Trail

Ember Orlando – 7:00 PM – 42 W. Central Blvd

Daily City Food Truck Bazaar at Fashion Square Mall – 7:00 PM – 3201 E Colonial Dr


Vigils in nearby communities include:

Broward – Vigil at Pride Center in Wilton Manors Sunday at 5pm

Jacksonville – Vigil in Jacksonville Sunday at 7pm at Memorial Park.

Miami – Vigil Sunday at 7pm at SoundScape Park, located at 500 17 Street, Miami Beach, FL.

Orlando Weekly has a similar list here.
However, cities around the country (and beyond) are holding their own today, from Nashville to Allentown to Chicago to Vancouver to New York City to Toronto, so if you're looking to speak up or just not be alone right now, you don't have to be. If you're in the Tallahassee area, reader swnjun notes:
http://lifehacker.com/tallahassee-vi…
Reader Nice Pete adds this info on a vigil in Tacoma, Washington:
http://lifehacker.com/there-will-be-…
Check this Twitter search to see what's happening in your community—and make sure you vet what you see against a local paper or multiple sources. Social media is useful, but not always reliable after an event like this.
Find Someone to Talk To
Again, if you're local, the GLBT Center and Zebra Coalition are reaching out to people in the Orlando community who need help, and have opened a hotline at 407-228-1446 for anyone who needs to talk. If you'd rather speak to someone in person, counselors will be present all day today, and through the week.
http://lifehacker.com/how-to-find-so…
If you're not local however, you have a number of options. This guide to LGBT centers across America can help you find one near you. You can also dial 211 to connect with health and human services in your community to hear about mental health resources in your area, or you can try more digital, anonymous services like 7Cups, BlahTherapy, or the Crisis Text Line.
Title photo by KOMUNews.