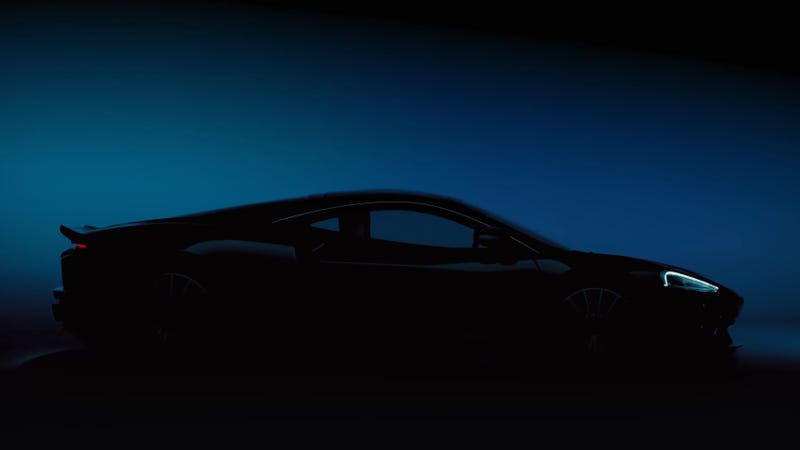 About a month ago during the Geneva Motor Show McLaren announced an upcoming Grand Tourer with more luggage space, and a comfortable-for-long-distances interior. With a video released Tuesday, McLaren gave us the best look at the car without camouflage yet, and dropped an unveil date of May 15th. And it will officially be called the McLaren GT. Simplicity at its finest.
In true McLaren fashion, it will allegedly be the lightest, quickest, most agile car in its class, with the best power-to-weight ratio. This car sits outside of McLaren's established sport/super/ultimate series structure, so it's sure to be different from anything McLaren has sold.
The video doesn't tell us much about the car, aside from hinting at a more subdued exterior than anything else the company currently sells, with elegant curves and headlights that don't space ship laser weapons. Unlike other McLarens, this one isn't packed with swoops, gills, and wings. There's a nice little upturned rear spoiler, but otherwise it looks like a nice shape.
Because we're dealing with a McLaren here, we can infer that this car is based on a lengthened version of the "monocell" carbon fiber tub, and will likely be powered by a twin-turbocharged V8.
Interestingly, Autoblog says the GT is rumored to have a large enough trunk for two golf bags. For those of us who don't golf, that's enough room for at least a few cases of Oreo cookies.
This is excellent work by McLaren in shortening the lead time from initial teaser to seeing the car in the flesh. We just heard about it a month ago, and we'll see it next week. We first heard about the mid-engine Corvette in 1952, and we still won't see that until mid-July!