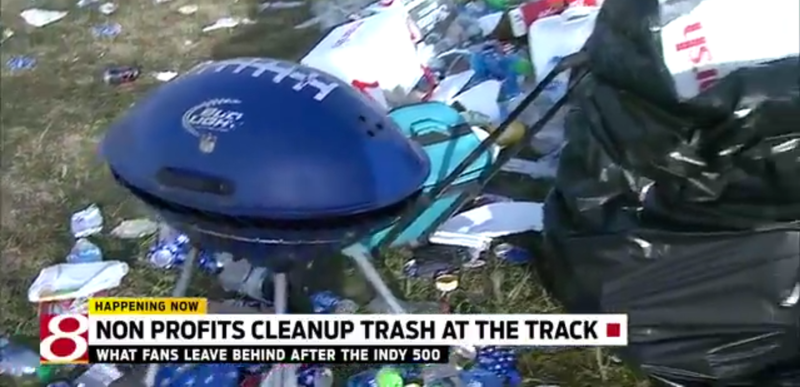 This year's Indianapolis 500 lured in 350,000 fans, one of the biggest crowds in all of racing history. Between that huge crowd and the fact that the Indy 500 is—for many—just a giant party, there were insane amounts of trash left at the raceway. Here's a look at the aftermath.

We got a glimpse of the race's "wild side" when we walked through the Indy 500 campgrounds. Between the famous "Coke Lot," the rowdiest campsite in all the land, and the Snake Pit, a wild EDM dance fest in the infield, there's lots of opportunity to partake in heavy drinking and just general shenanigans.

The result is trash, trash and more trash (mostly alcohol containers) all over the racetrack and at campsites just outside the oval. Here's a photo gallery from The Indy Channel, and a video below from WishTV:
The good thing is that church groups and high school sports teams get to raise money by picking up the litter, as IndyStarsays the Indianapolis Motor Speedway gives cleanup groups a stipend for their work.
The news site says that some volunteer groups even use snowblowers to clean up the mess. But that doesn't mean they're staying clean, as a 16 year-old girl, who was "covered from the waist down with a mix of discarded drinks" told the site: "Every time you empty the trash cans, liquids pour out."
Appetizing.