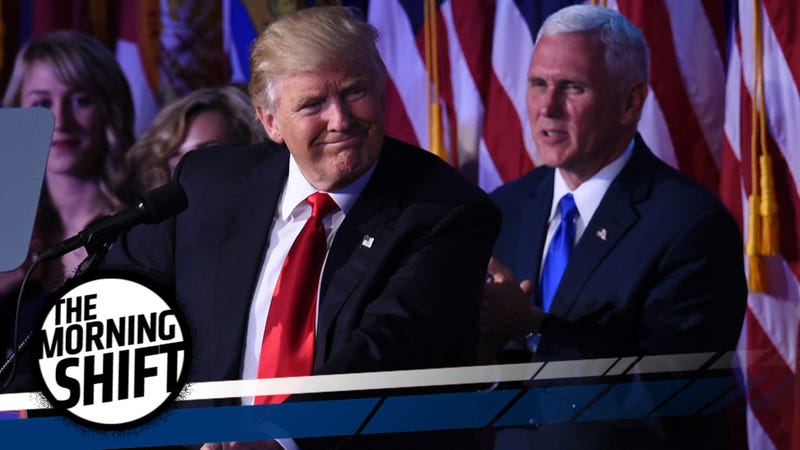 Good morning! Welcome to The Morning Shift, your roundup of the auto news you crave, all in one place every weekday morning. Here are the important stories you need to know.
1st Gear: Are You Surprised?
The United Auto Workers, the enormous union that represents a vast swath of American car factory workers (what else), is now making noises about working with the man who campaigned on a platform of racist economic nationalism. On the face of it, that sounds very strange for the UAW, though if you consider its history it makes total sense.
Though the Trump campaign blamed NAFTA for a loss of manufacturing jobs in the U.S., it's also worth pointing out that labor reduction, an evolving job market and advancements in technology and automation have all contributed to this shift in employment.
Despite endorsing Hillary Clinton for President, UAW president Dennis Williams, is now saying that somehow none of that matters, according to the Detroit Free Press:
"I am prepared to sit down and talk to him about trade. NAFTA is a problem. It is a huge problem to the American people," Williams said today in Detroit.

"We will work with President-elect Trump as much as we can," Williams said. "We have always been very critical about trade agreements that did not protect American jobs, and American workers, and have been very vocal on it and very tough on it."
Of course, despite Trump and the UAW's fantasies, it's not like you just wave a magic wand and a massive trade deal disappears. Even if it does leave, it's likely the consumers that'll be left holding the massive bill.
2nd Gear: Honda's Gonna Make More Big Cars
Gas is cheap and the people, well, they say that they are maybe buying? Honda wants to meet that demand and will shuffle around its North American car production. From Automotive News:
Beginning early next year, Honda will dedicate production at its Alabama plant to the Pilot crossover, Ridgeline pickup truck and Odyssey minivan, shifting production of its luxury Acura MDX crossover to its plant in East Liberty, Ohio, as part of efforts to align its overall production of popular models to better reflect market demand.
So you see, kids, the reason why manufacturing jobs have left the United States is because of NAFTA and nothing else. Oh, what's that? Honda has no problem building more vehicles in the U.S.?
Hmmm.
3rd Gear: Make More Electric Cars, Yo
BMW's top labor rep, Manfred Schoch, criticized the German automaker's leadership, saying that BMW is in danger of falling behind others in the great electric car race if it doesn't pick up the slack.Bloomberg writes:
"Management has been slow to decide on investing in more electric models," Manfred Schoch, who's also deputy chairman of BMW's supervisory board, said in an interview on Thursday in Nuremberg, Germany. The carmaker must expand its range to include electric versions of its core lineup, including 3-, 5- and 7-Series sedans, he said. "Anything else would be detrimental to the business."

Carmakers from Tesla Motors Inc. to Volkswagen AG are aggressively ramping up their electric line-ups in a bid to win customers in a shifting market and comply with ever-tightening emissions rules. Volkswagen plans to roll out 30 battery-powered vehicles in the coming years, while Mercedes aims to introduce at least 10 such models. BMW, an early adopter of green auto technology, recently announced a goal to make battery-powered versions of two existing models, the X3 sport utility vehicle and the Mini city car.
If you're not surfing the electric car wave, you're not surviving.
4th Gear: Tesla Will Hunt For European Gigafactory Real Estate
Following plans to build a Gigafactory in Europe to make cars and battery cells, it also comes down to the question of where. According to Automotive News Europe, Tesla has said that it will start looking, but doesn't have a preference just yet:
Possible locations for the factory include the Netherlands, France and Spain, according to local media speculation. Tesla hasn't communicated a preference.

Tesla already has a facility in the Netherlands that does final assembly work for European versions of Tesla cars built in the automaker's main factory on Fremont, California.

A Spanish site for the new plant would supply the most sunshine if Tesla decided to replicate the solar roof on its U.S. battery plant in Sparks, Nevada.
On the other hand, the Netherlands and Spain are both full of drunk British tourists you'd never want to see anywhere.
5th Gear: Remember TomTom?
In that funky period of time where not all cars came with a navigation option and not everyone had a smart phone, people used TomToms (some still do). Can you IMAGINE? Like the goddamn Stone Age, I swear.
But, as more and more people got smart phones, TomTom GPS systems became more and more obsolete. Still, though, it's hanging in there, and wants in with the automakers, reportsReuters:
TomTom (TOM2.AS) has benefited from the formation of the rival Here consortium as automakers not involved in it are keener to do business with the independent mapping operator, its chief executive said on Friday.

While its success in winning automotive customers remained "lumpy", TomTom is focused on winning customers in the United States, CEO Harold Goddijn told an investor event in Amsterdam.

With its traditional consumer electronics and satellite navigation businesses threatened by smartphones, TomTom has focused on doing deals with automakers, placing it in head-to-head competition with Here.
Only now it's also got Android Auto and Apple CarPlay to compete with.
And also phones, in general. People have phones now.
Reverse: It's Over, It's Finished
Neutral: What Do You Think Will Come Out Of The UAW-Trump Talks?
What do you think will happen to the American car industry? Will it just shrivel and die on the cross of underfunded and untenable pensions? Or, just, you know, "NAFTA???????!!!!"