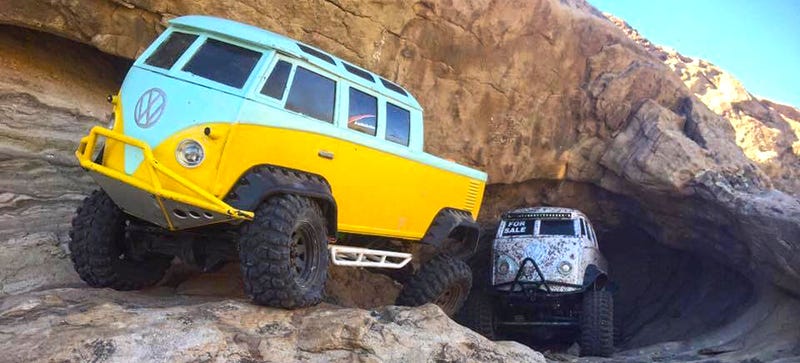 Volkswagen's futuristic rendition of the classic microbus has drawn mixed responses since rolling out at this week's Consumer Electronics Show. But the internet seems unanimously stoked on this idea of a retro hippie van jacked up on truck tires.
This picture of two model microbuses looking swole has been kicked around enough that I lost track of how many people sent it to me, so I figured we'd better share it with everybody else!
Such a solid execution of an awesome and hilarious idea. Even if they are only toys.
A lot of Facebook commenters seem to think these vehicles are real. And they are, in the sense that you can physically touch them. But you can't fit inside as you can see if you click through a few more of the photos uploaded to the VW Bus Junkies Facebook page. Or you could listen to the folks on VWVortexwho say it's "a styrene bus body built on an SCX10 chassis."
One commenter says the bodies were sourced from this Wal-Mart toy. If that's the case, the workmanship on modifications is downright impeccable.
It is too bad these vans are not life-sized, but know I'm not too old to enjoy a well-crafted toy. And hey– these beauties just might inspire somebody with a truck chassis and a VW bus body lying around to do something wicked.
If that's you, hurry up and get the torch going!
Image via Lunde's Peoria Volkswagen Facebook page and all over the internet
---
Contact the author at andrew@jalopnik.com.