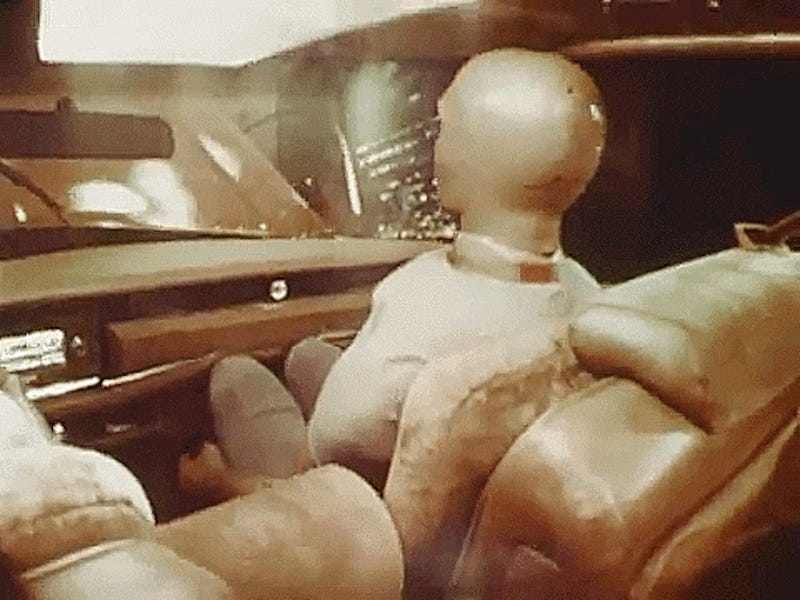 Welcome to Sunday Matinee, where we highlight classic car reviews or other longer videos we find on YouTube. Kick back and enjoy this blast from the past.
With a seat belt, "safety is within easy reach." This video does a decent job to communicate that little reminder with us all.
The clip above is called "Dynamics of a Crash," an excerpt from the Insurance Institute for Highway Safety film, Crashes That Need Not Kill, made in the 1970s. The video is shorter than we usually feature on Sundays, but you're probably OK with that if you've been watching the Rolex 24 for the past day. Plus, quantity does not equal quality.
The U.S. Department of Transportation and National Highway Traffic Safety Administration teamed up to produce this video just a few years after seat belts became a mandatory part of new cars in the country 1968, showcasing all of the dangerous situations that can happen without them.
Regular-speed and slow-motion crashes make up a majority of the film, fitting well with the "the car is a wreck, and the occupants are a wreck, too" theme. And while the date of production fits into the cheesy era of safety films, the slow-motion dramatic crashes at just 35 mph—note, without seat belts—around 1:50 and 3:17 are actually quite frightening.
That theme continues by arguing the point that many of the deaths and injuries in frontal crashes are "needless" due to folks not wearing seat belts, comparing crashes without seat belts, with only lap belts and with full coverage. With seat belts required in cars by this time, the message after the Chrysler Corporation logo has a good point: "You bought them! Wear lap and shoulder belts!"
After seeing this, I think I'll just install a five–point race harness in my street car. On another note, it would also be a blast to host one of these films—discussing "what happens to dummies like these" is the main job.
---
Contact the author at alanis.king@jalopnik.com.