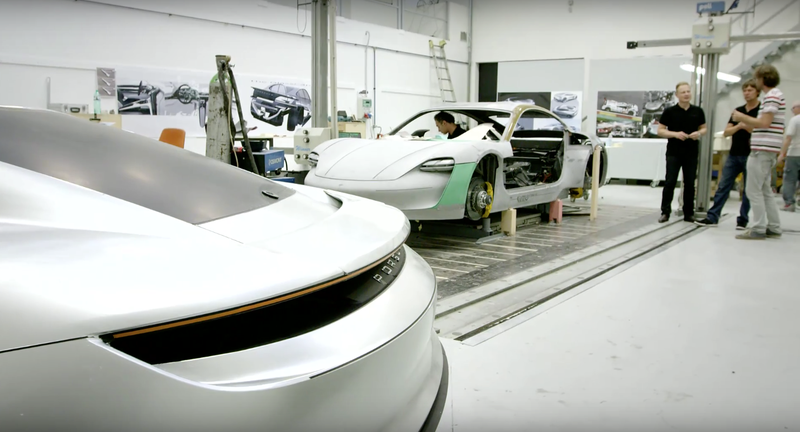 Porsche's first electric concept, the Mission E, was a huge hit at last year's Frankfurt Motor Show. Now we get a peek at how they built it, from the first sketches all the way to a re-wrapped Boxster E with four doors.
Coming up with a cool concept car takes a lot of time and effort, especially if a carmaker intends to have something on the stage that can actually drive up there on its own power. Porsche's Mission E could, because it was built on a unique chassis with bits and pieces from the electric Boxster, but this project was much more complex than the electrification of their small roadster back in 2011.
The idea of building an electric 2+2 is followed by numerous sketches and presentations, after which the chosen design is first produced as a 1/3 scale model. Then comes the full size clay model, the cutting-edge interior and the engineering that will make the car not only possible to build, but also move once it's done. The Mission E also had to have cues about what's next from Porsche.
The Mission E's "80 percent charge in 15 minutes" claim still sounds like a death sentence to its batteries, or some unbelievable hype, but I can't wait to see Porsche proving me wrong.
If Tesla can't make a Model E, at least the Germans will.