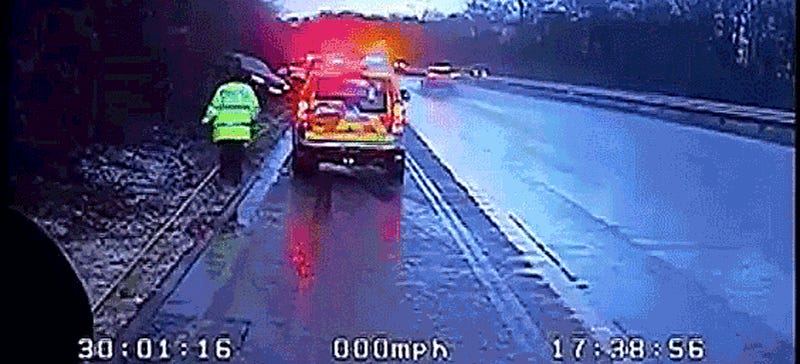 A police constable in Knowsley, England was responding to a multi-car crash when this speeding Mercedes lost control and plowed into a rescue vehicle. Looks like the police Land Rover saved this officer's life by inches.
Police have released this footage to show people why not to speed in the rain, though you'd think the English would be used to wet roads. This crash happened on the M57 highway on January 30, according to the BBC.
"Luckily the constable and the driver of the Mercedes were not seriously injured but sadly we frequently have to deal with fatal collisions that could so easily have been avoided," Roads policing Chief Inspector John Hogan told the St. Helens Star.
It doesn't look like the crashing car was moving significantly faster than traffic, but it's hard pick nuances out of this grainy footage. Let's all just make sure our tires are properly inflated and have enough tread left before we go barreling down the highway.
Hat tip to Pipster!
---
Contact the author at andrew@jalopnik.com.