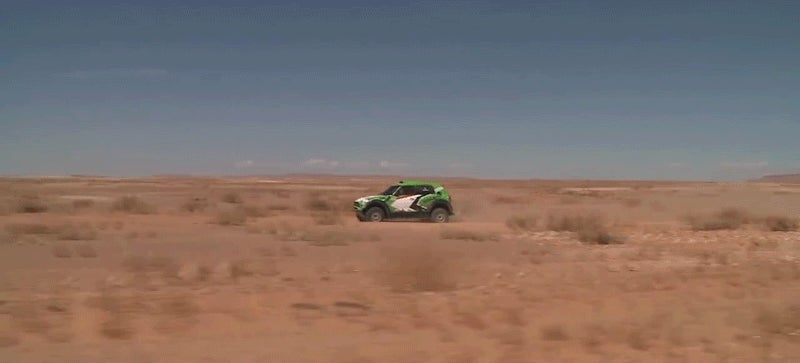 The X-Raid Mini ALL4 racing team is gearing up to win the infamous 5,000 mile Dakar Rally for the fifth consecutive time in January. Here's how they get in shape for it.
German rally-prep outfit X-Raid is already contracted to build BMW's new Minis into off-road animals for races all over the world through 2017. Of course it would be more accurate to say X-Raid is building vehicles designed specifically to compete in the most extreme high-endurance off-road races, which are then fitted with headlights and a windshield to vaguely like a Mini ALL4 station wagon.
The marketing ploy's working on me, though. I catch myself daydreaming about dune jumping every time I'm stuck behind one of these porkers in traffic. And what adds more appeal to an automobile than a little fantasy?
The 2016 Dakar Rally will have no less than 12 X-Raid Minis in the field, wearing colors from a few different sponsors. The headliner there is Red Bull, which has last year's champs Nasser Al-Attiyah of Qatar and co-driver Mathieu Baumel of France teamed up once again.

Many racers have already gathered in Buenos Aires and will be going through an exhibition tech inspection on December 31st and New Year's Day. Cars will then run a very short (six-mile) sprint called a "Prologue" to the town of Rosario that will basically determine starting order for the first stage of the rally, which commences on January 3rd.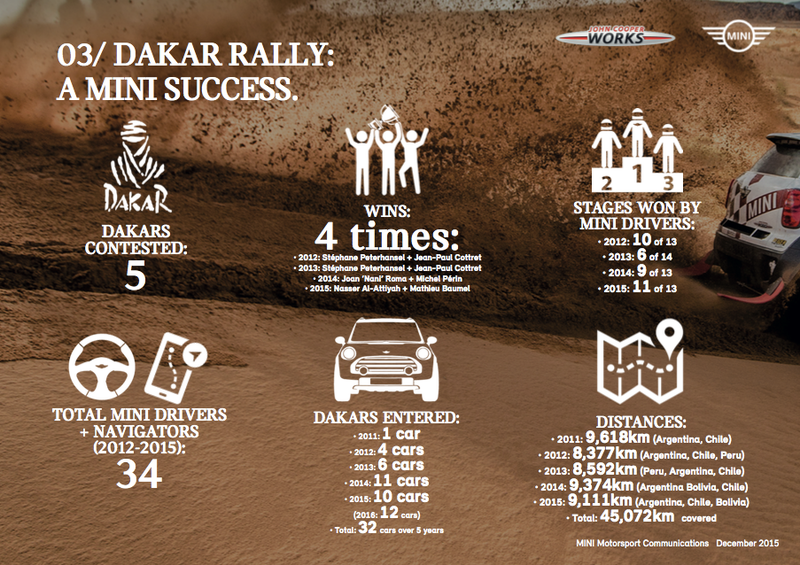 The rally will be on French television and we will share all the best ways to follow the race shortly. Red Bull does a good job pimping their own efforts, so you can expect quite a few posts about at least their Mini for the duration of the race.
For now, enjoy that little clip of the cars out romping! That's pretty much what they'll be up to for about the entire month of January. If their drivers survive that long.
Images via BMW Group
---
Contact the author at andrew@jalopnik.com.