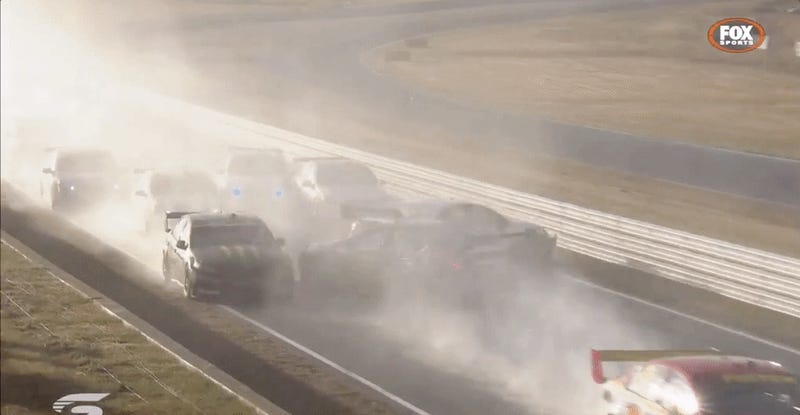 The Virgin Australia Supercars Championship race at Symmons Plains Raceway went for a little over a lap on Saturday before a massive 12-car pileup stopped the entire thing. A driver took a trip to the hospital for precautionary measures, and the series determined a winner after one lap due to running out of time.
The wreck occurred during the Tyrepower Tasmania SuperSprint, which is the third race weekend on the Supercars schedule.
The driver who went to a local hospital, Will Davison, stayed overnight for a few precautionary scans—remember, it's Sunday there—due to pain in his lower back after the crash, according to an update on the series' website. The update said scans had all come back clean as of Saturday local time, and a spokesperson for Davison told the series that he's "on a lot of painkillers at the moment."
Here's the wreck that put him on those painkillers:
As for what was supposed to be a 50-lap race, the wreck sent things under red flag for a lengthy cleanup. A post-race update on the Supercars website said a safety car—oops, sorry, a "saftey" car—came back out for a yellow-flag period right before the race reached its cutoff time. The race ended behind the safety car, after just a single lap of racing.
Shane van Gisbergen wound up winning the "race," and the series decided not to award driver or team points for the results since, you know, they only drove one lap. The results and the victory stand—they just won't mean much.
But it sounds like they didn't mean much to the winner anyway. From the series website:
"We're not here celebrating," said van Gisbergen.

"First and foremost we're glad everyone is ok [sic] and hoping that they can fix their cars.

"That's the priority for me, I don't really care that I won the race at the moment."
The Supercars will try again at Symmons Plains Raceway on Sunday afternoon local time, this time with an 84-lap race on schedule.
Thanks for the tip, Ben!