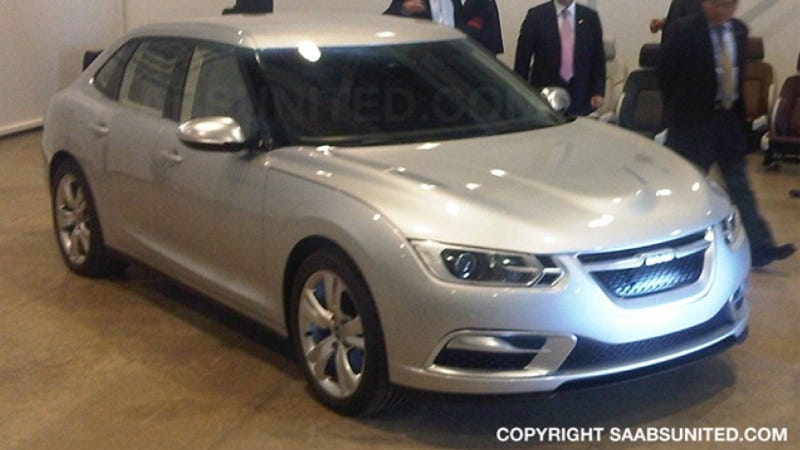 The saddest thing you can do to yourself is wonder "what might have been." If you're a Saab fan, get your tissue box ready, as we're about to show you the 9-3 that never happened.
Arguably the highest-profile and most missed victim of the Carpocalypse, Saab declared bankrupcy in 2011, a mere year after releasing their potent and well-received second generation 9-5. But when Saab went out, they took with them a new 9-3 that was also in the pipeline.
Aside from a few grainy images that leaked onto the Internet, nobody knew what that car looked like until now. The good folks over at SaabsUnited have released photos of a new 9-3, dubbed "Phoenix," that they say was as close to the final version as the design team got.
SaabsUnited also has a fascinating write-up to go along with the photos they released. The 9-3 Phoenix was designed by American Jason Castriota, the man behind the Bertone Mantide, the Maserati Gran Turismo and the Saab PhoeniX concept car. Here's what they wrote:
Jason Castriota's mission from Saab was to design a car that captured the historical roots of the company while bringing out something new that could be based on the new flexible PhoeniX-platform that Saab had developed for a couple of years. Another criteria was that everyone needed to instantly see that the car was a Saab, without looking at the logo, while at the same time feel that the car was ground breaking and new. Having these criteria in mind you can understand the difficult job Jason was given, considering the long and important history of different designs that Saab has. To keep thing simple, Jason was given free reign to create a car within certain limitations and this is what he accomplished.
SaabsUnited notes that Castriota and his team were extremely limited by time and money. The plan was to have the car finished by the end of 2011 so it could debut at the 2012 Geneva Motor Show, although production versions probably wouldn't have showed up until early 2014. The car would have been a five-door hatch, pictured here, and a convertible.
There's even some details on the powertrain. The engine was to be a 1.6-liter BMW turbocharged four good for somewhere between 200 and 220 horsepower. There was also talk of using a 2.0-liter diesel engine.
Unfortunately, none of this was to be, despite the hard work put in by Castriota, his team, and the engineers.
All the time up to the final day SAAB Automobile AB was alive, December 19th 2011, Jason Castriota and his team were working on finishing their beautiful car and up until then, facing the reality that they were working even though the possibility of not being paid, was a real threat. In the end, Jason Castriota worked for Saab for almost two years, even though Saab failed to pay for his team's services for the last 8 months of their efforts. Regardless, JC and his team believed in Saab and pushed forward with their work to give the company the best chance for survival. Along the way, they managed to establish a more cost and time efficient design process that was nearly 40% cheaper than what Saab had done before, delivered a brand new concept car, and almost finished the 9-3 replacement and its variants.
It's an absolute shame that this never came to fruition. It's a sharp and attractive design overall, one that does a great job of paying tribute to Saab's heritage while also moving it forward. Personally, I don't think it looks quite as good as the final 9-5 did, but I have a feeling it would have grown on me. Had it been released, I really would have hoped for a three-door version, and I doubt I'm alone in that.
Be sure and click over to SaabsUnited for the full story on the car that would have been the 9-3 Phoenix. It's fascinating whether you're a Saab-o-phile or not. Then tell us: Would you have been a fan of this design?
Photos credit SaabsUnited. Used with permission.