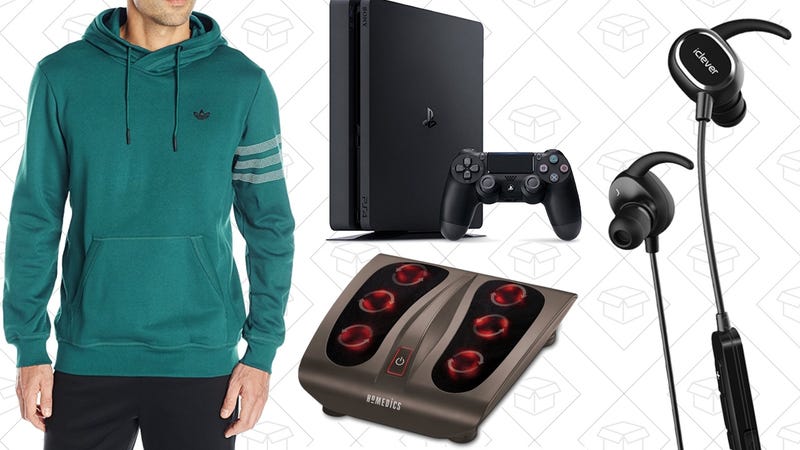 A big Amazon Adidas sale, HoMedics massagers, and inexpensive Bluetooth earbuds lead off Friday's best deals.
Bookmark Kinja Deals and follow us on Twitter to never miss a deal. Commerce Content is independent of Editorial and Advertising, and if you buy something through our posts, we may get a small share of the sale. Click here to learn more, and don't forget to sign up for our email newsletter.


Top Deals
A lot of times, you see a sports brand and think activewear. But Amazon's men's Adidas apparel and sneaker sale is chock full of the more "fashionable" variety. Think bomber jackets, jogger pants, and some really nice Stan Smiths. These are the type of Adidas designs you'd actually want to wear outside of the gym, if you're into that. But you'd better hurry, this Gold Box is a one-day-only thing.
---
Nothing beats a massage after a tough day at work, and you can enjoy one whenever you want with Amazon's HoMedics Gold Box.

Inside, you'll find both a shiatsu foot massager and a percussive massaging wand, both down near their all-time low prices. Now you won't have to debase yourself by using the massagers at your local Brookstone. Just remember that these prices are only available today, or until sold out.
---
Anyone who follows this site regularly knows that significant deals on PS4 consoles only come around once in a blue moon. So when you can buy the new Slim console (complete with Uncharted 4), and get a brand new Call of Duty game for free, that's a deal worthy of consideration.

---
Unless you're a true audiophile, there's really no reason to buy wired earphones anymore, and that's doubly true for iPhone owners. So when you can choose from two different sets of Bluetooth earbuds for under $20, there's no reason not to make the jump.
---
If your phone supports Qi wireless charging, $6 is one of the best prices we've ever seen on a charging pad. I recommend stocking up, and scattering these all around your home and office. Just use promo code TWVZ8TFZ at checkout to get the discount.
---
$20 is a very good price for any 20,000mAh USB battery pack. But when you consider that this one includes Quick Charge 2.0 for your newer Android devices, it's a no-brainer. Conservatively, you should get 4-5 phone charges out of this thing, making it perfect for sharing during a long flight or camping trip.
---
There's no such thing as owning too many Lightning cables, and today on Amazon, $17 gets you a 3′, 6′, and 10′ cable from RAVPower. The two shorter cables are sold as a bundle, and the 10′ cable is a separate Amazon product, so you'll have to add both to your cart, and use code H5O32IJT at checkout.
---
The new $50 Echo Dot is most useful for people who own compatible smart home gadgets, so to that end, Amazon's once again offering big savings when you bundle the Dot with a compatible product.

The bundle includes a Dot and a Logitech Harmony Elite remote for $288, or $60 less than buying them separately. You can use your Dot, or any other Alexa-powered device, in conjunction with the remote (specifically the included Harmony Hub) to control your entire home theater with your voice. The future!
---
Shop-Vacs can clean up both solid and liquid messes, so if you've got the space in your garage (and this one is extremely small), it's worth picking one up for just $23.
---
Because I'm sure none of you have had enough of Nate Silver lately, his book is just $2 on Kindle today.
---
I'm not sure if a minimal, stainless steel cylinder is the most practical design for a rolling pin, but I think it's definitely the prettiest.
---
Want wireless streaming and handsfree calling in your older car? This $10 dongle receives the Bluetooth signal from your phone, and transmits it to the FM radio station of your choice. It even includes two USB charging ports for your phone.

We've seen several deals on Bluetooth car kits in the past, but most require that your car include an AUX jack, whereas this only needs a working FM radio.
---
If you like to shop at Cabela's for camping gear, YETI coolers, or anything else, this discounted gift card is basically $15 of free cash towards your next trip to the store or online purchase.
---
Nordstrom's prices can be a little out of reach for most when they aren't marked down. Which is why the Fall Clearance Sale is so important. Everything from outerwear to boots is marked down to much more approachable numbers, and there is a practically endless amount of options to choose from in every department.
---
In case the new MacBook Pros didn't make it clear enough, USB-C is taking over the world, and Anker's celebrating the occasion with deals on practically all of their USB-C products, including one of your favorite battery packs, the immensely popular Powerline cables, and a great replacement charger for your laptop.

Just be sure to note the promo codes and prices below.
---
Nobody ever has enough power outlets or USB charging ports around their house, but these Aukey surge protectors can solve both problems at once. Just be sure to note the promo codes.
---
$22 is a great price for any LED desk lamp, but it's one of the best we've ever seen for a model that includes a USB charging port and adjustable color temperature, which can seriously boost your productivity.
---
iClever's BoostCube line is The Wirecutter's pick for best travel-friendly USB charger, and for a limited time, you can get two for the price of one. Just note that you'll need to add one white charger, and one black charger to your cart, and use code DEALTOP1.
---
This stand can prop up your phone or tablet at 10 different angles, and it's only $7 today with code 96P5LAT2. I don't really have anything else to add.
---
You're probably familiar with the color-changing Hue lights that screw into your existing lamps and light fixtures, but for truly dramatic lighting effects, you'll want to pick up a few Hue Bloom accent lights as well.

These fully-integrated light fixtures sit on the floor or on an end table and point towards the wall, allowing them to "paint" an entire side of a room in the color of your choice. $35 is a match for the best price we've ever seen on these (as long as you don't mind buying a refurb), so if you're already invested in the Hue ecosystem, you should absolutely pick up at least one.
---
Xbox Live Gold discounts don't come around as often as they used to, so if your membership is due to expire in the near future, grab another year for $40 on eBay today.
---
Whiskey stones can keep your drink cool without watering it down like ice, and this stainless steel set from TaoTronics is on sale for $13 today with code ZZNUPVCL, including a tray and a tiny set of tongs. <Clink>
---
If you need to get caught up before the all-female Ocean's 11 reboot hits, the original trilogy on Blu-ray is an absolute steal at $15. This box set even includes a deck of cards and two collectible dice.
---
USB-powered automotive jump starters might be the new hotness, but this Stanley battery maintainer trades portability for a key feature: A built-in air compressor.

Just like those compact jump starters, this thing can give your car a jolt without flagging down a fellow traveler from a jump, but it can also inflate your tires from anywhere. That means no more fumbling for quarters at a gas station, just to have the air compressor turn off before you could get to all of your tires. I keep one of these in my trunk, and I love it.
This deal has been available a couple of times over the last few weeks, but it tends to sell out quickly.
---
If you want a Big Green Egg charcoal grill, but don't want to cash in your 401(k) to buy one, this Char-Griller alternative is down to an all-time low $235 today, and a great investment for meat lovers everywhere.

The Char-Griller Akorn Kamado Kooker features a 306 square inch cast iron cooking surface (which is most similar to the $829 large Big Green Egg), and traps heat inside a heavily-insulated stainless steel body. Our deal researcher, Corey, owns a BGE, and I asked him about it on Slack:
And I use my BGE for about 70% of meat meals.

Probably 90% during the warm months.

Best Father's Day gift I'll ever get.

Lana jokes that she's the one who benefits most because I cook on it all the time.

Worth the price just for its ability to cook pizza, IMO.

But pork chops, lions, tenderloin are beyond incredible on it.
Obviously, this isn't the "real thing," but the consensus among Amazon reviewers is that it's at least nearly as good, which sounds like a decent compromise considering it's less than 1/3 of the price, and comes with a stable cart and folding shelves, both of which you'd need to buy separately with the Egg.
---
Bodum's pour-over coffee maker is as beautiful as it is functional, and Amazon's marked it down to $17 today, the best price they've ever listed on the 34 ounce model. Hopefully, you take your coffee makers like you take your coffee: Black. Because that's the only color on sale today.
---
Nobody knows software better than our friends at Lifehacker, and Humble's making it easy to augment your PC with a name-your-own-price bundle of some of the site's favorite Windows apps.

We've broken it all down in this post, with links to Lifehacker to help you learn more about the software. Just remember that like most Humble Bundles, certain apps require you to pledge more money than others, so be sure you're paying enough to get all of the apps you need.
---
Before you go out and flush $30 down the drain on a Yeti Rambler, check out this RTIC alternative for just $12 on Amazon today, matching a Gold Box deal from several weeks ago. It uses the same vacuum-insulated stainless steel construction, and according to this YouTube video at least, actually keeps ice frozen for longer. No-brainer.
---
If your car's wiper blades have seen better days, Amazon's running a new promotion on Rain-X Latitude replacements, for a limited time.

This deal works a little differently than previous Amazon wiper blade promotions, which let you buy two for a flat price. This time around, you'll save a flat 15% on each blade you buy (shipped and sold by Amazon). Just use the site's built-in "Filter By Vehicle" tool to find the proper models for your car, and remember that you won't see the discount until checkout.
Update: If you buy two, you can also submit your receipt for an $8 mail-in rebate! Thanks for the heads up, Nirav Patel.
Tech
Power


Audio
Home Theater
Computers & Accessories
PC Parts
Mobile Devices
Home
Kitchen
Tools & Auto
Lifestyle
Apparel
Beauty & Grooming
Camping & Outdoors
Fitness
Media
Movies & TV
Books
Gaming
PC


PlayStation 4
Xbox One
Vita
Toys
---
Commerce Content is independent of Editorial and Advertising, and if you buy something through our posts, we may get a small share of the sale. Click here to learn more, and don't forget to sign up for our email newsletter. We want your feedback.