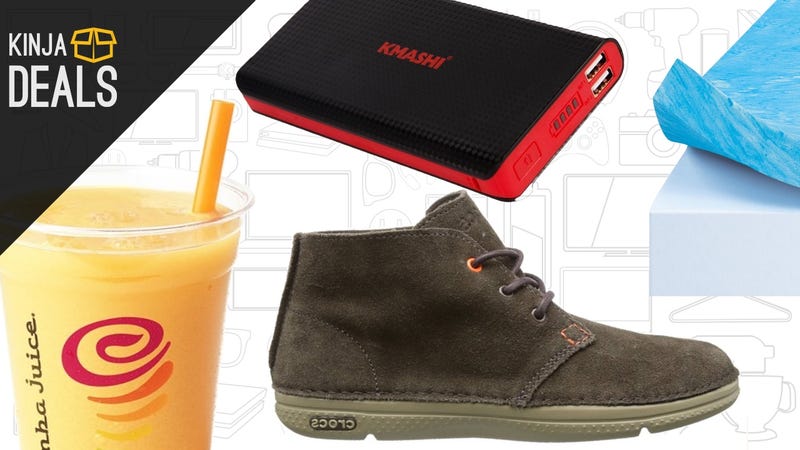 Mattress toppers, BOGO video games, and $2 off at Jamba Juice lead off Thursday's best deals. Bookmark Kinja Deals and follow us on Twitter to never miss a deal. Commerce Content is independent of Editorial and Advertising, and if you buy something through our posts, we may get a small share of the sale. Click here to learn more, and don't forget to sign up for our email newsletter.

http://deals.kinja.com/fast-burst-cam…
---
Top Deals
---
---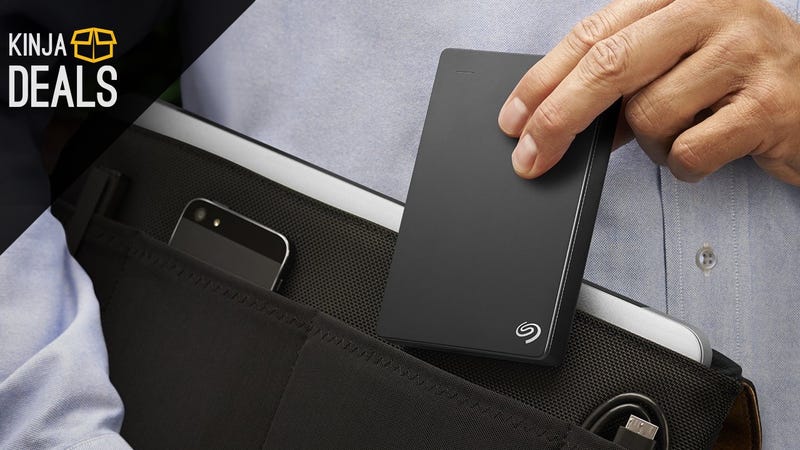 It wasn't long ago that portable, USB-powered external hard drives maxed out at 2TB, but Seagate's new Backup Plus manages to double that, and you can pick one up for an all-time low $120 today. That price even includes 200GB of Microsoft OneDrive storage for two years, which is a $96 value on its own.

We're not sure how long this deal will last, so if you need to keep a lot of storage in your travel bag, or plugged into your Xbox One, I'd grab this quickly. [Seagate Backup Plus 4TB + 200GB Microsoft OneDrive, $120]
http://www.amazon.com/Seagate-Portab…
---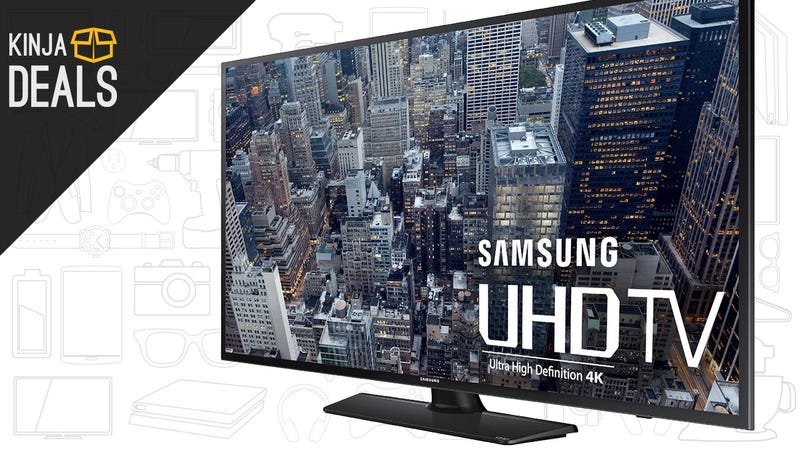 If you still haven't upgraded to 4K, this is one of the best deals we've seen to date. $900 gets you a Samsung 55″ 4K smart TV, which is nearly $200 less than Amazon's current price, and Dell will toss in a $400 promo gift card to sweeten the pot.

That gift card is only valid for 90 days, but you can use it on anything Dell sells, including video game consoles, computers, speaker systems, and a lot more. [Samsung 55″ 4K Smart TV + $400 Dell Gift Card, $900]
Note: Sometimes, Dell pulls these deals without warning, so make sure you see the gift card in your cart before checking out.
---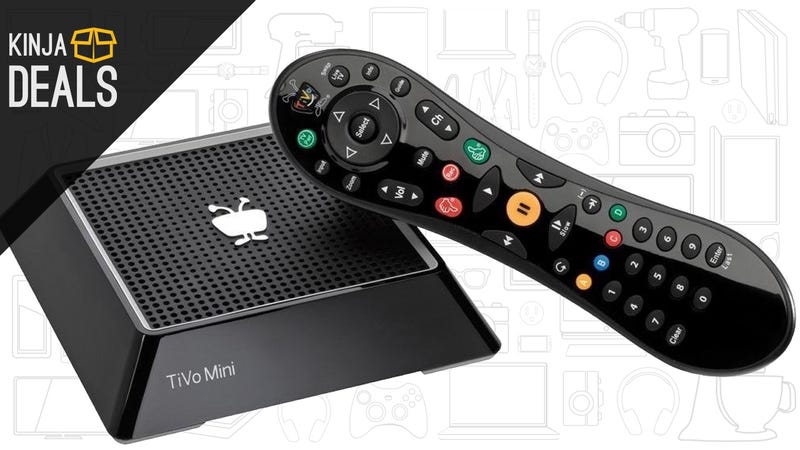 If you own a TiVo DVR with four or more tuners, you can hook up TiVo Minis to your secondary TVs to access all of your recordings and live TV, with no cable boxes or additional fees required. For a limited time, you can snag a refurbished Mini from Amazon for $70, which should pay for itself over time compared to renting equipment from your cable company. [Refurb TiVo Mini, $70]

http://www.amazon.com/exec/obidos/AS…
---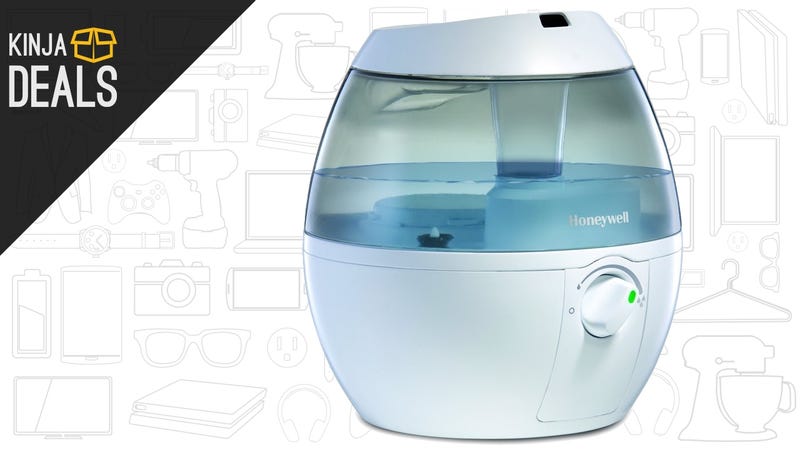 If cold winter air is chapping your lips and drying out your hands, this single-room $19 Honeywell humidifier can make things a little more comfortable for up to 20 hours on a single tank of water. Obviously, there are bigger, more powerful humidifiers out there, but with this should get the job done if you're on a budget. [Honeywell HUL520W Mistmate Cool Mist Humidifier, $19]

http://www.amazon.com/gp/product/B00…
---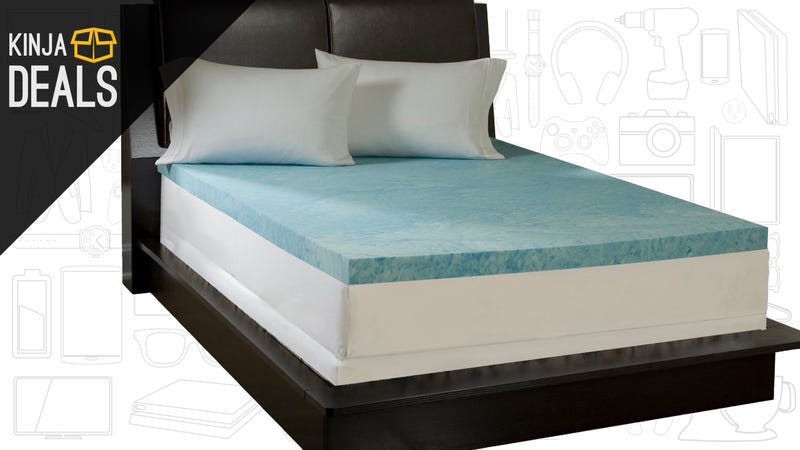 If you aren't thrilled with your mattress, but don't want to pay hundreds of dollars to replace it, a 3″ Simmons Curv memory foam topper can make it feel brand new.

As part of an Amazon Gold Box deal, you can grab a king or California king for $135, a queen for $110, or smaller sizes for even less, today only. Those represent roughly $25-$35 discounts, and the best prices Amazon's ever listed. Just don't sleep on it; these discounts will only last until the end of the day, and they could sell out early. [Simmons Curv 3″ Memory Foam Toppers, $70-$135]
http://www.amazon.com/dp/B015RIAYAU/…
---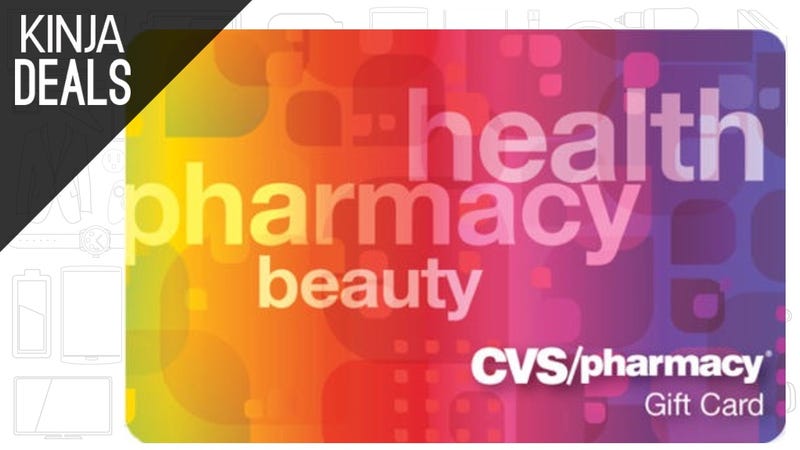 If CVS is your pharmacy of choice, this discounted gift card is essentially free money. [$100 CVS Gift Card, $88]

http://www.ebay.com/itm/2916887010…
---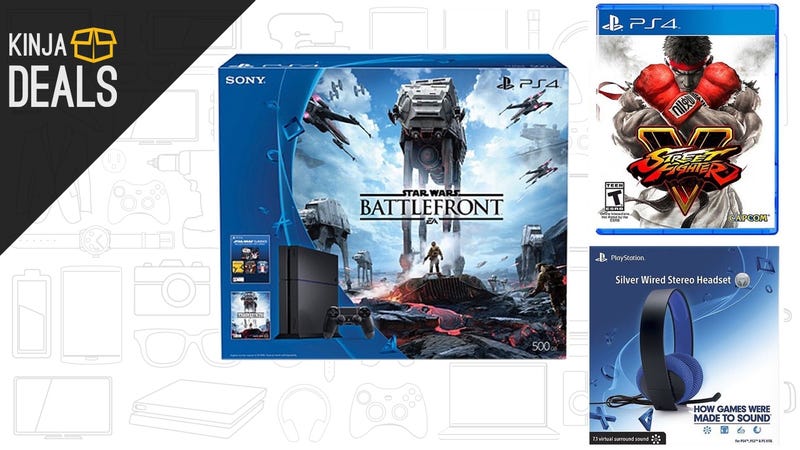 We're starting to see a few more PS4 deals than we used to, and if you've had your eye on Street Fighter V, this one is particularly enticing. You'll actually be paying $10 more than you would for the bundle by itself, but between the headset and the extra game, you're coming out way ahead. [PS4 Star Wars Battlefront Bundle + Street Fighter V + Sony Silver Wired Headset, $360]

http://www.ebay.com/itm/3018791751…
---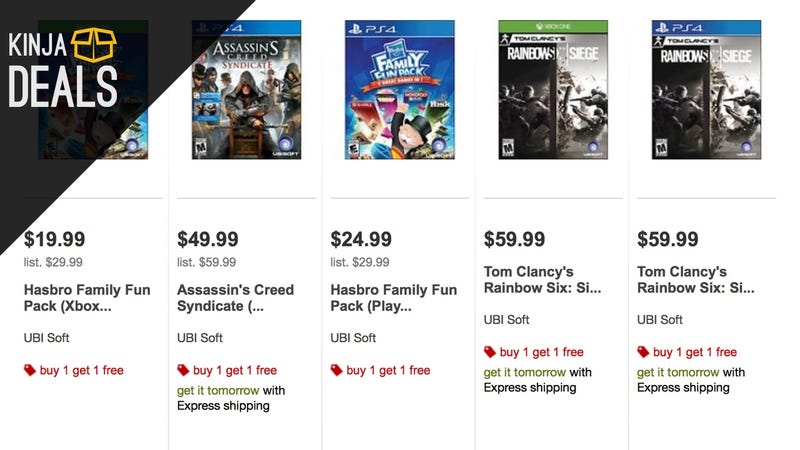 For a limited time, Target's offering a BOGO deal on select console games. Your options are pretty limited, but Rainbow Six Siege, Far Cry 4 Complete Edition, and Assassin's Creed Syndicate are all solid choices. [BOGO Select Games]

---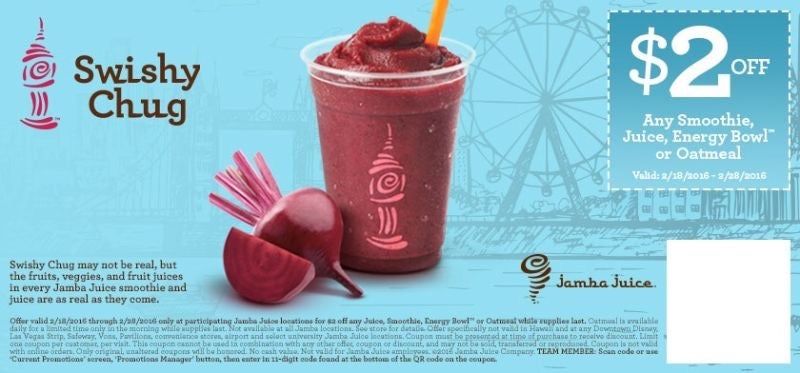 You won't need to break into a Jamba Juice to get a cheap smoothie, you just need this coupon. [$2 Off a Jamba Juice Smoothie, Juice Bowl or Oatmeal]

---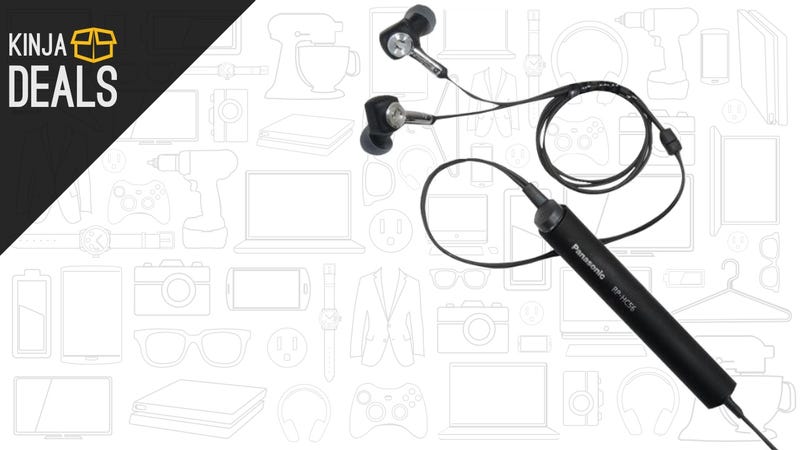 I know you guys generally prefer wireless headphones, but this is a legitimate set of active noise canceling earbuds for $25. I'm not sure I've ever seen that before. [Panasonic Noise-Canceling Earbuds, $25]

---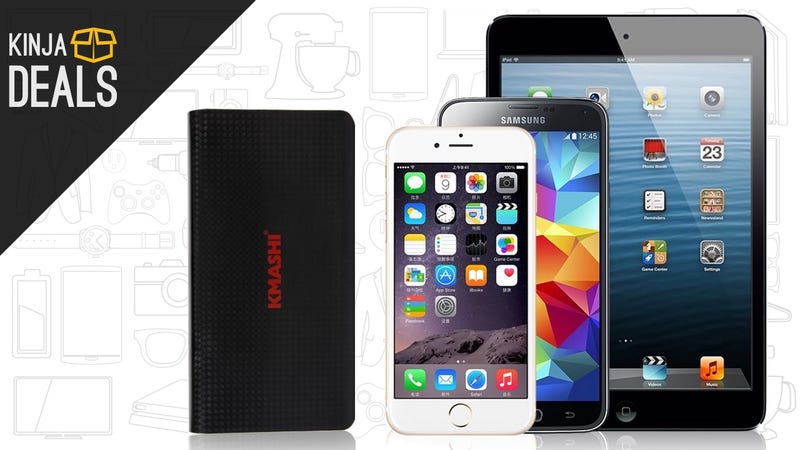 Yesterday, Kmashi offered a 10,000mAh battery pack for $9. Today, it's 15,000mAh for $13. You just can't beat that. [KMASHI 15000mAh External Battery Power Bank, $13 with code MXYYXZ5X]

http://www.amazon.com/KMASHI-15000mA…
http://bestsellers.kinja.com/bestsellers-km…
---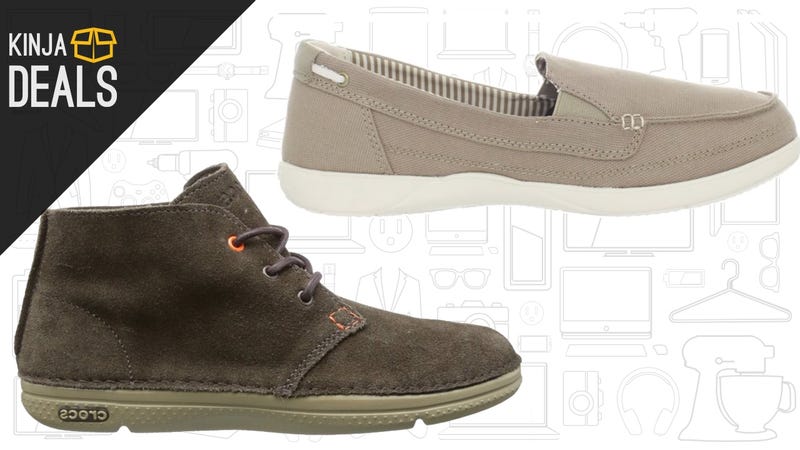 Today only, Amazon's offering Crocs shoes for the whole family for just $14-$30 per pair. The cheaper models are the swiss cheese rubber monstrosities you're probably thinking of, but there are also some decent looking "real" shoes available as well. [50% Off Crocs Shoes]

---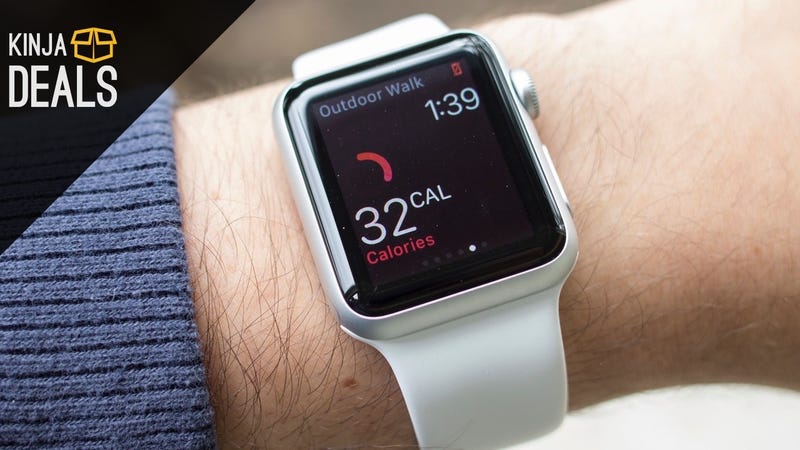 If you don't mind buying a refurb, Woot is currently offering the best Apple Watch prices we've ever seen. [Refurb Apple Watch Sport, $235-$275]

---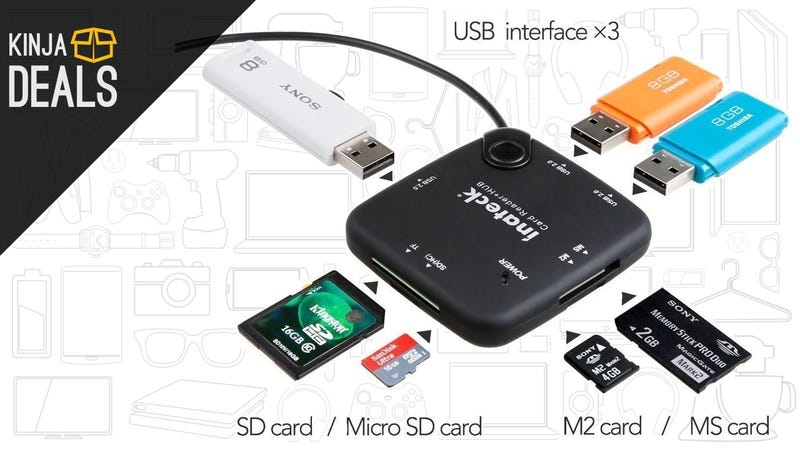 This cheap OTG hub lets you connect to any USB drive, SD card, and more to your Android device's microUSB port. That's perfect for viewing and sharing photos you take on vacation, or storing HD movie files to watch on your tablet during a long flight. [Inateck Micro USB TF SDHC card reader + 3 port USB2.0 OTG hub for USB On-The-Go Compatible Devices, $11 with code WRPE39HH]

http://www.amazon.com/Inateck-Adapte…
---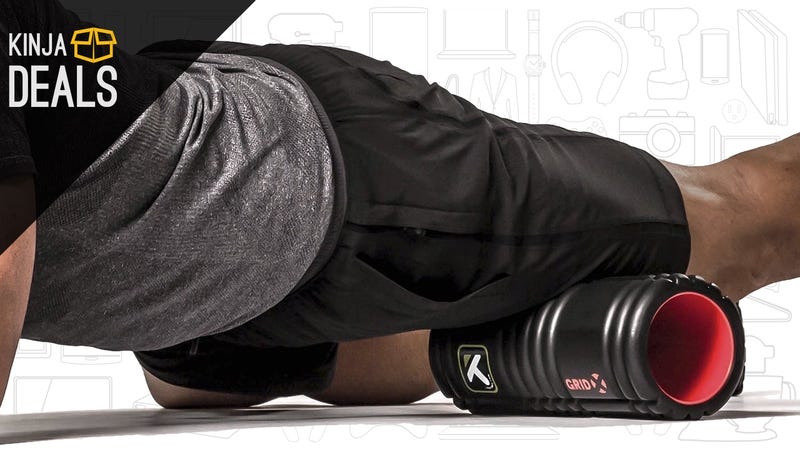 TriggerPoint's "GRID" is one of the most popular foam rollers on the market, and Amazon's offering the black 13″ model for $31 today. You'll even get some instructional videos to help you get started. [TriggerPoint GRID Foam Roller With Instructional Videos, $31]

http://www.amazon.com/TriggerPoint-R…
---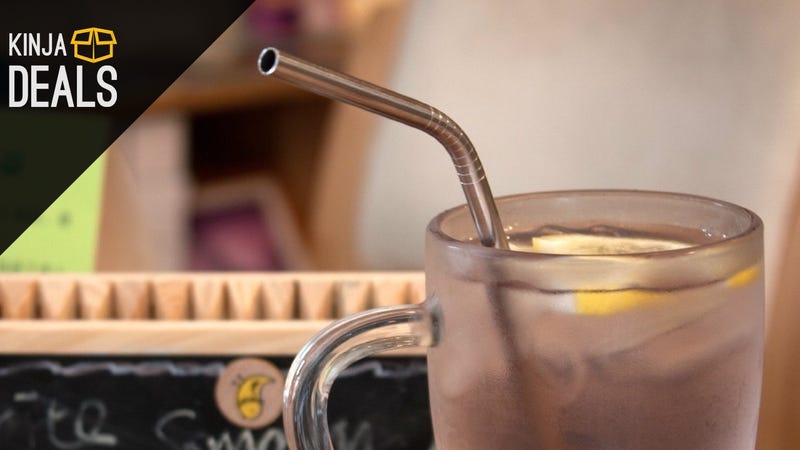 For just $6 today, you can sip your drinks in style with a four pack stainless steel drinking straws. I own this exact set, and use them for everything from Coke Zero to Moscow Mules. And don't worry, they come with a little tube cleaner to help you wash them. [MIU COLOR® 18/10 Stainless Steel Drink Straw, Set of 4, $6 with code 7GNUT2LM]

http://www.amazon.com/MIU-COLOR-Endu…
---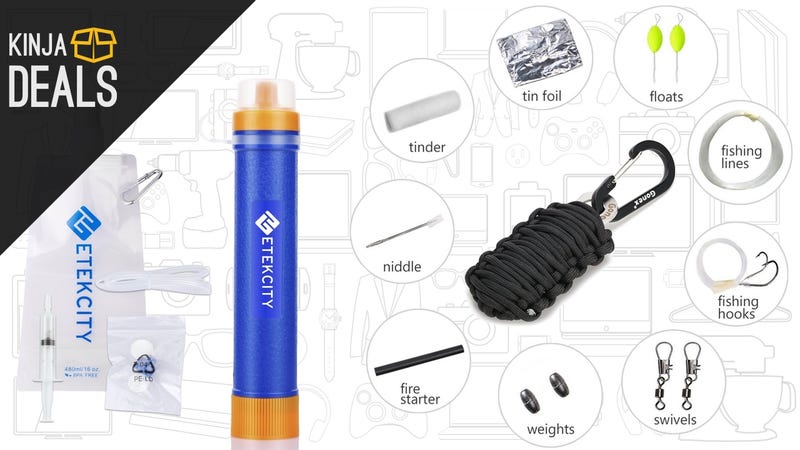 Before you head out on your next outdoor adventure, you might want to pick up some of this sub-$20 survival gear. I'm especially interested in the Gonex paracord grenade, which includes an eye knife, cotton tinder, flint, fishing tools, and more.

Gonex 550 Paracord Grenade Keychain Survival Bundle ($9) | Amazon | Use code CMDL75NY
http://www.amazon.com/dp/B01BBGOXZY
Outdoor Survival Paracord Bracelet with Fire Starter Scraper Whistle Kits ($7) | Amazon
http://www.amazon.com/dp/B016ZA1WYQ/
Etekcity 1500L Water Personal Filter Purifier Chemical Free ($16) | Amazon | Use code I5PAYL2H
http://www.amazon.com/Etekcity-Perso…
---
Everybody's Gone To Rapture might just be the best "walking simulator" ever made, and PS4 owners can score a copy for $12 today on Amazon. [Everybody's Gone To Rapture, $12]
http://www.amazon.com/Everybodys-Gon…
http://kotaku.com/everybodys-gon…
---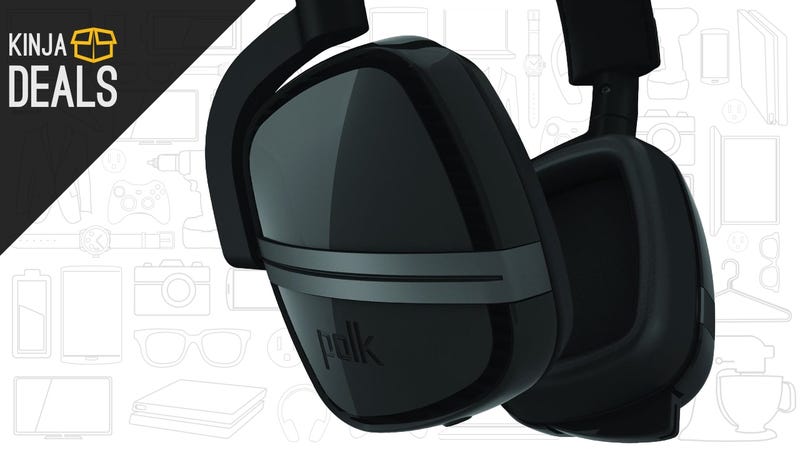 Polk Audio's Melee headset is a great, affordable upgrade option for Xbox owners, and Amazon's marked it down to an all-time low $27 today for Prime members. [Polk Audio Melee Headset, $27]

http://www.amazon.com/dp/B00E1L7836/…
---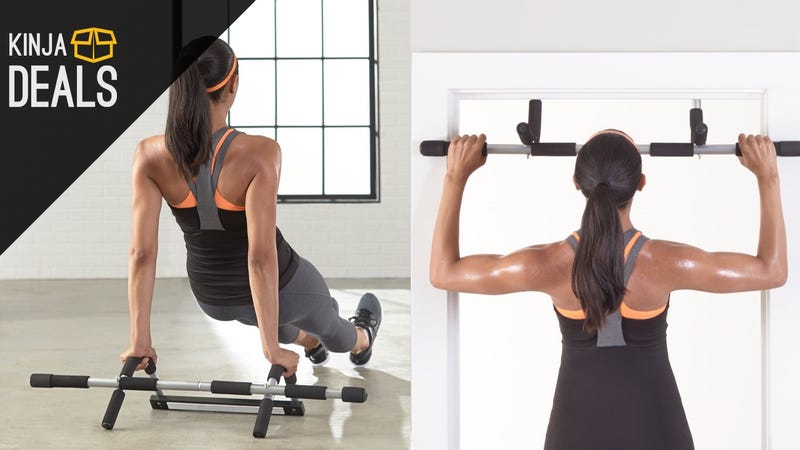 Amazon's in-house exercise bar is fairly priced at its usual $20, but for a limited time, they're knocking it down to $16, the first discount they've ever offered. [AmazonBasics Pull-Up and Exercise Bar, $16]

http://www.amazon.com/dp/B00R3N0782
---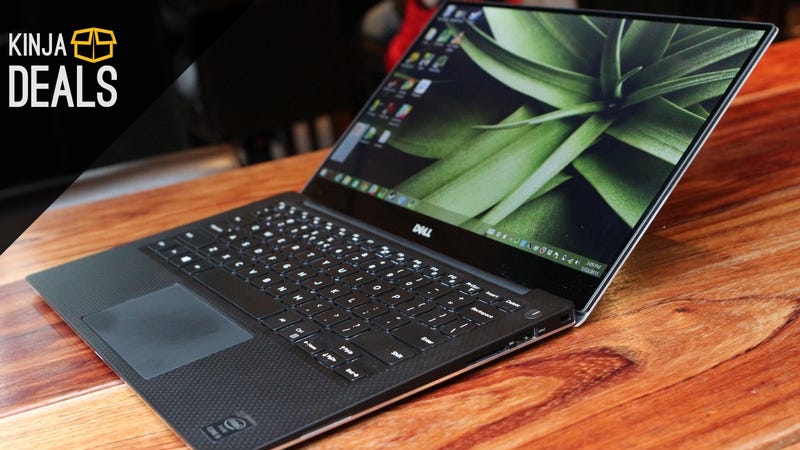 The Dell XPS 13 is still the Windows laptop to beat, and you can get one packed with 8GB of RAM, a 256GB SSD, and a 3200×1800 IPS touchscreen for just $1,000 today. That's not exactly cheap, but it's undoubtedly a bargain if you expect a lot out of your laptop. [Dell XPS 13, $1,000]

http://www.ebay.com/itm/Dell-XPS-1…
http://gizmodo.com/dell-xps-13-re…
---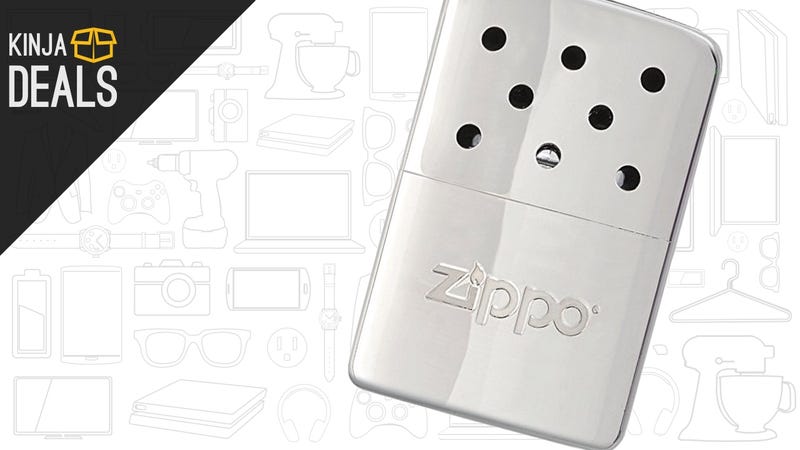 Unlike those disposable chemical hand warmers, this Zippo lasts for up to 6 hours at a time, and can be reused by filling it with a splash of lighter fluid. Plus, it just looks really cool hot. [Zippo 6-Hour Chrome Hand Warmer, $10]

http://www.amazon.com/dp/B013HLGULG/…
---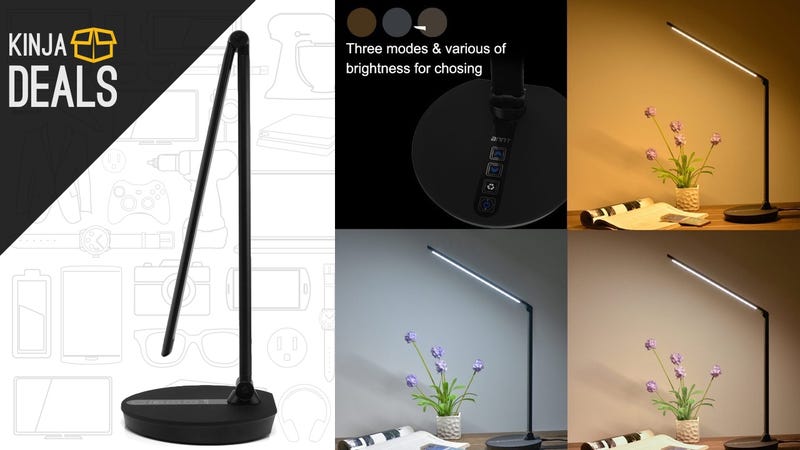 Not only can this LED desk lamp put out three different color temperatures at four brightness settings; it can also charge your phone via its built-in USB port. What more could you possibly need? [ANNT LED Touch Desk Lamp with USB Charging Port, $26 with code MLXJQ3LE]

http://www.amazon.com/dp/B014KN8ZT0/…
---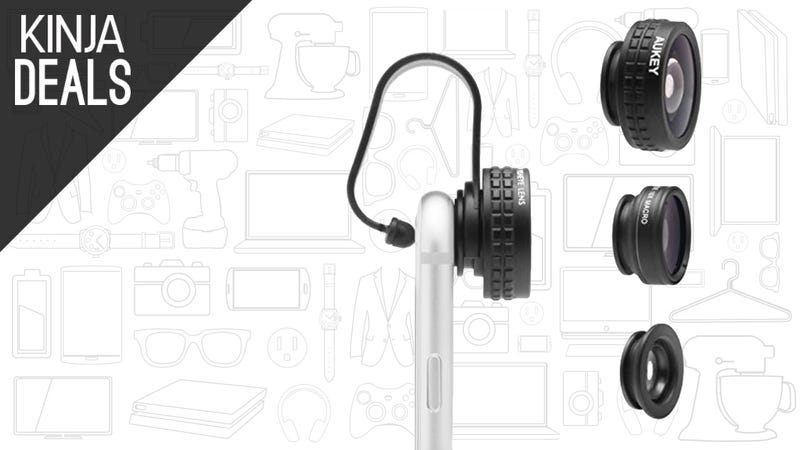 Smartphone camera lens attachments have been around for years, but I've always held off because I didn't want to use a specific case on my phone, or pay for a new set of lenses every time I bought a new device. This clip-on solution from Aukey though seems to be a more versatile alternative, and looks like an awesome option at $10.

Unlike most lens add-ons, Aukey's 3-in-1 kit uses a clamp to attach to your device, which means it should work with virtually any smartphone. Once that clip's in place, you get to choose from three different lenses: Fisheye, wide angle, and macro. A handful of Amazon reviewers have uploaded sample photos and videos, and they look pretty great to my eyes, particularly the close-up macros.
The whole system is very reasonably priced at $17, but today you can use promo code FNKXYPLR to save an extra $7. [Aukey 3 in 1 Clip-on Cell Phone Camera Lens Kit, $10 with code CVDFD4N4]
http://www.amazon.com/Aukey-Fisheye-…
---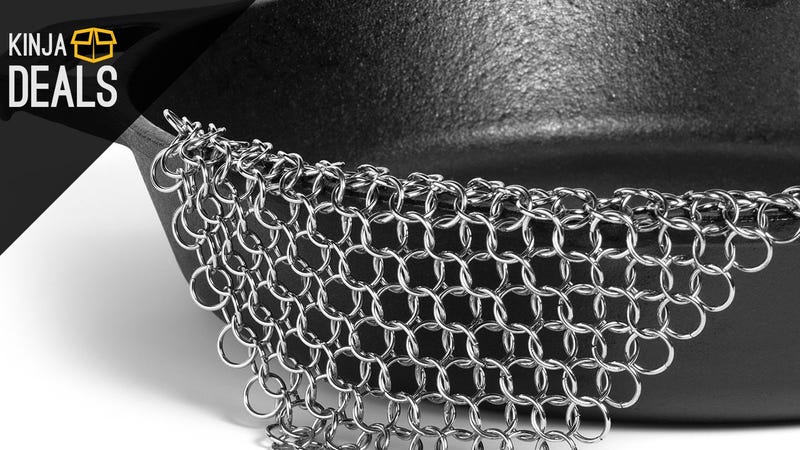 One of the only downsides of cast iron pans is that they can be a nightmare to clean, but this 4.6 star-rated chainmail scrubber can scrape away caked-on food without hurting your seasoning, or resorting to soap. [Hudson Cast Iron Cleaner XL 7×7 Premium Stainless Steel Chainmail Scrubber, $14]

http://www.amazon.com/exec/obidos/AS…
http://bestsellers.kinja.com/bestsellers-lo…
---
Tech
---
Power


Audio
Home Theater
Computers & Accessories
PC Parts
Mobile Devices
Photography
---
Home
---
Beauty & Grooming
Kitchen
Fitness
Apparel
Camping & Outdoors
Tools & Auto
---
Media
---
Movies & TV
Books & Magazines
---
Gaming
---
Peripherals
PC
PlayStation 4
Xbox One
Wii U
3DS
Toys
---
Commerce Content is independent of Editorial and Advertising, and if you buy something through our posts, we may get a small share of the sale. Click here to learn more, and don't forget to sign up for our email newsletter. We want your feedback.
Send deal submissions to Deals@Gawker and all other inquiries to Shane@Gawker