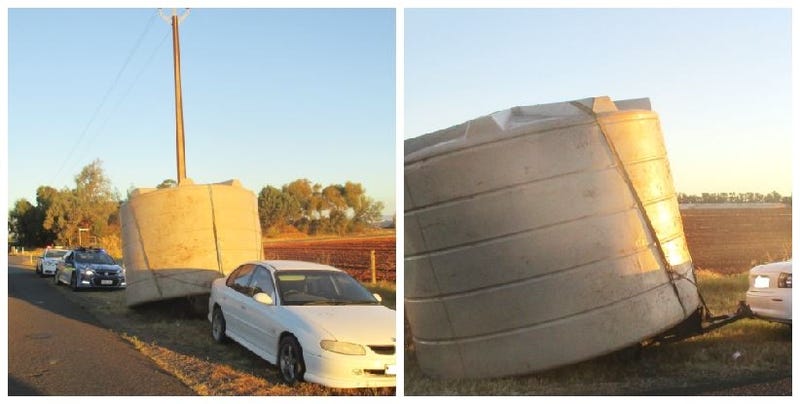 The South Australia Police, in an article published to its website titled "Tank goodness he's off the roads!", have apprehended a 28-year-old man after he was pulled over while dragging a massive rainwater collection tank on a broken trailer attached to an unregistered car.

The police release hilariously explains the man was pulled over because the trailer "appeared to have no view to its rear, was dangerously overloaded and not restrained correctly". The trailer, holding an absolutely massive but empty rain collection tank, reportedly had no license plate, indicators, lights, no safety restraint on the towed tank, no tire at all on one of the trailer wheels, and only a strap connecting the trailer to the tow hook of the car.
As for why somebody without a license would be doing such a thing in an unregistered vehicle, drug testing revealed a possible reasoning, from the police report:

The Elizabeth Park man was submitted to a drug test which returned a positive result for methamphetamine. His sample will be sent to Forensic Science SA for further testing. He was reported for several traffic offences including drive disqualified, unregistered, and manner dangerous and his car was impounded for 28 days. He will appear in court at a later date.

Australia continues to be amazing.
H/t to Ash for sending it in!