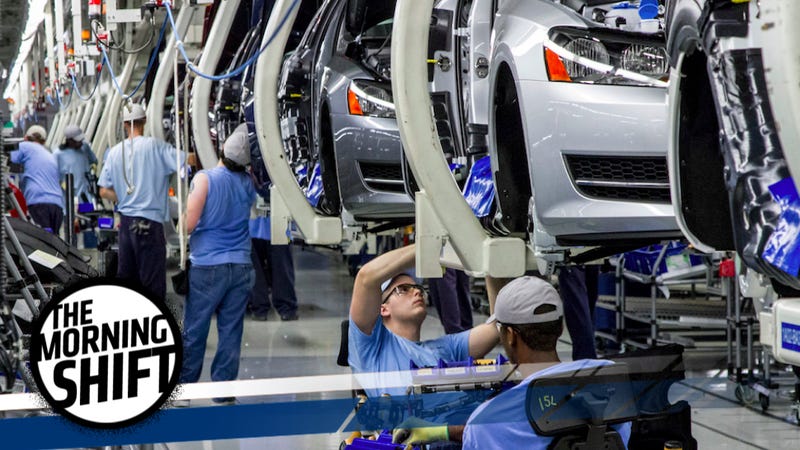 Good morning! Welcome to The Morning Shift, your roundup of the auto news you crave, all in one place every weekday morning. Here are the important stories you need to know.

1st Gear: Break The Law, And It's Never The Ones Responsible Who Get Hurt
Ever since Volkswagen was caught cheating on federal emissions tests, the brand has been feeling the hurt, as consumers lost faith in the brand, and legal fees and fines put a strain on the automaker's pocketbook. So VW is making big changes, with Reutersquoting head of VW's passenger car brand Herbert Diess as saying that the Volkswagen brand is about to get overhauled. Part of that overhaul hopes to increase operating margins, with Volkswagen plans to cut 30,000 jobs worldwide in exchange for a promise of no forced layoffs until 2025.
Around 23,000 of those jobs will be cut from Germany and the rest from Brazil, North America, Argentina and other countries. Most of these cuts will occur via buyouts, early retirement and reduction of part-time workers.
The plan will save the company lots of money, with Reuters saying:
The turnaround plan announced on Friday will lead to 3.7 billion euros ($3.9 billion) in annual efficiency gains and lift the VW brand's operating margin to 4 percent by 2020, from an expected 2 percent this year.
These job cuts, VW hopes, will allow the company to shift focus on electrification, with Reuters saying VW plans to add 9,000 new jobs in that field, most of them in Germany.
2nd Gear: Magna Is Going To Be Building A Shit-Ton Of Cars
Magna Steyr is a large Tier 1 automotive supplier that's also well-known for assembling the Mercedes G-Wagon at the supplier's plant in Graz, Austria since the '70s.
A lesser known fact is that Magna also built the first-generation BMW X3 there, as well as the current Mini Countryman, and that the company plans to assembly BMW's new 5 Series in Graz starting next year.
But now, joining the Countryman, G-Wagon and 5 Series, will be the Jaguar I-Pace, as this week Jaguar Land Rover CEO Ralf Speth confirmed to Automotive News that it will be building its electric crossover, as well as another unspecified vehicle.
Between the Mini, Mercedes, BMW, and these two vehicles from Jaguar Land Rover, Magna says the assembly plant in Graz expects to be pumping out 200,000 vehicles per year by 2018.
That's about as many vehicles as Jeep cranks out from its Wrangler plant in Toledo.
3rd Gear: Automakers In China Scared Over Repealed Tax Cut
Automakers are worried that China might repeal a tax cut, which could lead to "the first annual decline in sales on record for the world's largest auto market," Reutersreports.

Sales taxes in China are renowned for being high, and can make owning a car prohibitively expensive. But last year, the nation cut taxes for cars with engines smaller than 1.6-liters in half, from 10 to five percent.
The aim, there, Reuters says, was to help boost a slowing economy, and it seems to have worked, as the news site says the policy "turned around a market on the verge of sales declines in 2015 to one that has notched up 13.8 percent growth for the year to date."
Many automakers have been investing lots of money in China, particularly in the fast-growing SUV and electric vehicle segments. Volkswagen, for example, consideres the country its biggest market, and Jochem Heizmann, CEO of Volkswagen Group China, says he's worried, saying:
There is a question of what will happen with this purchase tax policy. If it really comes totally to an end, then maybe the first quarter will be a little bit more difficult.

Analysts agree that the road ahead could be difficult without the tax break, as the news site reports:
Without an extension, analysts forecast annual sales would at best be flat or could decline 2 to 3 percent, which would be the first drop since China's car industry association began collating data in 1997.
Analysts told the news site that an increase in real estate pricing has made China's tax break unnecessary, as the auto industry won't be needed to keep the economy afloat.
Other analysts say keeping the break could just delay an inevitable sales drop. Either way, automakers are scared. Well, some of them.
Lincoln, whose cars aren't eligible for the tax cut, thinks this could be good for the luxury segment, as the brand's president Amy Marentic told Reuters:
There are fewer 1.6 liter and less engines in premium, so if that tax cut does go away, that could be an opportunity
4th Gear: Mercedes CEO Says Humans Will Take Advantage Of Autonomous Cars
At Automobility LA, the Press and Trade show preceding the LA Auto Show, CEO of Mercedes-Benz Dietmar Exler told the LA Times that the biggest hindrance to self-driving vehicles becoming a reality isn't the technology, liability concerns, or even customer acceptance.
Exler told The LA Times that the real issue is us, as we are horrible, terrible human beings:
In particular, he thinks people will "bully" autonomous cars, which will be programmed to be polite and law-abiding.

One example Exler gave was a congested traffic merge, like when a lane is closed:
When someone tries to cut in line at a traffic merge, humans won't let them in. But a driverless car will be programmed to stop when it sees an obstruction — like a line cutter. "They'll look for the autonomous car and that's where they'll cut in," he said.

Exler does say autonomous cars could be calibrated to be more aggressive, but he thinks regulations will prevent that.
5th Gear: The Grand Tour Debuted On Amazon Last Night!
Reverse: 2008: The Big Three Fly Jets To Beg For Bailout Money
Neutral: Will You Take Advantage Of Autonomous Cars?
Would you look for an autonomous car to cut in front of? Or do you not care, as long as you can cut in front of somebody?