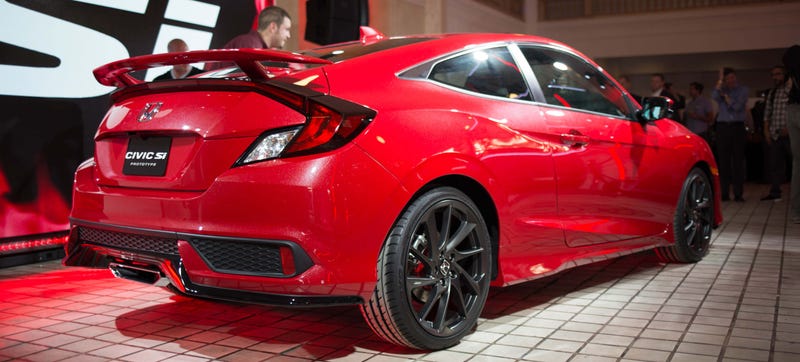 The more I look at this thing, the more I like it.
Honda called it a prototype, but come on, don't even for a second pretend that this isn't 99.9999 percent of the production model. Maybe a few doo-dads here and there will be different on the finalized version, but this is basically it.
The new Civic Si has a distinctly Asian feel, with some of the lines looking like they could be folded out of origami paper. The overall shape is nicely triangular, flaring out aggressively at the bottom for a very planted look.

The brakes could have been a little bigger, but that's coming from an aesthetic preference. I don't like too much empty space between a brake rotor and a rim.

I've never driven with Honda's LaneWatch feature before. Maybe it's a distraction? Maybe it's a live action movie of your life? Who can say.

The shifter throw action felt good and notchy. Can't wait to drive this thing. Also, that baseball stitching is very à la Mitsubishi Evo X Final Edition.

Here's what its underside looks like!

All good stuff. Someone tried to open the hood during the preview event and Honda PR people descended upon them like birds of prey. But it seems like there is a 1.5-liter turbo engine under there. No word on power yet, though.
Still, Honda said that all Si Civics will supposedly come exclusively in a manual. Some news can be good.