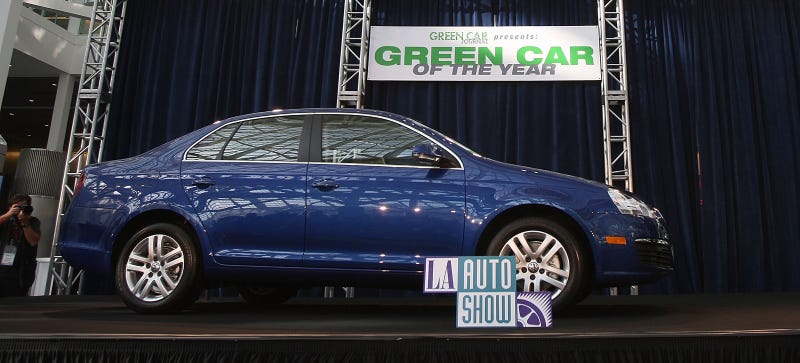 Volkswagen's plan to fix its cheaty 2.0-liter diesel cars was rejected by the California Air Resources Board for lacking sufficient detail, reports Automotive News. The state alleges that the plans were not adequate or quick enough for what California requires.

Curiously, CARB won't yet say what the plan they're rejecting is. Volkswagen submitted a repair plan for the diesels to CARB and the Environmental Protection Agency late last year, but it has yet to release the details on that plan to the public. Since then TDI owners and industry-watchers have been waiting to see how a fix will affect the cars' performance and fuel economy.
It certainly sounds like Volkswagen didn't send forth a complete recall fix, which is unfortunately labelled as "confidential business information" in CARB's rejection letter to Volkswagen, hence why it's not being made public yet. From the CARB press release:

The rejection of VW's submitted recall plans details the specific areas that are required under California law in order for a recall plan to be formally approved. VW's recall plan fell short in several areas, including:


The proposed plans contain gaps and lack sufficient detail.
The descriptions of proposed repairs lack enough information for a technical evaluation; and
The proposals do not adequately address overall impacts on vehicle performance, emissions and safety
This rejection only applies to Volkswagen's 2.0-liter diesel cars, as the deadline for the 3.0-liter recall plans is February 2, 2016.

Additionally, CARB issued VW a formal Notice of Violation for the cars, which came equipped with a software defeat device which allowed the cars to cheat emissions tests and emit up to 40 times the legally allowable levels of NOx pollution. The NOV outlines thirteen different violations of California regulations related to Dieselgate, and is in addition to the NOV the EPA already issued in September 2015.

CARB Chair Mary D. Nichols had this to say in the agency's press release today:
Volkswagen made a decision to cheat on emissions tests and then tried to cover it up. They continued and compounded the lie and when they were caught they tried to deny it. The result is thousands of tons of nitrogen oxide that have harmed the health of Californians. They need to make it right. Today's action is a step in the direction of assuring that will happen.
CARB vows to continue working with the EPA on their current investigation in order to get the cars in compliance with emissions requirements as well as to determine a plan to mitigate past and future environmental damage that occurred as a result of the TDIs' high emissions.

Furthermore, CARB assured owners that their latest action against VW leaves a recall as one of several enforcement options on the table, as is a buyback.

Automotive News reports that Volkswagen AG CEO Matthias Müller is meeting with Environmental Protection Agency chief Gina McCarthy to discuss the emissions scandal further. Over 600,000 vehicles in the United States are affected, which means that there's a lot of unhappy owners out there still waiting for a fix.
Photo credit: Getty Images


---
Contact the author at stef.schrader@jalopnik.com.