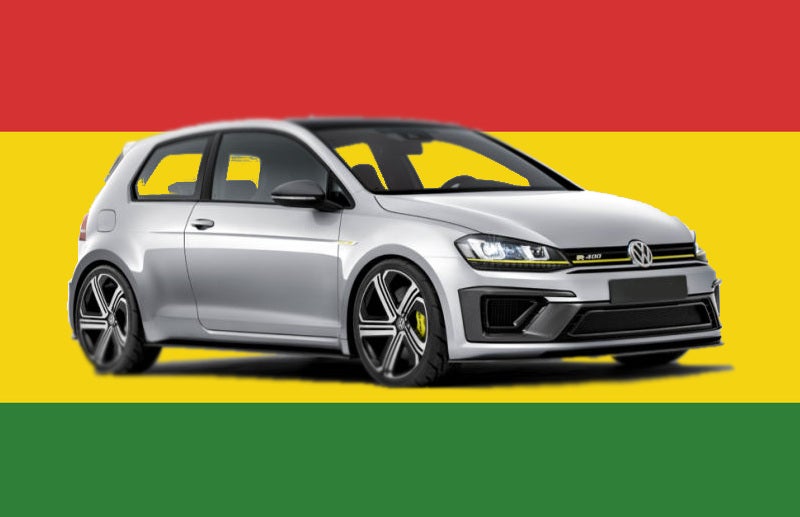 Volkswagen confirmed our high hopes of developing a hardcore Golf hatchback variant based off of the R400 concept, named for its 400 hp, almost two years ago. New reports suggest we may finally see it hit production sometime this year, now dubbed the Golf R420.
http://jalopnik.com/the-volkswagen…
Okay, let's not get too cute with the name here, because we're all undoubtedly going to be subject to all sorts of weed culture jokes for the entirety of the upcoming Golf R420's lifetime—if it even happens at all. The articles, the test drives, the owners, and the Coloradans and Californians on the street are all going to milk this joke mercilessly. I can't promise Jalopnik won't join in, but I'll hold off for now.
The new blazin' hot hatch from Volkswagen premiered as the Golf R400 at the Beijing Motor Show back in 2014 (pictured), but, according to CARlast year, will go into production as the R420—named for the 420 hp from its 2.0 liter turbo engine reportedly sourced from the engine teased with the Audi TT Quattro Sport concept car. You can check out CAR's spy shots here.
The model will drop after the upcoming design refresh of the current seventh generation Golf, which CarScoops claims we can expect in Geneva this March. The R420 is said to be AWD and fitted with upgraded brakes, as well as some custom aerodynamic panels including a new spoiler, but will retain the Golf's classically conservative styling overall. It was also claimed back in 2014 that the production R400 would only be available in manual, and if that's still the case, good.
The current Golf R is priced at almost $36k, so expect the R420 to be a considerable amount higher, as it's only planned to be produced in limited quantities.
---
Contact the author at justin@jalopnik.com or @WestbrookTweets.