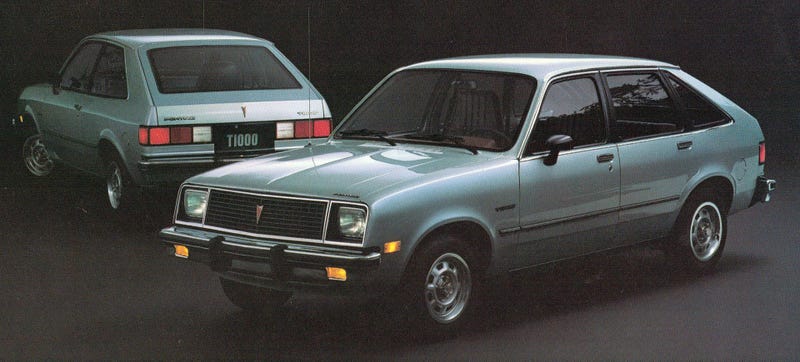 The 1982 Pontiac 1000 was a rebadged Chevy Chevette that was slow, thirsty and a potential life hazard at any speed. It was also expensive and outdated by its competition, but Americans didn't care as long as it came with an automatic, according to MotorWeek's John Davis.

http://jalopnik.com/you-wont-guess…
Human laziness knows no bounds. Here, we have a car that GM tried to sell as a Pontiac six years after the Chevy Chevette was introduced, only to succeed thanks to a three-speed automatic that refused to downshift, making this MotorWeek's slowest test car ever.
We all know 65 horsepower and 80 pound feet of torque is nothing to write home about in a hatchback that weighs 2,230 pounds, but the fact that it was beaten by a Chevette diesel manual says it all. 60mph in 30 seconds, a quarter mile in 23.3. seconds. In return, buyers got 25 mpg at best from that Isuzu-sourced 1.6-liter motor. And that wasn't the end of the bad news.
With its upgraded styling sporting "Euro-look" blacked out chrome, the '82 1000 still looked like one of those hated imports from the rear, so Pontiac put a USA sticker on it to make sure buyers don't get confused. They also improved fit and finish, and covered those seats in sturdy fabrics that last longer than the body.
Unfortunately, all this still wasn't enough to make Pontiac's Chevette better than "mostly acceptable," but while more modern and efficient alternatives were available on the market at a lower price, GM's compacts remained America's second best selling small cars thanks to the automatic option.
Sales finally fell below 47,000 units, making production come to an end just before the calendar turned to 1987.