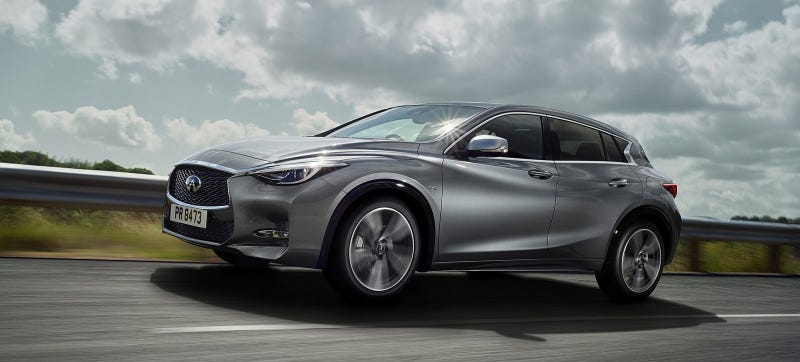 Once, there was the Infiniti Q30 and its slightly lifted sibling, the QX30. Both are brand-new cars key to Infiniti's ambitious growth plans. But then Infiniti decided that in the U.S., both variants would have the same name—QX30. Like everyone, we were slightly perplexed by this move, but now we know the reason: the dealers. That X sells cars, dammit!
http://jalopnik.com/the-crossover-…
Automotive News reports Infiniti's U.S. dealer network was worried (probably justifiably) about confusion among customers over the two nearly-identical cars. That, and while the Q30 is a tall hatch/coupe/hatch/thing, it will be marketed firmly in America as a crossover, because that's what Americans are buying in droves right now.
From the story, here's Randy Parker, vice president for Infiniti Americas:
Referring to the former Q30, he said, "It has coupelike styling. But this car is a crossover. And what's selling in the U.S.? Crossovers. So, we want to make sure consumers know we're talking about crossovers."

The models are almost identical in sheet metal. There are slight differences in body cladding, front and rear fascia and ground clearance.

The marketing realignment will not change how U.S. regulators classify the model that now will be sold as the QX30. For technical reasons, it will continue to be counted as a car.
The former Q30 and QX30 are now the QX30, QX30 AWD, and QX30S.
Honestly, it's probably a smart move, because U.S. buyers persist in thinking a bit of extra ride height and plastic body cladding epitomizes the rugged, nature-plundering myths of individual freedom upon which our great nation was founded; that, and they're easier to get in and out of than sedans or whatever.
We liked the Q30 a lot when we drove it in Europe. Here's hoping it sells well in America, whatever its name is.
---
Contact the author at patrick@jalopnik.com.