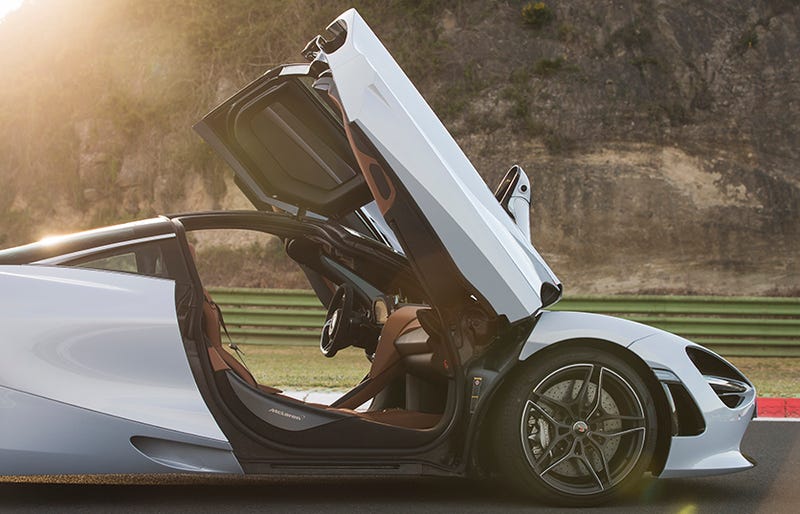 The 2018 McLaren 720S is either a masterpiece of automotive design, or a weird Hot Wheels-y flying fish thing, depending on whom you ask. I'm crazy about the look myself, and when I got closer I found even more amazing details to freak out over.

I had to promise I wouldn't disclose any driving impressions of the car until May 3 before being handed the keys, but McLaren's reps didn't seem to have a problem with me getting nose grease on all the intricate little blips and blades that make the 720S such a visually fascinating machine.
So here are my favorite design details I found on the car, in order of increasing illustriousness:
Gunmetal brake calipers
Red is over guys, because a shiny brushed-steel looking finish on brake calipers is now one of the slickest visual treatments I've seen on a car. The carbon ceramic discs are so massive you're not going to have any trouble attracting attention to your brakes, anyway. This soft-silver looks so severe and imposing!

Door wing
You can't really appreciate how far the 720S' door-mounted spoiler comes out until you put your head next to the car's bodywork and look forward.

Don't run over anyone's cat, because that thing will get splattered up the side of your door like a damn Jackson Pollock painting. And, I mean, don't run over cats at all because that'd gross and mean.
Theoretically, these big blades help keep the car pinned to the ground. But they absolutely add a lot of depth to the design of the door.
The immense side intakes
Look at the size of this snout! No wonder the door needs such an intricate aerodynamic treatment, this nostril must be satiated with great gulps of air. Here you get a bonus peek at the carbon fiber monocoque body, too.
See-through rear pillars
McLaren sought to mitigate a perennial supercar problem of poor visibility by making the pillars between the 720S' roof and body as thin as possible. The result is a lot of glass around the car's occupants, and I'll let you decide if this car looks like it'd be easy to back out of a driveway.

Glass-roofed doors
Weirdly-opening doors rule, a roof you can see through is excellent, and those two concepts combined make for some very interesting design elements.

You're probably not going to spend much time looking through these windows above your head, but they do let a lot of light pour into the cabin and I love the way they make the doors look like wings when they're open.
Retractable wing and air brake
The 720S' tail protrudes like the car's happy to see you when Active Aerodynamics are on, and it flaps up to grab extra air resistance to help you stop. We saw a similar feature on the McLaren 675LT.

Headlight air ducting
The headlights on the 720S are probably the car's most controversial element. "What's with the eyeshadow," someone commented. "Why are the headlights so gargantuan," I've heard too.

The lights themselves are actually not that big at all. The dark area surrounding the headlights, directional blinkers and daytime running lights is not a bezel per se. It's a complex sculpture of aerodynamic management that makes a lot more sense when you zoom way, way in on it.
Look at how the blinker bar is just hanging out in the air, like a rock formation in Utah. Wind can just whip right around and behind it and into the car's radiators.

Track telemetry screen
Is that a race track map on 720S' navigation screens?

Yes. Kind of.
This car has a race track telemetry system which tracks your track driving, logging accelerative forces, braking forces, speed, G's, and other relevant happenings, along with an in-car camera recording of your steering, to a file which you can export to a USB drive and review later on your computer.
While you're driving, the car provides split times so you can see if you're picking up your pace—if you're brave enough to glance down at your gauges. The system comes pre-loaded with the map of some famous tracks, but you can create your own maps for your local track too.
"What about, hypothetically, your favorite back road?" I asked one of McLaren's pro drivers. He declined to answer, but don't worry, I'll keep looking into this for you.
Tuck-away gauge pod
If I were to design a car from my dream journal, it would have one gauge: a single light that comes on when you're down to your last gallon of gasoline. McLaren's product planners actually started crafting the 720S cockpit with a similar fantasy.

"But, some people like to see all the blinks and needles that they can," one of the car's designers told me. "So we came up with a solution that would allow us to do both."
Basically, the car uses a digital screen to give you a fairly traditional (by supercar standards) gauge pod with an aggressive tachometer, tire-pressure monitor, gear position indicator, water temperature and other such information.
But at the push of a button, that screen slinks away into the dashboard and is replaced by a subtle bar that gives you speed, gear and a horizontal bar indicating RPMs.
---
There's a lot more to say about the 720S after whipping it through Rome, the lumpy roads of the Italian countryside, and a few wide-open laps at the Autodromo Vallelunga race track. So check in in a few days and we'll go through the complete shakedown.
Here's a family photo for your desktop while you wait: